BWW Review: Powerful, Thought-provoking FACELESS at Zeitgeist Stage Company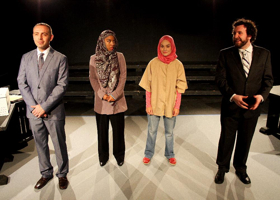 Faceless
Written by Selina Fillinger, Direction & Scenic Design by David J. Miller; Costume Design, ElizaBeth Cole Sheehan; Lighting Design, Michael Clark Wonson; Sound Design, Jay Mobley; Stage Manager, Margaret Umbsen
CAST (in order of appearance): Aina Adler, Victor Shopov, Robert Orzalli, Ashley Risteen, David Anderson, Rick Park (voice)
Performances through October 7 by Zeitgeist Stage Company at Plaza Black Box Theatre, Boston Center for the Arts, 539 Tremont Street, Boston, MA; Box Office 617-933-8600 or www.BostonTheatreScene.com
Zeitgeist Stage Company begins its 17th season with the East Coast premiere of Selina Fillinger's Faceless, a play with a storyline that sits smack in the middle of the national zeitgeist. It pits a sheltered 18-year old white girl against a Harvard Law School graduate and practicing Muslim in a taut courtroom drama that is about much more than the charges being litigated. Terrorism and ISIS are on trial, but the face of a young American woman is symbolic of how the enemy is expanding its reach into our homeland via social media, and the attorney in the hijab is the unlikely government crusader chosen to fight back.
Faceless is in the wheelhouse of Zeitgeist Stage and Director David J. Miller, a timely and topical piece of theater that sheds light on one of the ways that ISIS preys upon and recruits vulnerable young people. Welcoming back three ZSC regulars and introducing a pair of new actors, Miller seamlessly blends their talents to convey two opposing views without choosing sides. Susie Glenn (Ashley Risteen) is charged with conspiring to commit acts of terrorism against the United States for communicating online with an ISIS soldier. She and her liberal Jewish attorney Mark Arenberg (Robert Orzalli) are up against Scott Bader (Victor Shopov), a crack federal prosecutor, and Claire Fahti (Aina Adler), his hand-picked token. The defense must make the case that Susie, mourning the death of her mother, is a child lost in the darkness who merits being saved. The government wants more than a pound of flesh, seeking to drive home the point that citizens owe loyalty in return for the freedom and privileges they enjoy.
Fillinger wrote Faceless while a senior at Northwestern University, which seems to inform her ability to create the female characters in her play. Risteen makes Susie's reactions to her situation and her transformation authentic, especially challenging because there are many flashbacks in the narrative, and she conveys the sense of being both lost and found in her online chats with the terrorist Reza (voiced by Rick Park). In the scenes with her father Alan (David Anderson), she shows the internal struggle between trying to convince him that she is old enough to make her own choices and wanting him to protect her as his little girl.
Adler gives another fine performance as a woman facing her own demons as she is put in the position of having to represent Muslims, even as she is prosecuting a woman that Claire believes is only masquerading as a Muslim. Claire wants nothing to do with the case, but Bader manipulates her into the assignment and she then has to deal with his inappropriate words and actions, as well. Nobody plays smart and creepy like Shopov, and the two actors are beautifully matched as a formidable legal team. Shopov gives us a peek under his character's steely exterior on a couple of occasions, but Fillinger's flaw is making Bader rather one-dimensional.
The other male characters fare better in the playwright's hands, with Orzalli's lawyer showing a combination of emotion, passion, and patience. He conveys the attitude of a man who is shouldering the responsibility to do the right thing, even though it may be unpopular or dangerouS. Anderson's skilled portrayal is a balancing act of the many feelings of a man grieving his wife and trying to protect all that he has left. He doesn't understand his daughter, fears losing her, and has flashes of anger when he is grasping for control. In a powerful scene where he confronts Claire about Susie's fate, Anderson explodes onto the set, becoming incredibly raw and vulnerable, leaving Adler's character grasping for a way to respond.
Miller's set design consists of a pair of matching counsel tables on opposite sides of the room, and Michael Clark Wonson's lighting design effectively establishes where each scene occurs. Most of the action takes place in the office of the prosecution, the visitor's room where Susie is being held, or, in flashbacks, in Susie's bedroom. A few times, Susie and Claire stand spotlighted in the center of the stage reciting a prayer, and courtroom scenes take place in the center ring, as well. Sound designer Jay Mobley provides background noise for those scenes, and gives us the disembodied voiceover of Reza when Susie is corresponding with him. ElizaBeth Cole Sheehan's costume design defines Bader as the hotshot, successful attorney, while Arenberg is a little less well put together. Both of the women wear the hijab, or head scarf, and Alan is dressed in a paramedic uniform.
Faceless is a powerful, thought-provoking piece of theater, made all the more remarkable by Fillinger's story. It is heartening to see someone as young as she is making the effort to explore this subject matter, trying to discover what causes a young American to want to join with the enemy. Every now and then during the play, the image of Patty Hearst holding an automatic weapon came to mind. However different those circumstances were, the common thread is that of a young woman being recruited to a larger, violent cause by agents wishing to do us harm. Fillinger hopes that her work can help to figure out what is lacking in the lives of those who are susceptible to being drawn in. It would seem to be a moral imperative for all of us.
Photo credit: Richard Hall/Silverline Images (Victor Shopov, Aina Adler, Ashley Risteen, Robert Orzalli)