Review: Linehan and Ellis March in Step in Reagle Music Theatre's THE MUSIC MAN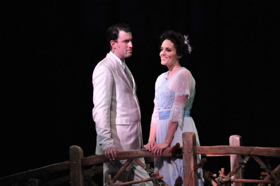 The Music Man
Book, Music and Lyrics by Meredith Willson, Story by Meredith Willson and Franklin Lacey, Directed and Choreographed by Susan M. Chebookjian (based on the original choreography by Oona White); Music Director, Dan Rodriguez; Scenic Design, James Fouchard; Costumes by Costume World Theatrical; Lighting Design,, David Wilson; Wardrobe Supervisor, Amelia Fitch; Production Stage Manager, Elizabeth Yvette Ramirez; Production Manager, Lori E. Baruch; Producing Artistic Director, Robert J. Eagle
CAST: Mark Linehan, Jennifer Ellis, Harold "Jerry" Walker, Lori L'Italien, Daniel Forest Sullivan, Marylee G. Fairbanks, Jonathan Tillen, Cate Galante, Allyn Hunt, Bernie Baldassaro, Isabelle Miller, Louis Brogna, Matthew Gorgone, Antonino Ruggeri, Tom Sawyer; Ensemble: Alyssa Allen, Anelise Allen, Jessica Bodner, Shannon Ignatius Cheong, Emma Clinch, Marc Cobuzzi, Susan Carity Conkey, Ian Costello, Elizabeth D'Aiuto, Laura Dellafera, Andy Edelman, Margaret Felice, Justin Flores, Meryl Galaid, Taavon Gamble, Sean Harrington, Michael Brent Hicks, Jenna Howard-Delman, Justin Kamal, Lenni Kmiec, Brianna Maguire, Conor Meehan, Heather Morgan, Michael Morley, Tracey O'Farrell, Pier Lamia Porter, Evan Pouch, Brian Soutner, Julia Springer, Nora Sullivan, Angela Syrett, Gary Vincent, Suzi Weisberg, Georgia Buendia, Maggie Hamel, Brooke Lebrun, Lev Navisky, Mary Ellen Petito, Christopher Tillen, Eliza Zangerl-Salter
Performances through August 12 at Reagle Music Theatre, Robinson Theatre, 617 Lexington Street, Waltham, MA; Box Office 781-891-5600 or www.reaglemusictheatre.org
Mark Linehan and Jennifer Ellis march in step in a glorious rendering of Meredith Willson's The Music Man to close out Reagle Music Theatre's 50th Anniversary Summer Season with a bang. Director/choreographer Susan M. Chebookjian's staging is seamless, with one production number after another showing off the ensemble's terpsichorean talent with challenging dance combinations, and Music Director Dan Rodriguez conducts a 12-piece orchestra that brings out the brio of Willson's score. The 1957 Tony Award-winning Best Musical still has lots of get up and go, with stirring marches and patter songs, romantic ballads, and a town full of characters as American as apple pie.
The Music Man is a breath of fresh air, a perfect escape for a steamy summer night, that will remind you of a simpler time. Set in 1912, when a gentleman asked a lady for permission to call on her, it espouses good old-fashioned values, even if the title character is a scalawag and a con artist. Harold Hill (Linehan) is a charmer with an infectious joie de vivre, able to draw in most of the townspeople by distracting them or by telling them what they want to hear. Only Marian Paroo (Ellis), the librarian, is cynical enough to see that this visiting emperor has no clothes. However, once she sees what is in his heart, her own starts to thaw and they make beautiful music together.
The same may be said of Linehan and Ellis, two busy local performers who have not previously shared a stage. The lanky Linehan, always capable of playing the goofy sidekick, steps up convincingly to lead the band. Like his character, he draws everyone into a cohesive unit and leaves no room for doubt that they will execute their roles with elan. Hill's experience as a traveling salesman has taught him how to talk to anyone to make a sale, and he handles the gossipy ladies, the ne'er-do-well teenager Tommy Djilas (Bernie Baldassaro), and the silent, traumatized young Winthrop Paroo (Jonathan Tillen) with equanimity. When he breaks into "Seventy-Six Trombones," arguably the most well-known song in the show, everyone on stage jumps out of their seats for an energetic, exhaustive production number, and it takes a lot of restraint for the audience not to join the parade.
Hill's smooth, devious persona is counterbalanced by Marion's silky, but rigid practicality. Although not of a religious persuasion, she is a dramatic cousin to Sister Sarah who runs the mission in Guys and Dolls, the kind of woman who is so lovely that she can only imagine the ideal man, never really expecting to find him. Ellis imbues Marian with a combination of grace and toughness that see her through the daily grind and help her to deal with all the men who hit on her, but she is divine when she sings, showing her vulnerability and conveying an ethereal quality that lets her songs soar. In book scenes, she shares a warm, authentic mother-daughter relationship with Marylee Fairbanks (Mrs. Paroo), who seems born to the role.
Harold "Jerry" Walker has trod the boards at Reagle for forty out of the fifty seasons, and his experience shows in his fully realized portrayal of Mayor Shinn. Lori L'Italien as the Mayor's wife (Eulalie Mackecknie Shinn) garners our sympathy for her ridiculousness, without going too far over the top. Her troupe of long-suffering dancing ladies (Margaret Felice, Tracey O'Farrell, Pier Lamia Porter, Meryl Galaid) and the harmonizing members of the School Board (Louis Brogna, Matthew Gorgone, Antonino Ruggeri, Tom Sawyer), thrown together by the Svengali Hill into a barbershop quartet, provide comic relief.
Daniel Forest Sullivan displays some good comic chops as Marcellus Washburn, Hill's aide de camp, and shows off some pretty impressive dance licks at the front of the corps in "Shipoopi," a silly patter song that's a great excuse for an ensemble number. With an ensemble stocked with more than three dozen triple threat actors-singers-dancers, it must suffice to say how well they all perform as a unit. Still, there are a couple to single out, including Baldassaro, co-dance captain who often manages to be front and center, as well as co-dance captain Lenni Kmiec (a Reagle veteran of five seasons), and Taavon Gamble, also a featured player in Anything Goes.
Chebookjian's vision is realized with understated, evocative scenic design by James Fouchard, costumes provided by Costume World Theatrical, and David Wilson's lighting design, but make no mistake, she is the architect of this production. Her sure-handed direction and sure-footed choreography combine to mount the whole thing onto a big float and send it down Main Street as the showpiece of a celebratory parade. The Music Man is deserving of a fanfare from a big, brass band, and that's exactly what we get. March on over to the Reagle Music Theatre before the parade passes by for the last time on Sunday, August 12th!
Photo credit: Herb Philpott (Mark Linehan, Jennifer Ellis)