BWW Review: Celebrity Series of Boston Presents Audra McDonald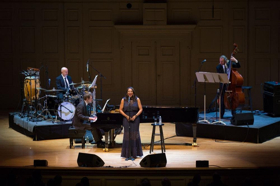 An Evening With Audra McDonald
Brian Hertz, Piano; Mark Vanderpoel, Bass; Gene Lewin, Drums
Presented by Celebrity Series of Boston, Friday, April 13, at Symphony Hall, 301 Massachusetts Avenue, Boston, MA; www.celebrityseries.org
If the walls of Symphony Hall could talk, there would be no end to the tales of glorious orchestral and choral performances on that venerable stage since it was built in 1900 as the home of the Boston Symphony Orchestra. Likewise, a survey of the artists presented by the Celebrity Series of Boston during its 79-year history would reveal an eclectic who's who designed to appeal to a broad demographic. Taking her rightful place in the upper echelons of either vaunted canon, Tony, Grammy, and Emmy Award-winning singer and actress Audra McDonald returned for her 7th appearance with the Celebrity Series on Friday night at Symphony Hall. Accompanied by a virtuoso trio of Brian Hertz on piano, Mark Vanderpoel on bass, and Gene Lewin on drums, she held the audience in her sway for close to 100 sublime, uninterrupted minutes.
With her versatile vocal instrument that is equally comfortable with classical opera and musical theater, McDonald can be counted on to cover a wide swath of genres. There are several songs that she returns to, especially those by great composers, but she always makes them sound fresh. Stephen Sondheim, whom she considers a mentor, figures prominently in her program, and she featured "The Glamorous Life" (A Little Night Music) and "Being Alive" (Company), as well as a self-deprecating anecdote about performing (and screwing up) at a tribute to the composer last year. One of the more awe-inspiring moments was McDonald's unamplified delivery of "Summertime" from George Gershwin's Porgy and Bess. She remembers fondly the time she spent in Cambridge originating the role of Bess in the American Repertory Theater revival that later went to Broadway and won her the 2012 Tony for Best Performance by an Actress in a Leading Role in a Musical.
After striding confidently onstage in a long, black, sleeveless gown, McDonald opened with "When Did I Fall in Love?" (Fiorello!) and convincingly conveyed a woman in the act of discovering her emotions. Later in the program, when paying tribute to the late Barbara Cook with a second Bock and Harnick song, McDonald equated the gift of "Vanilla Ice Cream" (She Loves Me) with another burgeoning romance. Her versions of some old chestnuts like Rodgers and Hammerstein's "It Might As Well Be Spring" (State Fair), Irving Berlin's "Moonshine Lullaby" (Annie Get Your Gun), and Lerner and Loewe's "I Could Have Danced All Night" (My Fair Lady), drove home her singular ability to take ownership of any song.
McDonald has a knack for arranging her set list to mix light, comic tunes amongst the heftier ones, and this performance featured "Baltimore" (Marcy Heisler, Zina Goldrich), "The Facebook Song," and the ridiculously fast, tongue-twisting "Can't Stop Talking." At the tear-jerking end of the spectrum, she emoted Adam Gwon's (winner of the 2008 Fred Ebb Award for excellence in musical theater songwriting) "I'll Be Here" (Ordinary Days), an intense story-song about 9/11. Sharing some of her own experiences from that date, McDonald said she was determined to figure out what matters most in life, and found the answer in a song by Jule Styne, and Comden and Green. "Make Someone Happy" (Do Re Mi) becomes a plea, as well as a command, in her compelling rendition. It offered a fitting segue into her final number, "Climb Every Mountain" (The Sound of Music), an anthem she performed with brio as the Mother Abbess on the 2013 live telecast of the Rodgers and Hammerstein show.
Of course, the audience beckoned McDonald back to the stage for an encore and she extended one more tribute. Closing with a song she has sung for years, which she says she'll never stop singing, she made her final dedication "in honor of hope, dreams, the children who are leading the way, and in honor of Judy, Judy, Judy." "Over The Rainbow" (The Wizard of Oz) dates back about as far as the Celebrity Series and both are still going strong. With Audra McDonald as a leading ambassador, the sky's the limit.
Photo credit: Robert Torres (Gene Lewin, Brian Hertz, Audra McDonald, Mark Vanderpoel)
Featured BroadwayWorld Events
Check out these concerts...