BWW Review: Let THE REVOLUTIONISTS Spin You Right Round at Everyman Theatre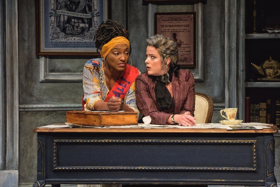 Are you ready for a change from shows you've already seen? Are you interested in theatre that ignores, breaks or demolishes the fourth wall? Do you like bright colors and fancy wigs? Do yourself a favor and see THE REVOLUTIONISTS at Everyman Theatre. It's in downtown Baltimore, on Fayette Street, geographically just a jump away from other theatres you may know, although radically different in form, focus and function. So close... and yet so far.
Take a spin with four ladies to France at the time of the Revolution, and hang on tight. The show exercises your memory, your observational skills and your hearing. Though the seats at Everyman are plenty comfortable, no one invites you to "sit back, relax, and enjoy the show." THE REVOLUTIONISTS is a 'gasp aloud and perch attentively on the edge of your seat' play. Relaxing is not the point, or an option.
Everyman is in the heart of downtown, but easily accessed from MLK via Baltimore to Park to Fayette. The most convenient parking is in the lot across the street; however, be advised tha
t it doesn't accept cash, only credit cards. The theatre is one of Baltimore's lovely examples of old on the outside and shiny on the inside. The Vinny bar offers soft drinks and adult beverages, as well as snacks, including show-themed specialty cocktails both at pre-show and intermission. It's a very hip place. Restrooms, chic with rectangles and squares, are located on the lower level, easily accessible via the obvious staircase. In a crowded lobby, the elevator is a little harder to spot, but it's available. While you're downstairs, you might as well hang your coat on one of the racks stationed there as a guest courtesy.
Playwright Lauren Gunderson, who marches boldly where political correctness fears to tread, delivers a stylized rendition of female revolutionaries, one famous, two obscure, one invented, reminding us that history is not only written by the victors, it's written by men.
Director Casey Stangl presents a snappy, suspenseful, tense drama that is curiously chock-full of comedy. Everyman's resident artists are gifted in their range and variety. I have enjoyed these performers before, but can't immediately place them. Emily Kester's firey anger as Charlotte Corday is a sharp contrast to the role she played in Noises Off, while Megan Anderson, who was delightfully dotty in the same show beguiles and offends us as Olympe de Gouges, and becomes very nearly unsympathetic in Act II. I adore Dawn Ursula's warm but edgy Marianne Angelle, and am impressed by her deft, seamless recovery of an accessory gone astray moments after her entrance. The relationship between Marianne and Olympe is familiar, full of the sort of warm sharing and wrenching frustration that anyone who's had a best friend will recognize. In her role as Marie Antoinette, Beth Hylton, who appears to be
having a marvelous time with this part, is both charming and annoying, and demonstrates precisely why food ought never to be permitted inside a theater.
The high-end production values at Everyman continue to amaze and delight me. Daniel Ettinger's set design is clever and versatile, allowing for swift, quiet scenic transitions. C. Andrew Mayer's sound design and execution is top notch: some very realistic effects back up a less-realistic projection of a sharply central device. The lighting, designed by Elizabeth Harper, is understated, moody and illuminatory, with punctuative moments of brilliance. I'd be more specific, but I hate spoilers.
David Burdick's unconventional costuming is eye-catchingly evocative, appropriate to each character, and only partially period-accurate, while also giving a nod to a fictional American woman associated with decadence, strength and bravery. Props master Jillian Mathews provides each character with certain key items that have both touchstone and anchoring overtones. The sparkling bluebird bag just slays me. And the hair! Character wigs, designed by Anne Nesmith, almost take on a life of their own, and are just perfect.
THE REVOLUTIONISTS is disarmingly self-aware, and one of the tightest, most meticulously constructed playscripts I've seen. It's also disquieting, funny, frightening and desperately sad. In short, it's everything that art ought to be. Whatever the opposite of fluffy and insubstantial is, it's that. Parts of it are not comfortable; all of it is necessary.
THE REVOLUTIONISTS plays through January 6th. See it on Fridays and Saturdays at 8 pm, Saturdays and Sundays at 2 pm, Tuesdays, Wednesdays and Thursdays at 7:30 pm, with a special 1 pm matinee on Friday December 20th and a 2 pm show on Friday December 22nd and Friday December 30th. There is no evening performance on Sunday December 31st, and no show is scheduled for Tuesday January 2nd.
For additional shows Everyman offers for this production year, visit: http://everymantheatre.org/plays-events
Online Box Office is always open. For additional information, contact the Box Office at 410-752-2208 or boxoffice@everymantheatre.org
Everyman Theatre
315 West Fayette Street
Baltimore, Maryland 21201
Everyman Box Office
Non-Performance Hours: Mondays-Fridays 12pm-5pm
Saturdays-Sundays: Closed
Performance Hours: Mondays: Closed; Tuesdays-Sundays: 12pm-show start
*During the hour before a performance, the Box Office will offer service only for that day's performance.
Photo credit: ClintonBPhotography
Related Articles View More Baltimore

Stories

Shows
Cybele Pomeroy graduated from Loyola College, before it had grown up and become Loyola University, where she studied writing, literature, education and drama. She never (read more...)