Review: EVERYTHING IS WONDERFUL at The Everyman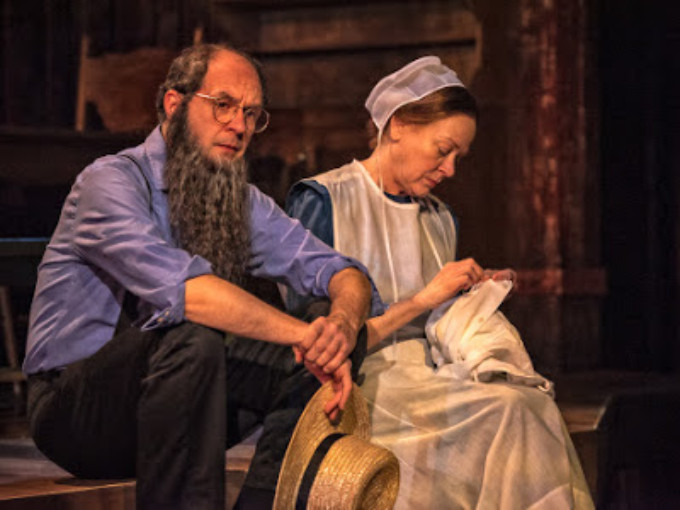 EVERYTHING IS WONDERFUL at The Everyman is good theater at its best. What seems a simple tragedy on the surface, is a story of dimension and depth. It entertains and challenges the audience to confront their ideas of acceptance, forgiveness and redemption.
When two sons of an Amish family are killed in a car and buggy collision, the survivors struggle to deal with the aftermath. Kindly patriarch Joseph (Bruce Randolph Nelson) denies his pain. Stoic mother Esther (Deborah Hazlett), walls off her emotions. Independent Miri (Alex Spieth) struggles to restrain her emotions.Sweet-natured Ruth (Hannah Kelly), finds solace in the rhythm of daily life. Abram (Steve Polites), Miri's betrothed, strides through the neighborhood playing the hero until we find out it's more role than real. Eric (Tony Nam), the distracted driver who causes the accident, returns to the family he has wronged begging for punishment, unable to understand why everyone keeps forgiving him.
Director Noah Himmelstein deftly manages the shifts in time and relationships on this rocky road to resolution. Playwright Chelsea Marcantel presents a thoughtful study of Amish life and then slowly reveals the underlying complexity that characterizes the human condition as a whole. The exceptional ensemble allows the facets of this intricate gem to shed light on our preconceptions about each character and the community in which they live. The set design by Daniel Ettinger is the perfect backdrop for this subtle and powerful story.
Nelson disappears into his role displaying even more range as an actor of wide talent. He inhabits the heart of a loving father who is determined to hold onto his faith even as grief threatens to break up his quiet life. Hazlett breaks your heart as the mother whose strong facade is as cracked as the eggs she throws against the fence when no one is looking. Miri's journey is the hardest as she learns to navigate pain and change in an environment that supports neither. Ruth is the most innocent but also the wisest. She knows who she is and what makes her happy. Her quiet observation and support is what allows her to assert her own needs within the community she loves. Spieth and Kelly are charming as sisters and inspiring as individuals. You root for them and this family to find their way back to each other.
Polites plays the homegrown hero with just the right notes and then breaks him down to reveal he is just as lost as Nam's Eric, a man without community who arrives in emotional pieces on Joseph's farm. His attempts to put himself back together by going Amish are sometimes humorous. We understand his desire to divest himself of all the wires and cables of the modern world and start over in a more natural place to learn to be a better man. Nam plays the character with such sincerity, you hope for him to find the peace he seeks.
What good is simplicity in a complex world? How do we balance the needs of the individual when they come up against the values of the community? How do we define good or bad where the boundaries intersect and the behavior is contextual? It is a gift to be simple, but we rarely are. Rules cannot contain the uniqueness of the individual. We can love another person even when we don't understand them. It's a gift to be free but we rarely know how to use it to enhance our happiness by knowing ourselves better. The answer lies somewhere in the middle. Sometimes, the best we can do is take the hand that reaches out and hold on until we figure it all out.
EVERYTHING IS WONDERFUL plays now thru February 24 at the Everyman Theatre, 315 W Fayetteville St. For more information call (410) 752-2208 or go to everymantheatre.org