SALT ACTUALLY: A Fundraiser For Salty Theatre Brings Together Artists To Support Independent Theatre
Salt Actually runs for one evening only Sunday 19th February.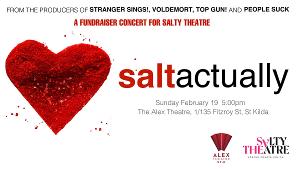 Salty Theatre will present an absolutely spectacular lineup of musical theatre and cabaret veterans and stars in the making as they welcome you to Salt Actually: A Fundraiser Concert for Salty Theatre. With Valentines Day fresh in our minds and Voldemort's sweet, saucy and slightly sadistic love story making its way to Adelaide, we felt inspired to take you on a joyous, giggle-inducing and at times gut wrenching journey through all kinds of love; the deep and true, the unrequited and dark, the twisty and perfectly absurd.
Queenie van de Zandt, Will Conyers, Peppy Smears, comedy duo Mel O'Brien and Samantha Andrew, The cast of Voldemort and the Teenage Hogwarts Musical Parody and over two dozen more sensational performers and musicians take the stage to help raise funds for Salty Theatre's 2023 season. For an added highlight, the evening will also feature a silent auction with a multitude of exciting offerings.
Salty Theatre Producer and Artistic Director Ashley Taylor Tickell shared, "I've been overwhelmed by the amount of people that have come forward to lend their time and talent. We have over 40 amazing volunteers who are helping to make this happen. We have a 9-piece band, 30 performers, additional creatives and technicians donating their time, the Alex Theatre donating the venue and staffing plus trying to help raise additional funds...I'm beside myself with gratitude. It's just another reminder of the incredible theatre community that exists here, doing what we can together to make independent theatre survive in a funding climate that constantly seems to be passing over us. We want to create opportunities for artists, to foster their brilliant ideas, to introduce audiences to new and exceptional shows and talent here in Australia. And we want to support these artists' collective wellbeing as we grow as a company ... and hopefully, one day become a staple and home for creatives in the Australian theatrical community."
All proceeds from the event will go toward supporting Salty Theatre's 2023 artists, including covering travel costs and accommodation for this year's Adelaide Fringe Festival, wages for upcoming productions and new musical workshops, production design, training and more.
Salt Actually runs for one evening only Sunday 19th February
5pm arrival for 5:30pm start
Alex Theatre St. Kilda - 1/135 Fitzroy St, St Kilda VIC 3182
Tickets: $42