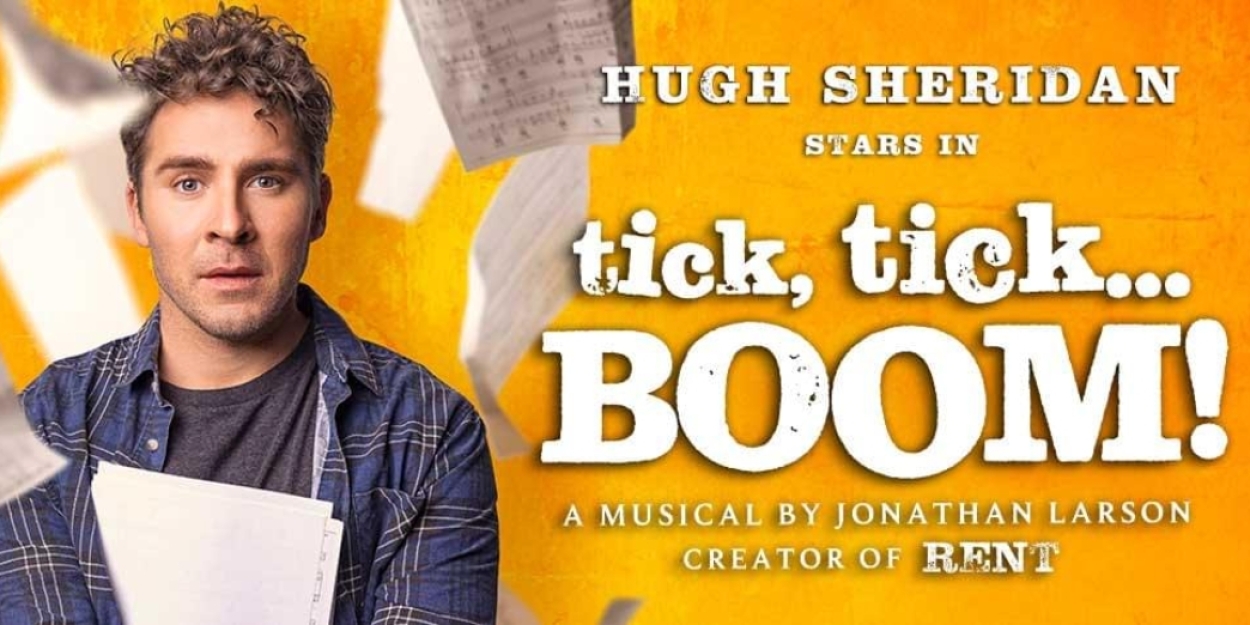 Review: TICK, TICK…BOOM! at Comedy Theatre
Elenoa Rokobaro will blow your mind with her standing ovation worthy delivery of "Come To Your Senses" in Jonathan Larson's Tick, tick…BOOM!
tick, tick...BOOM! explores the life of ground-breaking musical theatre composer, lyricist, and playwright Jonathan Larson. Set before the success of his trailblazing musical RENT, tick, tick...BOOM! uses a quasi-autobiographical narrative to focus on the life of Jon, aka Larson, in Manhattan in 1990. While struggling to successfully establish himself as a writer, and in the meantime working at the Moonlight Diner, tick, tick...BOOM! begins as Jon prepares for a workshop presentation of his sci-fi musical, Superbia, a piece he has been working on for the last eight years. At the same time Jon approaches his 30th birthday and begins to question his life choices, with the pressure of self-expectation beginning to creep in.
Originally created as a one-man monologue in 1990 called 30/90 and then Boho Days, the origins of tick, tick...BOOM! began with Larson himself behind a piano and a microphone. However, after his untimely death from an aortic dissection, which tragically occurred on the day of RENT's first Off-Broadway preview in 1996, tick, tick...BOOM! became reimagined into a three-person musical, with script consultation by David Auburn, and vocal arrangements and orchestrations by Stephen Oremus. After initially premiering Off-Broadway in 2001, tick, tick...BOOM! has been recently brought back into the spotlight with the 2021 film adaption, that featured direction by Lin-Manuel Miranda, and a screenplay by Steven Levenson, best known for the Tony Award winning book of Dear Evan Hansen.
While the fresh film adaption of tick, tick...BOOM! received critical acclaim, with Andrew Garfield's brilliant performance of Jon receiving a nomination for an Academy Award for Best Actor, the 2001 three-actor musical adaption of Larson's work, does now seem dated. As a result, the current Australian production of tick, tick...BOOM! does struggle to revitalise the essence of Larson's original solo work. Despite some of the creative decisions in this production not quite gelling, Matt Scott's lightning design did work magic, with his use of shadows in particular helping to elevate this production's theatrics.
After seeing Hugh Sheridan previously give a terrific performance in A Funny Thing Happened on the Way to the Forum, back in 2012, I was looking forward to seeing this Australian talent back on stage again. Although wanting to be his cheerleader, the performance I saw did make it hard to be on team Hugh. To be fair, Sheridan did create some authentic and genuine moments with the audience in Jon's monologues. Overwhelmingly though he did appear to struggle, which was particularly evident when Jon's storytelling transitioned from scene and into song. Perhaps due to vocal fatigue or perhaps due to his character's vocal range not sitting comfortably in his own, I was left wanting more from Sheridan.
Regarding the other talents in tick, tick...BOOM! Finn Alexander gives a vocally strong performance as Michael that seemed to naturally flourish. His powerful rendition of "Real Life" delved deep into the ghostly raw and emotional undertones that Larson so successfully jam packs into his writing. Elenoa Rokobaro however was the show-stopper of the night. WOW is really the only way to sum up her performance. Rokobaro will blow your mind with her standing ovation delivery of "Come To Your Senses".