Professor Brian Cox Returns to Australia; Tickets On Sale Next Week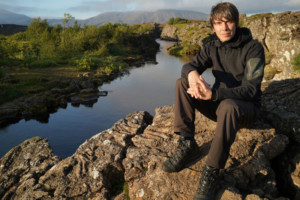 Following the Guinness World Record-breaking tour of the UK and Europe, Professor Brian Cox brings the world's most successful and significant science show to Australia and New Zealand in November, for the first time.
It has taken 4 billion years from the origin of life on Earth to produce living things that can contemplate the true scale of the Universe, and our contemplations raise challenging questions about our place and value amongst an infinite sea of stars. Using state of the art visuals, Professor Brian Cox will explore the Cosmos as revealed to us by modern astronomy; a place of bright swirling galaxies, dark energy, black holes and billions of potential homes for life. The evening will be mesmerising for all ages, deeply satisfying for the scientifically minded, intriguing and inspirational for the novice.
"The massive screens of this show do justice to the astonishing images of the universe from the Hubble Space Telescope and spacecraft like the Cassini orbit around Saturn," said Brian Cox. "The success of the tour in the UK and Europe also means that hundreds of thousands of people were interested enough in physics to come and watch a live show about it, and that's an encouraging thought for the future!"
Guinness World Records Editor-in-Chief, Craig Glenday, said, "It's a testament to Brian's huge popularity that his show, Prof Brian Cox Live, has been able to sell 150,000 tickets in the UK and Europe, including in large venues such as Wembley Arena, which are usually reserved for pop stars and sporting events."
Brian Cox is one of the world's foremost communicators of all things scientific. His innate ability to make highly complex matters entertaining and easy to contemplate has made his scientific television shows groundbreaking in their audience reach and accessibility.
Joining Brian on stage will be British comedian, actor and writer Robin Ince, Brian's co-host on the BBC Radio 4's The Infinite Monkey Cage.
Professor Brian Cox OBE is a British particle physicist at the University of Manchester and Royal Society Professor for Public Engagement in Science. He carried out research at the ATLAS experiment at the Large Hadron Collider at CERN, Switzerland and the HI experiment at DESY in Hamburg.
To be among the first to purchase tickets to Prof Brian Cox Live 2017, register at www.lateralevents.com.
TICKETS ON SALE 10am (local time) Monday 7 August.