Otto & Astrid's JOINT SOLO PROJECT Comes to 2023 Melbourne International Comedy Festival
Performances run 11 - 23 April 2023.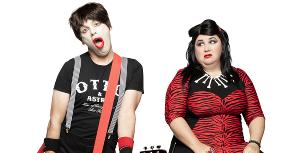 Soon to be seen barging onto the stage at Melbourne's iconic Malthouse Theatre, Berlin's prince and princess of art rock and Europop - Otto & Astrid - are back! Together. But also separately, as they debut their new solo amazing albums independently of each other, while playing back up for one another. In a Joint Solo Project.
The self-proclaimed "Best Band in the World", these much-loved brother and sister electro-pop/punk rockers spent years arguing about which songs should appear on their fifth Die Roten Punkte album. When the pandemic hit, Otto desperately wanted to isolate with Astrid, but she couldn't think of anything worse. Alone and worried about the world, Otto began writing his first solo album. Not wanting to be outdone, Astrid quickly began writing her own. When they'd finished, they decided to tour separately... but after months of searching for their own musicians it became quite evident nobody else wanted to play with them, and now they're stuck being each other's backing band. Awesome.
Squabbling, co-dependent, multi-award-winning; Otto & Astrid proudly put the Y and the U (and even the I) in dysfunctional. With Otto being a bleeding-heart do-gooder, deep thinker and lyrical wizard, while Astrid is a proud feminist, nihilist, and Glockenspiel kween, Otto & Astrid's Joint Solo Project promises MICF audiences a non-stop night of expertly crafted comedy, accompanied by a thumping, leaping, buzzing assault of post-pop punk RAWK.
Frankly, the 2023 Melbourne International Comedy Festival is lucky to have them.
"My solo album is my chance to express all my inner feelings and thoughts and inflict them upon the world," explains singer Astrid Rot. "We know it's weird for us to be in a Comedy Festival when we're a serious indie pop/punk band and audiences just end up laughing at us, which is not cool. My least favourite part of this show is that it will contain songs Otto wrote all by himself and I will have to listen to them every night. If you want to sell tickets and get photos in the press, just focus on me."
"Astrid couldn't find anyone that wanted to play with her, so we agreed to be each other's backing band and do a joint solo project," adds Otto Rot. "My favourite thing in the world is to play guitar on stage with Astrid on drums. I spend all day thinking about it. I share everything with Astrid. She's my second best friend."
With the entire planet currently dealing with issues that require global solutions, we've reached a peak of deep division. Arguments concerning the pandemic, Climate Change, Black Lives Matter and #MeToo are tearing apart countries, communities, and families. We need to unite, but how do we even function if we can't communicate?
A hilarious, cutting satire of the nationalism and division playing out around the world, Otto & Astrid's Joint Solo Project uses deft slapstick, choreography, and pathos to mirror the challenges faced by society. Part theatre, part live rock concert, 100% defective siblings - this premiere season is brought to you by two of Australia's most renowned contemporary clowns. No knife cuts as sharply as laughter and Otto & Astrid are perfect examples of the "woke" and "fake" poles of the current, absurd, global discourse.
This latest offering from Die Roten Punkte will also see industry powerhouses Neill Gladwin and Casey Bennetto enter the fray as Director and Dramaturg respectively. Adding a much-needed level of class and sophistication to Otto & Astrid's work that has never been seen, or experienced, before.
A lipstick-smeared sonic collision between The B-52s, Pixies, Kraftwerk, and early Ramones, Otto & Astrid's Joint Solo Project is destined to be one of the most irreverently seitenspaltung gigs on offer at this years' MICF. With ridiculously infectious songs and exceptional physical comedy, Otto & Astrid are truly one of a kind. They have played everywhere from Soho Theatre London to Joe's Pub in New York and The Roxy in Los Angeles. They also opened for Amanda Palmer in Europe, the USA, and Australia.
Running for a limited time during the Melbourne International Comedy Festival, don't miss this rare opportunity to see the latest musical stylings from the world's most dysfunctional band. A definite, must-see highlight in the 2023 Victorian Arts Calendar.
Directed by Neill Gladwin
Performed by Die Roten Punkte
Dramaturgy by Casey Bennetto
Producers: Lauren Eisinger and Dans Maree Sheehan
Image by Andrew Wuttke