The Alchemy Theatre Will Present MACK & MABEL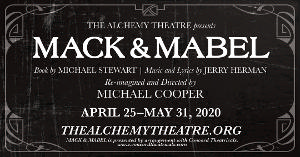 Following its critically acclaimed 2019 season which included Mary Page Marlowe, The Waverly Gallery and Truman Capote's A Christmas Memory, The Alchemy Theatre once again brings their unique and powerful storytelling to the musical MACK & MABEL, directed by Michael Cooper, musically directed by Adam Roberts, choreographed by Josh Sallerson and produced by Marnie Near and Christopher Shea.
Focusing on the relationship between silent film giants Mack Sennett and Mabel Normand, this musical love story reveals Sennett, the domineering father of American slapstick comedy and Normand, a young, natural comedienne and a woman ahead of her time - becoming Charlie Chaplin's mentor and one of the first female film directors to be recognized by Hollywood. Their complicated and passionate romance ultimately leads Sennett to bankruptcy and Normand to her untimely death.
MACK & MABEL has been treasured for decades due to the embracing loveliness and wildly addictive music and lyrics by the late Jerry Herman (Hello, Dolly!, Mame, La Cage aux Folles). Re-imagined and directed by Michael Cooper for the Alchemy's intimate space in the Mastrogeorge Theatre, the show runs April 25 - May 31 at 130 Pedernales in East Austin. Tickets are $20 Student, $40 General Admission, $55 Premium for Thursday-Saturday at 8pm & Sunday at 2pm. Tickets are available online at thealchemytheatre.org.