Interview: Matt Baum Brings Validity to the Everyday in A YEAR WITH FROG AND TOAD at Synchronicity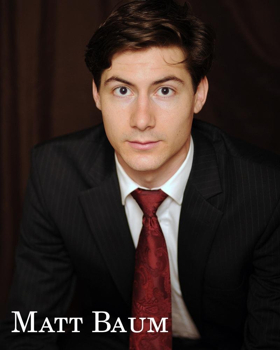 It's not just another year in the life for a couple of beloved amphibians and their friends.
In their millionth (approximately) installment of A YEAR WITH FROG AND TOAD, Synchronicity's new production re-acquaints Atlanta audiences with Arnold Lobel's award-winning children's stories, FROG AND TOAD. Taking on the role of "Frog," actor Matt Baum shares that these vignettes carry a poignant message in their simplicity that has the power to resonate with all ages.
Below, check out our conversation with Baum as he reveals how a musical aimed at kids can hit home, how the story plays out on stage, and why it's a better choice than DIE HARD this holiday season.
---
We're so excited about this show! What can you tell us about A YEAR WITH FROG AND TOAD?
Everyone has really been a dream to work with. The major theme is friendship, and the plot is a series of episodes in the seasons of the year. So when it starts, Frog and Toad are coming out of hibernation, and they're sharing a dream, and then they bump into each other in the dream. And then when they wake up, it's spring, and they go outside, and they're looking to plant a garden. And then it's summer- [laughs] I love this plot! It's all "And then, and then, and then!"
So it's episodic?
Yeah, yeah, because it's of course based on the FROG AND TOAD stories by Arnold Lobel. Each of those stories is self-contained too, so it was genius for someone to expand it into this musical.
Ultimately, Frog and Toad are just looking to, well, to deepen their relationship, and one of the main ways they do that is by playing outside. Frog really likes to play outside, but Toad can sometimes be a little more resistant. Like, he doesn't want to sled down the hill, or he wants to stay in bed in spring. I think it's great that the plot is sort of everyday. The stories are simple but deep and meaningful, and that's really appealing to kids.
That sounds amazing. So how do you see this idea of "simple yet meaningful" play out?
Well, there are these stories and plot elements like going for a swim, and how Toad looks funny in a bathingsuit, and he doesn't want Frog or anyone to see him looking self-conscious or silly. Swimming is a pretty good example of all the stuff that's going on underneath the surface for Toad, that he has these insecurities, and there are some parts of himself he's more hesitant to share.
It's a pretty simple thing of, "Let's go for a swim," and then this problem that we've all felt in one way or another arises. I guess the only reason it's holding him back is that he's not ok with other people thinking that too, you know what I mean? But [Frog hopes he will] just own it and say, "Ok, I look funny in a bathingsuit, so what?" That it won't stop him from swimming is what Frog is all about. Like, that can be true, but don't let it interfere with being in the world and going out in the world and playing with your friend. They're very plausible, these plots, and I think that sort of invites you more into the relationship.
In what way?
Because each plot is very relatable. These are all things we've done before, like feeling self-conscious, or when Toad wants to make a garden. But a plot like DIE HARD with twists and turns, you're still identifying with John McClane, but it's like, "I'm not in hostage situations." It's a fun fantasy, and A YEAR WITH FROG AND TOAD is still fantasy too, but it's a different kind in that the things they are doing are very everyday.
I think if you keep the plot simple like this- and I mean simple in the best way because I really adore simplicity, maybe for this reason- it invites you in because it's more relatable. Also it can become a symbol for whatever you're going through because it's not quite so hard to follow. For instance, the swimming doesn't have to be about swimming; it can be about any part of you that you feel squiffy about. So I think it really works for audiences of all ages because they don't need to be experiencing the literal thing, like swimming, themselves. You have the literal thing [on stage], but that's the launching pad to reading into it whatever life circumstances are your current life circumstances.
And maybe that's just the way that I like to experience things, in a way that's in a personal, or a little more nebulous, spiritual space. There's something really endearing to me about people doing really everyday tasks that launch into a story.
Absolutely. And I think if normal, mundane things we do every day are on the stage and TV, then I feel like there's a bit of validation to that.
Yes, yes, oh for sure! I think you're so right. It's kind of like it elevates those things and helps us remember they're worthwhile. So there was also a fair bit of joking around in rehearsal because there's an intimacy to Frog and Toad's relationship the way we're approaching it, so to joke a little bit about it or just be more ourselves as actors helps so we're not feeling like our souls are always on the line. But that's what we're trying to do, is share a really deep, true part of ourselves.
Follow Sally Henry @thebwayginger for more Atlanta family theatre interviews and reviews.
---
A YEAR WITH FROG AND TOAD is directed by Jenna Tamisiea and features musical direction by Suzi Award-Winning Amanda Wansa Morgan (The Color Purple) and choreography by Jenise Cook. The cast includes Atlanta-based actors Matt Baum as Frog, Greg Hunter as Toad, Elliott Folds as Bird/Snail, Taryn Janelle as Bird/Mouse, and Lyndsay Ricketson as Bird/Turtle.
The show runs through December 30th. For tickets and info, please visit synchrotheatre.com.