BWW Interview: Greg Kamp Explores the Heart of a True Leader in NEWSIES at Aurora Theatre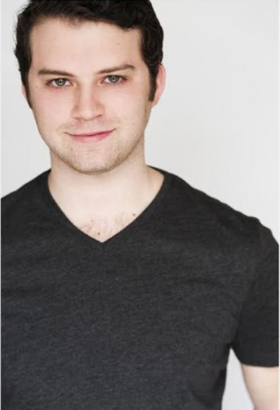 "I think it's really powerful when a group of people- a community- come together and demand change. Again, just to live that moment and share it with an audience is going to be so special."
When Greg Kamp first performed at the Aurora Theatre in A CHORUS LINE, he was a college without a professional theatre credit to his name. Now eight years and many successful stage and screen productions later, Kamp is back from New York to lead NEWSIES on the Lawrenceville stage.
In the conversation below, the actor gives us a first-hand look at the show, gushing about the ridiculously talented dancers and sharing what it's like to step into such a timely piece.
---
How has the process been going so far?
Oh man, it's been really great. The whole process has been awesome. The team is amazing; the cast is truly ridiculous.
Can you tell my readers a little bit about the show?
It's sort of the Disneyfied retelling of the infamous newsboy strike of 1899. You have some historical figures sprinkled in there like Joseph Pulitzer, William Hearst, and Theodore Roosevelt. And it's really all about this, sort of street rat who decides to take the reins of his own life and stand up to the giants that be and demand a seat at the table.
And that's you!
Yes, that's Jack/me. He is a natural, bona fide leader. Not saying he's perfect by any means- he's stubborn, he's proud- but I think the greatest underlying thing that defines him is his love and championship of the underdog. You see that throughout the entire show and for his whole life in general. You see what it really means when people say, "We started from the bottom and now we're here!" I think he's got a lot of fight in him, but also a lot of heart which makes him an awesome character to explore.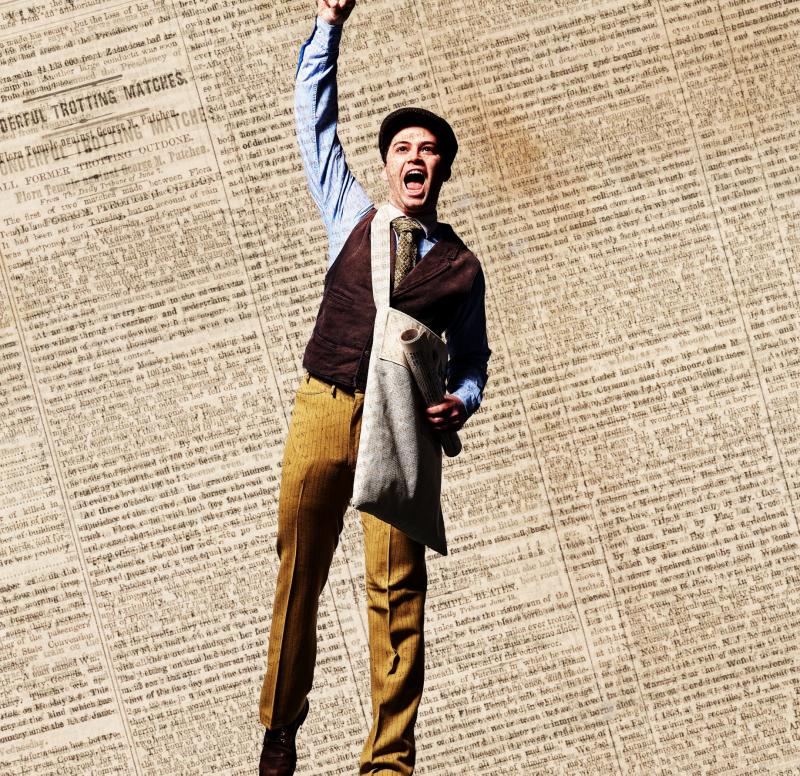 What returning to the Aurora Theatre been like so far for you?
It's been really fantastic. The Aurora Theatre specifically has always been a home away from home. They gave me my first professional job while I was still in school, so to be able to come back to them after a few years has been such a huge treat, and to have such a safe and nurturing environment for this process has been the icing on the cake.
How has diving into this role affected you personally and as a performer?
I'm always a student of process, and I think stepping into this process, and Jack in particular, is just really discovering what a leader is. And it shows up in different ways throughout the show, but there's a line that Katherine says in the show which is, "A real leader doesn't need to have all the answers, just the smarts to snatch the good ones when he hears it." So that whole journey has sat really well with me as has just figuring out that balance between encouraging and pulling, that give and take of what a real leader is.
What challenges have you encountered in NEWSIES?
I think the greatest challenge is trying to keep up with all of these amazing dancers. They are truly blowing my mind! It's such a great challenge to even try to attempt to keep up with them! That's the first thing, and I think it's really easy to sort of play the fantasmical version of this story, but I think especially with NEWSIES, it's really relevant to today's time. So I'm really trying to honor that sort of magic spark that is inherent with the Disney franchise, but also play true to this historic moment in time that we've seen repeat itself over and over again and how that can affect a modern-day audience.
That sounds really special.
Yeah, it is. We as artists have this amazing opportunity to step into other people's shoes and be empathetic to their circumstances and to gather people in a room and tell a story that might change or alter someone's mind or heart perspective. I think we could all be a little more empathetic. So for that to be my job is an honor and something I never take for granted.
What's your favorite part of this show?
I mean, selfishly, I love "King of New York" because I'm not in it and get to watch these amazing performers bring to life this incredible anthem that everyone knows from the show. It's just filled with life and merriment and to receive that every night is a treasure.
And what's your favorite song to perform?
Man, they're all so good, don't make me choose! I think "Santa Fe" is brilliant. It's like every musical theatre guy's dream to sing that, so I feel really lucky to tackle that. It's rich in imagery and emotion and feeling, but I also love "Once and For All." It's the final declaration, and there's a great moment that's built into it where all the newsies stand together and it's just this wall of sound. I think it's really powerful when a group of people, a community come together and demand change. Again, just to live that moment and share it with an audience is going to be so special.
So what are you looking forward to with performances starting?
I really look forward to the audience. They're the last piece of the puzzle. We wouldn't be able to do what we do without someone coming to see it. It's really about crossing the footlights, you know? Telling a story so it's received. So I'm excited for that third player to be engaged with us and see how that affects the show, how it resonates, and how we can deliver this message to Gwinnett and the rest of Atlanta as well.
Follow Sally Henry on Twitter, @thebwayginger, for more Atlanta theatre interviews and general fangirlery.
---
Greg Kamp is thrilled to return home to the Aurora Theatre, having last appeared as Mark in A Chorus Line. Favorite theatre credits include: Catch Me If You Can (National Tour), Barry Manilow's Harmony (Alliance/Ahmanson Theatre), Saturday Night (York Theatre), Footloose, The Wedding Singer(Pittsburgh CLO), I Am Harvey Milk (Avery Fisher Hall), Titanic (Hangar Theatre). TV: Wronged Man (Lifetime), Past Life (Fox), and Solving Charlie (ABC). Greg holds a BFA in Musical Theatre from CCM and is the co-creator of MT SHORTS, a platform that produces original musical short films. Endless thanks to this creative team/cast and my family! www.gregorykamp.com
NEWSIES plays Aurora Theatre July 19-September 2, with a discount matinee on Tuesdays, July 31 and August 7 at 10 a.m. with tickets starting at $20. Regular, single tickets range from $30-$65 and can be purchased online starting July 1 at tickets.auroratheatre.com or by calling the Box Office at 678-226-6222. Group rates are also available. For more information on this production or other programming, please visit auroratheatre.com.