Click Here for More Articles on Ballet!
Warren Carlyle to Choreograph Jerome Robbins Tribute Ballet for NYCB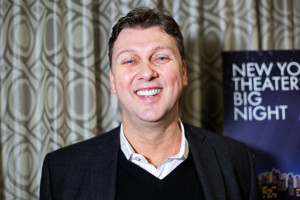 This spring New York City Ballet will present a World Premiere ballet by Tony Award-winning choreographer and director Warren Carlyle that pays tribute to the legendary Broadway career of NYCB's co-founding choreographer Jerome Robbins.
The ballet will premiere at NYCB's annual Spring Gala performance on Thursday, May 3, which will also mark the opening night of the Company's Robbins 100 celebration in honor of the centennial of Robbins' birth.
The new work will feature 30 NYCB dancers in a showcase of music and choreography from eight landmark Broadway musicals that Robbins was closely associated with during his storied career - On The Town (1944), Billion Dollar Baby (1945), The King and I (1954), Peter Pan (1954), West Side Story (1957), Gypsy (1959), Funny Girl (1964), and Fiddler on the Roof (1964).
Featuring excerpts of Robbins' original choreography, the ballet will be set to music and lyrics from eight iconic scores written during Broadway's golden age by such artists as Leonard Bernstein, Jerry Bock, Betty Comden, Morton Gould, Adolph Green, Sheldon Harnick, Oscar Hammerstein II, Bob Merrill, Stephen Sondheim, Jule Styne, and Richard Rodgers.
In addition to Carlyle, the creative team for the ballet will be comprised of a number of award-winning Broadway veterans including Rob Berman (musical arrangements), Jonathan Tunick (orchestrations), Beowulf Boritt (scenery), Toni-Leslie James (scenery), and Mark Stanley (lighting).
Currently represented on Broadway with his choreography for the revival of Hello, Dolly!, Carlyle received 2014 Tony and Drama Desk awards for his choreography for the musical After Midnight, which he also directed. He also received Drama Desk nominations for Outstanding Direction and Outstanding Choreography for the 2009 Broadway revival of Finian's Rainbow. Carlyle has also choreographed the Broadway productions of She Loves Me (2016), On the Twentieth Century (2015), The Mystery of Edwin Drood (2012), A Christmas Story: The Musical (2012), Chaplin (2012), Hugh Jackman, Back on Broadway (2011), and Follies (2011), as well as numerous productions for City Center's Encores! series including Girl Crazy (2009), Juno (2008), On The Town (2008), and Stairway to Paradise (2007).
The new ballet will mark Carlyle's first-ever work for a ballet company, and in addition to the Spring Gala performance on Thursday, May 3, the piece will also be performed on Saturday, May 5 at 8 p.m.; Sunday, May 6 at 3 p.m.; Thursday, May 10 at 7:30 p.m.; Saturday, May 12 at 2 p.m.; and Sunday, May 13 at 3 p.m.
The centerpiece of NYCB's 2018 Spring Season will be Robbins 100, a celebration of Jerome Robbins, NYCB's co-founding choreographer, whose remarkable contributions to the worlds of ballet and Broadway musical theater have made an indelible impression on both art forms. The three-week celebration will feature 19 works created by Robbins over the course of 40 years, as well as two world premiere ballets.
Robbins 100 will open on Thursday, May 3 with a Spring Gala performance featuring Robbins' Circus Polka (1972) and The Four Seasons (1979), as well as the World Premiere by Warren Carlyle, and a second World Premiere by NYCB Resident Choreographer Justin Peck that will be set to a score by Leonard Bernstein in honor of the centennial of both Robbins and Bernstein.
The Robbins 100 celebration, which will take place from May 3 through May 20 at Lincoln Center's David H. Koch Theater, will also include performances of Robbins' Fancy Free (1944), Interplay (1945), The Cage (1951), Afternoon of a Faun (1953), Fanfare (1953), The Concert (1956), Les Noces (1965), Dances at a Gathering (1969), In the Night (1970), The Goldberg Variations (1971), Circus Polka (1972), Dybbuk (1974), In G Major (1975), Other Dances (1976), The Four Seasons (1979), Opus 19/The Dreamer (1979), Glass Pieces (1983), Antique Epigraphs (1984), and West Side Story Suite (1995).
Born on October 11, 1918 in New York City, Robbins was one of the major forces in 20th century performing arts. He received world renown for his choreography for New York City Ballet, where he spent much of his creative life, as well as for his work with American Ballet Theatre, Ballets: U.S.A., and other dance companies around the world. He received equal acclaim for his work as a director and choreographer of Broadway musicals, plays, movies, and television, winning five Tony Awards and two Academy Awards, as well as numerous other honors including the Handel Medallion of the City of New York (1976), the Kennedy Center Honors (1981), and the National Medal of the Arts (1988).
Robbins began his ballet career with Ballet Theatre (now American Ballet Theatre) in 1940, and his first-ever ballet was the choreographic sensation Fancy Free, created for Ballet Theatre in 1944 by Robbins and Bernstein, who were both young up-and-comers at the time. In 1945 Robbins and Bernstein teamed up with Betty Comden and Adolph Green to turn Fancy Free into On The Town, Robbins' first Broadway musical. Following the success of On The Town, Robbins went on to create some of Broadway's most legendary shows including Billion Dollar Baby, The Pajama Game, Peter Pan, West Side Story, Gypsy, Fiddler on the Roof, and Jerome Robbins' Broadway.
In 1949, at the invitation of George Balanchine, Robbins joined New York City Ballet as Associate Artistic Director, where he both danced and choreographed. In 1959 Robbins left NYCB to focus on his work for the theater, returning to NYCB in 1969 with his landmark ballet to the piano music of Frédéric Chopin, Dances at a Gathering. Robbins would spend the rest of his life affiliated with NYCB, as both a choreographer and the Company's co-Ballet Master in Chief, a position he shared with Peter Martins from 1983 to 1989. Robbins died in New York City on July 29, 1998.
Related Articles
More Hot Stories For You