Trans Lab Fellowship Announces 2019 Fellows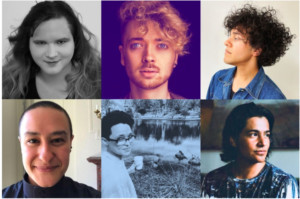 Trans Lab is proud to announce the six recipients of the 2019 fellowship: Ashley Lauren Rogers, Eamon Boylan, Noemi Charlotte Thieves, Mariam Bazeed, Corinne Donly, and Ty Defoe.
Trans Lab was founded by Kit Yan and MJ Kaufman with the mission to support emerging transgender and non-binary theater artists. The 2019 cohort will receive a year of artistic support and mentorship, industry connections, and a modest stipend for their participation. Through monthly meetings, the group will build a bedrock foundation built on trust and community exclusively for TGNC artists. Trans Lab is run by Producing Artistic Leaders MJ Kaufman, Kit Yan and Ada Karamanyan and is sponsored by The Public Theater and WP Theater, and by individual donations and contributions.
The fellows were selected from a group of over 50 applicants through a rigorous application process.
"I couldn't be more excited by this year's group," said Kaufman, "Each of them brings a vibrant and unique voice, moving, haunting, hilarious, and powerful."
Karamanyan added "2018 proved to be monumental in the argument for providing TGNC artists an opportunity to raise their voices and tell their own stories. To imagine what is possible from this exceptionally talented cohort leaves me feeling hopeful in ways I hadn't imagined possible until a year ago at the beginning of the 2018 fellowship."
Plays by trans and gender nonconforming (TGNC) writers are a rarity in American theater. As transgender stories are co-opted, commercialized, and misrepresented by cisgender writers, Trans Lab fellowship supports the creation of a critical mass of TGNC plays by TGNC writers.
The necessity of creating opportunities for TGNC artists was sparked after a discussion held in the summer of 2017 by Kaufman, Yan, and Cece Suazo-Harris at WP Theater where the three shared their frustration with one another. Through a series of meetings and phone calls with other trans theater artists the group came up with a model for the first year of Trans Lab Fellowship. In the initial round the program supported five early career playwrights (including Suazo-Harris) and two directors. Over the course of a year the fellows met monthly to share work and participate in professional development. At the end of the year the lab held a festival of readings to share new work by the fellows.
For the 2019 fellowship Kaufman, Yan, and Karamanyan decided to accept fellows as multi-hyphenate theatre artists rather than simply playwrights or directors as a way of honoring the multiple talents so many trans artists bring to the table.
For more information about Trans Lab, the history, artists, and how to donate or become involved please visit www.transtheaterlab.org.
ASHLEY LAUREN ROGERS is an award winning writer and trans rights activist. She is the current artist in residence at Middlesex County Vocational Technical School in East Brunswick NJ. Her work has been performed at Dixon Place, MITF, the Brick, and Joe's Pub and others. Her short play "Becky's Christmas Wish," was a finalist for the City Theatre National Short Play Award, in Miami, and her work has been produced in Wisconsin, Cincinatti, New Jersey, Detroit, and Minneapolis. Ashley was featured on Fusion TV's Peabody Award Nominated Sex.Right.Now, panels for Revry.TV. Written for Cosmopolitan, The Mary Sue, is the creator of the Is It Transphobic Podcast.
E?AMON BOYLAN (they/them/theirs) is a NYC based director and creator whose recent projects include Soft Butter (Ars Nova, Musical Theatre Factory), When I Recall Her (Planet Connections, BAM studio), virgo (Fresh Fruit Festival, New Masculinities), Cinderella in the Closet (The Brick), Rooms (BAM studio), and The Rite of Spring (ATC). A member of the 2017-19 SDCF Observership class, they have incubated work with resident artists at Next Wave Festival (BAM) as well as at LCT3/Lincoln Center, the O'Neill, Clubbed Thumb, Musical Theatre Factory, American Theater Company, Judson Memorial, Joe's Pub, Chicago Cultural Center, Studio Theatre, and elsewhere. www.eamonboylan.com
NOEMI CHARLOTTE THIEVES makes art, theater, films and photos. She writes of spies and supernatural prophets, Y2K conspiracies and the relationship between memory and fiction. She's written work shown as part of the Philadelphia Fringe Festival (2016), shown artwork at the Hot Bits erotic film festival (Philly, 2017) and has published poetry in the comic-poem anthology InkBrick. She is currently writing 007 fan-fiction titled Bondage, and is working on a video series chronicling her own memories and their often loose connections to various movies, called, Memory, Vein.
MARIAM BAZEED is an Egyptian immigrant living in a rent-stabilized apartment in Brooklyn. An alliteration- leaning writer of prose, plays, and personal essays, Mariam received their MFA in Fiction from Hunter College, and is a singer and performance artist. They have been the recipient of fellowships/ residencies from Asian American Writers Workshop, the Hemispheric Institute at NYU, Lambda Literary, Millay Colony, and Hedgebrook. Mariam's first play, Peace Camp Org-a queer antiZionist musical comedy about summer camp, published in anthology by Oberon Books, UK-has been performed on three festival stages and two continents.To procrastinate from writing, Mariam runs a monthly world-music salon in Brooklyn, and is a slow student of Arabic music.
CORINNE DONLY's plays include Wood Calls Out to Wood (World Premiere, The Tank; 2017Weasel Festival, The Public Theater; upcoming publication with 53rd State Press); Orchid Receipt Service (2018 Reading Series, the Bushwick Starr); Because of the Mud (2017 B-Side Fest, the Wild Project); Wild Whore Says: Couldn't Drag Me Away (Brooklyn Arts Exchange); and The Brutes (Toronto Theatre Center). Their work has received developmental support through New Georges's Audrey Residency, SPACE on Ryder Farm's Creative Residency, BAX's Space Grant, Target Margin's Lab Series, and the Queerness is Actively Built Residency in Montreal, Quebec. Donly teaches writing to undergraduates at Brooklyn College and play- making to high school students in Canarsie (through the organization Opening Act). They hold an MFA in playwriting from Brooklyn College, an MA in Integral Ecology, and a BFA in acting from NYU'S Experimental Theatre Wing.
Ty Defoe (Giizhig), is from the Oneida and Ojibwe Nations of Wisconsin, resides in NYC. Writer, lyricist, scorpio, cultural pioneer, two-spirit interdisciplinary shape-shifting artist. Ty has gained recognition in many circles around the world for work in the arts including the Jonathan Larson Award. Writing publications can be viewed in the Pitkin Review, Woody Guthrie Anthology, Thorny Locust Magazine, and Howl Round. He/Him/They/We/Us Tydefoe.com
MJ Kaufman is a playwright and devised theater artist. Their work has been produced and developed by The Public Theater, WP Theater, NAATCO, Interact Theater, Clubbed Thumb, the New Museum, New Georges, Page73, Colt Coeur, Playwrights Realm, Yale School of Drama, Lark Play Development Center, Huntington Theater and performed in Russian in Moscow. MJ is a resident playwright at New Dramatists and was recently a staff writer on seasons 1 and 2 of The Chilling Adventures of Sabrina on Netflix. Originally from Portland, Oregon, MJ attended Wesleyan University and Yale School of Drama.
Kit Yan is a Yellow American New York based artist, born in Enping, China, and raised in the Kingdom of Hawaii. Kit is a 2018-19 Dramatists Guild Foundation Fellow, 2019 Lincoln Center Writer in residence, and a 2019-2020 Musical Theater Factory Makers Fellow. Their work has been produced by the American Repertory Theater, the Smithsonian, Musical Theater Factory, the New York Musical Festival, Diversionary Theater, and Dixon Place. They have been a resident with The Civilians, Mitten Lab, 5th Avenue Theater, the Village Theater, a WP/Public theater translab fellow and founder.
ADA KARAMANYAN is a casting director and theater administrator based out of New York City. Her casting work has included productions at ACT - A Contemporary Theatre, Milwaukee Repertory Theater, Arizona Theatre Company, New York Musical Festival, and Hunter College. She was the casting fellow at New York Theater Workshop during their inaugural 2050 administrative fellowship program in 2017-2018. Current projects include casting for The Playwrights Realm, and the upcoming Play On! (OSF) festival scheduled for June 2019. In addition to casting, she serves as a Producing Artistic Leader with Trans Lab.