Tony Goldwyn Helmed PAL JOEY to Hold Lab in November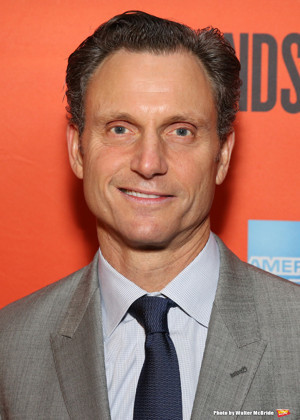 In December of 2017 it was revealed that Tony Goldwyn was directing a new revival of Pal Joey, aiming to make it to Broadway in 2018. As the industry goes, there has been little evidence of this plan being realized, but an Equity casting notice has just gone out seeking at new Joey for an upcoming lab to be presented in November. Richard LaGravenese pens the revised book.
With music Richard Rodgers and lyrics by Lorenz Hart, and set in Chicago in the late 1930s, Pal Joey is the story of Joey Evans, a brash, scheming song and dance man with dreams of owning his own nightclub. Joey abandons his wholesome girlfriend Linda English, to charm a rich, married older woman, Vera Simpson, in the hope that she'll set him up in business.
Goldwyn previously directed a reading of the musical in 2016.
The lab is seeking an actor for the role of Joey as well as ensemble dancers:
JOEY EVANS late 20's-late 30's. This character is African-American. Jazz singer, with big ambitions to be a star performer in 1930's Chicago. Confident, charming, amoral, Joey can be a romantic heel who uses women to his own advantage (until he falls in love for the first time). At heart, Joey is an artist - devoted to a jazz sound ahead of it's time. Fighting uphill battles of racism and the Depression, Joey will let nothing stop him to be on top. Baritone - Baritenor with ability to understand the idiom of jazz and it's idiosyncrasies.

ENSEMBLE DANCERS:
Characters are African-American women, 20s. Excellent dancers who sing well. Dancers in a Chicago jazz club in 1940.
Visit the audition notice here.
The most recent Broadway revival of Pal Joey was produced by the Roundabout Theatre Company in 2008. This production featured a new book by Richard Greenberg, based on the original book by John O'Hara, with music direction by Paul Gemignani, and choreography by Graciela Daniele. Joe Mantello directed.
The score includes such classic songs as "Bewitched, Bothered and Bewildered," "I Could Write a Book," "You Mustn't Kick It Around," and "Zip," among others. The new production also featured "I'm Talking to My Pal," a song that had been dropped from the score during its out-of-town tryout, and which was heard on Broadway for the first time in the revival.
Photo Credit: Walter McBride / WM Photos
Related Articles
More Hot Stories For You
Everything We Know So Far About the 2020 Tony Awards
The lights of Broadway will remain dark for the rest of 2020, but the year will not pass without a celebration of all that happened before the shutdow...

Set Designer Ming Cho Lee Dies at Age 90
BroadwayWorld is saddened to report that set designer Ming Cho Lee has died at age 90....

DEAR EVAN HANSEN, & JULIET, FIDDLER ON THE ROOF, and More Take Home 2020 Olivier Awards - Full List!
Tonight, the Olivier Awards will be announced in a special online broadcast. We'll be updating the list of nominees LIVE throughout the evening....

WATCH: BROADWAY SINGS FOR BIDEN Livestream Concert with Tamika Lawrence, Jessica Vosk, Kate Rockwell, and More - Live Now!
As BroadwayWorld previously announced, Broadway Sings for Biden, the concert-documentary center around voting activism, premieres tonight on our site ...

VIDEO: Get a Sneak Peek of the BROADWAY SINGS FOR BIDEN Livestream Concert - Premiering Tomorrow!
As BroadwayWorld previously announced, Broadway Sings for Biden, the concert-documentary centered around voting activism, premieres tomorrow, October ...

Meet Our NEXT ON STAGE: SEASON 2 College Top 10!
You voted, here they are! In no particular order, meet our top 10 in the college category....