Throwing Out My CDs by Ben Rimalower: OKLAHOMA!
Ben Rimalower revisits favorite musical theater recordings as he digitizes and declutters his collection.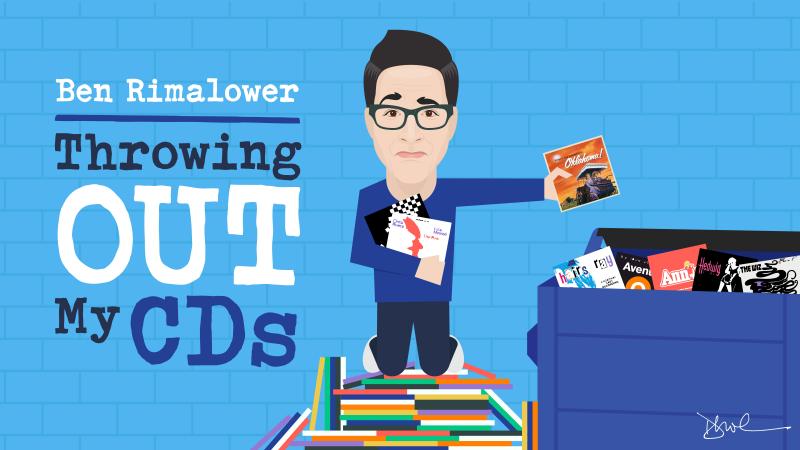 In 10th Grade, I was in the chorus of a production of Oklahoma! in the auditorium of my synagogue and it was the best theatrical experience I've ever had. I remember getting home from the closing night cast party and crying myself to sleep. I could cry now putting on the movie or listening to "The Farmer and the Cowman," or maybe most of all, if I sing a little bit of the introduction to the title song.
They couldn't pick a better time to start in life
It ain't too early and it ain't too late
Startin' as a farmer with a brand new wife
Soon be livin' in a brand new state
Brand new state!
Gonna treat you great!
---
Doesn't that choke you up? No? Just me? Obviously, it's my nostalgia for that adolescent feeling of newness and possibility to theater, to life (L'chayim?), but it's no coincidence that I resonated with that song--despite the fact that I grew up in suburban Los Angeles in the 80s and 90s. Why should I feel such kinship with the pioneering spirit of the Great Plains? Two words: Rodgers and Hammerstein.
Richard Rodgers and Oscar Hammerstein II were the perfect team to musicalize Lynn Riggs's 1931 play Green Grow the Lilacs. Rodgers is famous for earthy melodies that soar; his tunes can rise to glorious emotional heights, but they don't quite enter the quasi operatic theatrical fantasy land of say Jerome Kern or even George Gershwin. A Rodgers song always sounds like it's being sung by a human being living their real life. He found an ideal partner in Hammerstein, whose lyrics find the poetry in the everyday. Together, they created a kind of theater song it's hard to imagine anyone ever writing again. More to the point, it was a kind of song no one had ever written before and Oklahoma!, their first collaboration, changed Broadway forever.
---
My first memories of Oklahoma! are the posters for the 1979 revival when I was very little and still living in New York City. One of my friend's moms had seen it and I remember her talking about it and I feel like I already knew the songs even then. Shortly after that, my grandparents started hosting movie musical night for me and my sister. (I can't tell if I'm thinking how special that was or like how normal that was and how grateful I am we had it or some weird combination of those two feelings... Either way, I'm getting choked up again.)
I can't remember my first time watching Oklahoma!, I just know it was always a regular in the repertoire. I don't remember ever not knowing "Oh, What A Beautiful Morning" or "All Er Nothin." My mom "famously" understudied the role of Ado Annie in her day camp production of Oklahoma!, and somehow this provided my family with an intimate professional connection to the piece.
Beyond the big "hits" of Oklahoma!, I didn't really learn the nitty gritty of the score until rehearsals for Rabbi Rothblum's 1992 Adat Ari El Auditorium production. I'm permanently scarred by meanie musical director David Kamenir angrily pounding out the melody of "It's A Scandal, It's An Outrage" for me and my ensemble colleagues' borderline tonedeaf ears. ("Frie-en-en-end, what's on your mind? Why-do-you-wa-alk? Around-and-arou-ouuuuuuuuund...?")
---
(Another dichotomy: Oklahoma! is simultaneously a very un Broadway score when you think of the Americana and almost country vibe of it and yet also like the most definitely for sure Broadway score ever when you think about all those storytelling character songs that take you right into the nitty gritty of these people's lives.)
So, to soothe my broken 10th Grade heart, I got all the Oklahoma! cast recordings and spent a few months walking around blasting on my Diskman the various versions of those funny little character songs, along with the big ballads like "Out Of My Dreams" and "People Will Say We're In Love." Going through them now to digitize and declutter, I'm struck by how off some of my recollections have been.
I remember thinking the 1979 Broadway revival cast with Christine Andreas as Laurey and Christine Ebersole as Ado Annie was the best recording of Oklahoma!, hands down. Besides the rare double diva package in one show, the cast is rounded out by more contemporary/contemporary-ish Broadway favorites like Laurence Guittard, Martin Vidnovic and Harry Groener.
---
If that weren't enough of a selling point, it's a newer recording so obviously in a higher technical class. Right? WRONG! The 1979 Oklahoma! was one of a series of RCA "Red Seal" releases (along with, tragically, the Broadway cast recording of Andrew Lloyd Webber's Song And Dance starring Bernadette Peters), which have this strangely compressed, muffled quality that sounds awful, at least on CD.
Fortunately, the Original Broadway Cast Recording from 1943 has been remastered and reissued several times and is now available sounding impressively crisp and clear. I keep putting it on expecting Alfred Drake's Curly to be too bellowy for me (surprise: he's perfect; there's a reason he starred in like every classic musical ever) or Joan Roberts's Laurey to be too warbly for me (nope, she's even more mixy-belty and conversational than the divine Christine Andreas--seriously Roberts could play Laurey today and probably go straight into Wicked right after). I will say, though, that I much prefer Christine Ebersole's absolutely delicious Ado Annie on the revival to Celeste Holm on the original. But I just keep picturing Holm's (homely?) face and remembering how nasty she was to me one night at the Laurie Beechman Theater, so yeah, to each his own.
I'm actually kind of obsessed with the 1964 studio cast featuring Florence Henderson, John Raitt and Phyllis Newman. For everyone who's laughed along with Seth Rudetsky at some of the vocal idiosyncrasies in Henderson's later work post-"Brady Bunch," this is a staunch reminder of the undeniable musical theater talent that made her a star. After all, she was handpicked by Rodgers and Hammerstein to star as Maria in the national company of the original production of The Sound of Music. Listen to her sing "Many A New Day" and you're sucked right in to the bite of her conversational lower voice. It's true she makes a dramatic transition through a few different registers to get to the top notes, but she does it with confidence, sounding absolutely perfect and lovely each and every step along the way. And you can just picture her beautiful face, warm and wry, beaming behind it all. It's making me wish she had done some of Hammerstein protégé Stephen Sondheim's work.
---
The 1998 London revival with Hugh Jackman is pretty enjoyable too I gotta say. I put it on wanting to hate Hugh because he's not American and like I can barely take natives doing this dialect, let alone Australian and British musical theater people putting it through the cheese grater of their vowel palette. But what can I say? Wolverine can get it. I'm recalling him winning me over similarly in The Boy From Oz. When he opens in The Music Man on Broadway next year, I'm gonna save the trouble and just go in ready to love. LOL watch me be disappointed. Seriously, half of life is expectations. (And when I say life I mean musical theater, natch.)
At the end of the day, I'm coming back to the movie soundtrack of Oklahoma!, though. There's a reason Shirley Jones and Gordon MacRae starred in the movies of both Oklahoma! and Carousel. (And there's a reason Jones was the first and only singer to be put on personal contract to Rodgers and Hammerstein.) Gordon MacRae's speaking voice slides right into his big, beautiful baritone with no loss of authenticity--quite a feat considering the operatic posturing this kind of legato music necessitates of many singers. The same is true times two for Shirley. She's conversational, although never belty, and she sings the high notes gorgeously, but she doesn't make a fuss about it. She's the perfect Laurey because she can front fully grown woman without clouding our view of the still insecure little girl inside, which she never needs to telegraph. It's an effortless performance.
---
It's strange going through all these Oklahoma!s and coming out so focused on Shirley Jones and Florence Henderson. Maybe it's another testament to Rodgers and Hammerstein that two of their foremost interpreters wound up becoming such pop culture icons as TV moms in the decades that followed. We all grew up nurtured by Rodgers and Hammerstein, even if it was via a few degrees of separation.
And now Rodgers and Hammerstein's seminal Oklahoma! is coming back to Broadway again, this time in a production that seeks not to nail the archetype of what this show meant before, but to reinvestigate what it can mean in a wholly new context. I didn't see it in its Brooklyn run last year, but all reports indicate this revival strips the show down to the barest essentials and illuminates the riches that lie within. I couldn't be more excited! In any case, with Rebecca Naomi Jones, Ali Stroker and great lady of the stage Mary Testa in the female leads, it will surely be a rendition of the score for the ages.