Throwing Out My CDs by Ben Rimalower: JACQUES BREL IS ALIVE AND WELL AND LIVING IN PARIS
Ben Rimalower revisits favorite musical theater recordings as he digitizes and declutters his collection.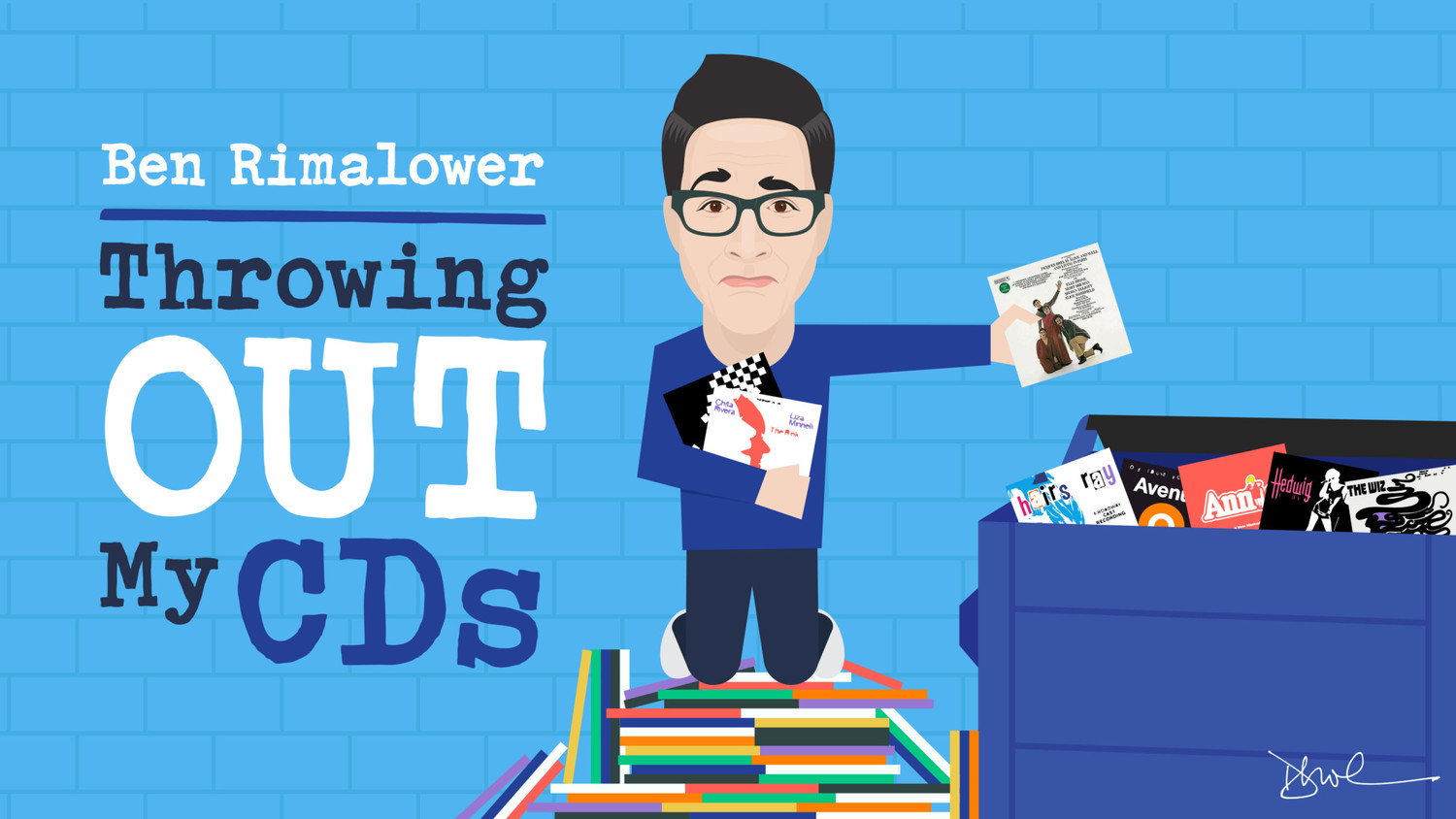 There were just a few records that my mom played for me when I was little. Or maybe there are just a few that I remember asking her to repeat. I can picture the LP jacket on the floor leaning against the bookcase when she would put on Jesus Christ Superstar or Tommy or Jacques Brel is Alive and Well and Living in Paris.
It was so fun and energizing to run around the living room in circles as the Superstar chorus wailed, "What's the buzz? Tell me what's a-happenin?" or while The Who extolled "that deaf, dumb and blind kid sure plays a mean pinball." But nothing quite got me going like hearing Alice Whitfield and the cast of Jacques Brel is Alive and Well and Living in Paris braggadociously belting about "the time when Brussels was king."
Even then, though, as much as I loved Alice's sass, I knew the main attraction on this record was Elly Stone, the women with the weird, warbly and hypnotic head voice who sang all the ballads (and of course whoever this Jacques Brel guy was). As I grew up and flipped through my mother's record collection, I instinctively knew which lady on in the picture was Elly Stone--the one in the center. Years later when I bought the CD, almost every track haunted me with resonance from deep in my childhood, Stone's ethereal tones most of all. And now this is the CD I have to throw out, along with the Ghostlight Records release of Gordon Greenberg's fabulous Zipper Theater revival (starring the great Gay Marshall Natascia Diaz) plus the one of the quirky London production from the 90s.
This is such a strange show. I wonder how much people in the United Stages generally knew of Belgian singer songwriter Jacques Brel before this little Off-Broadway revue became a smash at the Village Gate Theater on Bleecker Street, running for 1,847 performances. There was already something anachronistic to Brel's songs about the shadows of the World Wars being sung as hippie anthems in Greenwich Village. Time and place are even further distorted and conflated for my generation, who grew up on this cast album, many of us only discovering Jacques Brel via this revue and for whom the Vietnam War is at least as distant as the World Wars had been for Brel himself. And then in my case, this hallucinatory effect is quadrupled since I'm feeling nostalgic for this experience that only ever existed for me in an assumed musical memory. Surely, this is the power of Brel's music and lyrics.
It stars with the opening number, "Marathon," which is literally about the march of time and evolution of man, culture, etc. It's kind of a list song, so Brel (and Eric Blau and Mort Shuman, his translators for Jacques Brel is Alive and Well...) really get in a lot of references--everything from bathtub gin to Auschwitz and mushroom clouds. The end gets really trippy with the music slowing down for the cast to drone dire predictions for a dark, disconnected future with "robots working in the cotton fields." If you think that doesn't look bad on paper, the music makes sure you know it is, although there's still the whimsical absurdity of "vacations on Venus just a tourist deal." The combined sense of dread and intrigue this stirred in me has never let up.
"I Loved" is Elly Stone's first solo on the original cast album and it's an excellent showcase for her passionate soprano, dripping--almost heavy--with emotion. She kind of sounds like Barbara Cook, if Barbara Cook smoked a lot of hash in the Village. In the 2006 revival, this song is swapped out for the similar in feeling "My Childhood," and Gay Marshall proves you don't need Elly Stone's strange and wonderfully weird voice for this show. You can be just as moving and distinctive with a very human sounding high belt. And she is.
Another highlight in the first few tracks is "Madeleine," one of the catchiest uptempo songs in the show and it paints a sweet picture of an innocent time, waiting outside the movies for a girlfriend who never shows up. "Timid Frieda" is the first solo for Alice Whitfield on the original cast album and it's a lovely one, but still cheeky, especially when she describes Frieda's "brave, new 'fuck you' stand."
Another track that really spun me right round as a boy was "Jackie," Brel's anthem to aspirational shapeshifting, featuring the ridiculous lyric, "If I could be for only an hour, if I could be for an hour every day, if I could be--for just one stinking hour--cute, cute, cute in a stupid-ass way." It almost feels like a lyric from the 1990s. Do yourself a favor and watch Andrew Rannells's masterful performance from his American Songbook concert, where it stopped the show cold. More commonly sung out of context are the "hits" "Amsterdam" and "Marieke," which, even if you prefer the versions by David Bowie or Judy Collins, are given more than credible renditions on the Jacques Brel Is Alive And Well... album.
"The Desperate Ones" is maybe the most haunting melody in the whole score, certainly one of Mort Shuman's most haunting musical arrangements. I remember hearing somewhere that its about people who commit suicide and listening to it now, I'm reminded of the shadow people in the movie Us.
Okay, if I have to pick a single, number one, top favorite song in the score, I suppose I would pick "Sons of..." because it's truly achingly, painfully beautiful. The message is quite sad (surprise, surprise) about how war kills all people, all walks of life equally.

Sons of the thief, sons of the saint

Who is the child with no complaint

Sons of the great or sons unknown

All were children like your own
Hamilton always reminds me of this in the song "Wait For it."

Love doesn't discriminate

Between the sinners

And the saints

It takes and it takes and it takes
Actually, in the reality of American wars post Vietnam, that hasn't proven true and "Sons of..." seems even sadder now knowing that actually poor boys go to war and die far more than rich boys. It doesn't make the song ring less true, just adds to the nostalgic yearning for a better world before things went all went so wrong. The lyric that really slays me is "The same sweet smiles, the same sad tears. The cries at night, the nightmare fears." It's so simple but I can't imagine a more perfect description of the pains of growing up. If "Sons of..." is my favorite Blau/Shuman translation, then my favorite of Shuman's arrangements must be "The Old Folks." The piano sounds like a ticking clock. It's funny. These two sad songs make me cry, but in such a satisfying way, it's not depressing. And it must be said both are sung on the original cast album by--guess who--Elly Stone.
The finale of the show is the more hopeful "If We Only Have Love," but strangely I find it to be more of a downer than the ostensibly sadder numbers. There is a version of this song, however, which lifts me up and that's the late, great Laurie Beechman's duet with her sister, Claudia Beechman, on her final album, the 1996 release "No One Is Alone." Maybe it's me projecting, imbuing her voice with the story of her struggle with cancer and negative prognoses, but when Laurie's throbbing belt soars to the rafters, clamoring that love is enough, it makes me feel like somehow it is all, in fact, worth it.
Related Articles