The 'Broadwaysted' Podcast Welcomes Tony Nominee Rory O'Malley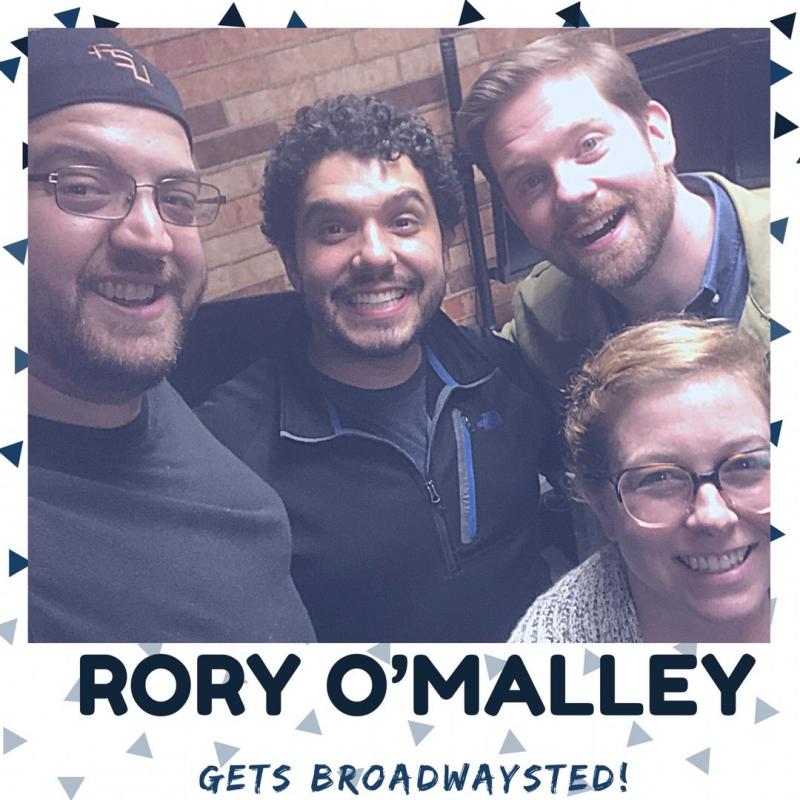 Happy Days are here again...and we mean Happy Days: A New Musical because we're thrilled to be sharing a laugh with Broadway and podcast star Rory O'Malley!
We're pouring out LaCroix Sparkling Water and playing the episode-long game "Turn it Off" while Rory spills about being consoled by a child during Billy Elliot, Josh Gad's snacks during the Tonys for The Book of Mormon, and trekking with his mother to an NYC "Law & Order" location.
Rory's action-packed "What Have You Seen This Week" includes raves about Be More Chill and Janet McTeer's performance in Bernhardt/Hamlet and we chat about Rory's trifecta of Broadway brilliance: The 25th Annual Putnam County Spelling Bee, The Book of Mormon, and Hamilton.
Game Master Kimberly introduces the Lights of Broadway Show Cards game "Happy Days," we play an intense round of "Heads Up," and Kevin and Rory discover an Ohio connection in "Kevin's Corner." We have an absolute ball hanging with podcast pal Rory so grab your headphones and join in the fun as Rory O'Malley gets Broadwaysted!
ALSO: Want to have a spooky and fun evening supporting a theatre company and seeing #CohostOfTheShow Kevin in action? Come to the Halloween Short Play Festival presented by the New Wave Theatre Collective on Tuesday, October 30th at 7pm! 8 playwrights (including Broadwaysted's Kevin Jaeger) have written short plays inspired by delightfully creepy Halloween art by artist Peter Stults.
Kevin will be MCing a night of fun and scares with a Happy Hour from 7pm-8pm, performances from 8pm-9:30pm, and then party down with the cast and crew! Tickets are $20 General Admission or $40 General Admission plus OPEN BAR. For tickets and more information, check out www.newwavetheatercollective.com.
Listen to the episode here:
Don't forget to join the "What Have You Seen This Week" conversation by getting your tickets at Goldstar! Visit www.goldstar.com/broadwaysted and use the code BROADWAYSTED to get an additional $10 off your order for the best tickets to Live Entertainment! Make sure to share what you see with us on social media!
---
About Rory: Rory O'Malley is an American film, television, and musical theater actor, best known for his Tony Award-nominated performance as Elder McKinley in The Book of Mormon and performing the role of King George II on the national tour of Hamilton following his nine-month tenure in the role in the show's Broadway company. He is a co-founder of the gay rights activism group Broadway Impact and the host of the podcast "Living the Dream with Rory O'Malley." Follow Rory @RoryOMalley on Twitter and @mrroryomalley on Instagram.
---
About the Show: Join the hilarious happy hour antics on Broadwaysted every Tuesday as the Brightest Stars of Broadway have a few drinks, play a few games, and share a lot of laughs with host Bryan Plofsky, co-host Kevin Jaeger, and Game Master Kimberly Schmidt.
The recipe is simple. We take a generous pour of Delightful, Delicious, and Delovely featured show segments like "What Have You Seen This Week," "Stage Door Stories," and "Tuesdays in the Corner with Kevin"--mix in a few original games created by our resident Game Master Kimberly--and top it off with a healthy serving of Bryan's Pun-tastic Ponderings. What you get is a podcast filled to the brim with laughs, insight into the NYC Theatre Scene, and a hangover-free cocktail hour with your favorite stars.
Since May of 2016, Broadwaysted has released over 100 episodes and their growing #FriendsoftheShow guest list includes Broadway Legends, Fan Favorites, Fresh Faces, and a whole lot of Newsies,
Follow and Subscribe to Broadwaysted free on iTunes to join the fun every Tuesday!
Twitter: @Broadwaysted
Instagram: @Broadwaysted
Bryan's Twitter: @nuttyplofessor
Kevin's Twitter: @JaegerKev
Kimberly's Twitter: @KimberCoops
Facebook: Join our group Broadwaysted #FansoftheShow to exchange game ideas, share theatre thoughts, or chat with other #FansoftheShow