Click Here for More Articles on SHAKESPEARE IN THE PARK
Review Roundup: What Did the Critics Think of Shakespeare in the Park's OTHELLO?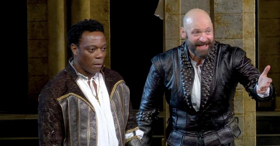 Othello officially opened as part of The Public Theatre's free Shakespeare in the Park program, last night, June 18.
Tony winner Ruben Santiago-Hudson returns to Free Shakespeare in the Park to direct a sumptuous new production of OTHELLO. Set amid war and palace intrigue in the 17th-century Mediterranean, this classic drama about a noble Black Venetian general whose marriage is sabotaged by theater's most infamous villain, Iago, remains Shakespeare's most urgent and relevant tragedy today. A lush, romantic vision gives way to the violent tangle of love and jealousy, race and revenge in this must-see production of Shakespeare's great tragedy, OTHELLO.
The complete cast of OTHELLO features Peter Jay Fernandez (Duke of Venice); Motell Foster(Roderigo); Andrew Hovelson (Lodovico);Chukwudi Iwuji (Othello); David Kenner (Ensemble); Heather Lind (Desdemona); Tim Nicolai (Ensemble); Flor De Liz Perez (Bianca); Miguel Perez (Brabantio); Thomas Schall (Montano); Caroline Siewert(Ensemble); Corey Stoll (Iago); Babak Tafti (Cassio); Peter Van Wagner(Gratiano); and Alison Wright(Emilia). The non-equity ensemble will feature Kevin Rico Angulo, Christopher Cassarino, Lily Santiago, and Allen Tedder.
Let's see what the critics are saying...
---
Ben Brantley, The New York Times: Watching The Public Theater's new "Othello" is like being on a blind date that, while perfectly pleasant, is never going to ignite into passion. Ruben Santiago-Hudson's elegantly staged production, which opened on Monday night at the Delacorte Theater in Central Park, is good-looking, well-spoken and intelligent, as easy on the ears as it is on the eyes. But you know that you're not going to be dreaming about it later, or wishing that you could see it again. It's a picturesque, nicely paced show that engages without enthralling or unsettling.
Isaac Butler, Vulture: If what you want from your Shakespeare is a firm directorial hand that tugs on unexpected threads to reveal new angles into the text that you'd never seen before, this is not the Othello for you. Unlike Sam Gold's starry and heavily conceptualized Othello at New York Theater Workshop in 2016-or Oskar Eustis's staging of Julius Caesar which caused such a kerfuffle in the press last summer- there are very few overt directorial gestures or explicit politics to be found in this production. There's a concrete practicality to nearly every choice, with the result that there's little here to surprise you, but a lot to keep you entertained.
Frank Scheck, The Hollywood Reporter: These days, a Shakespearean production set in the appropriate period and devoid of modernistic touches seems almost an aberration, as if the director just wasn't trying hard enough. The approach feels refreshing here, especially after last season's misbegotten Central Park production of Julius Caesar, in which the title character was presented as a Donald Trump parody. It takes a few minutes into this Othello before one gets used to seeing the cast in Toni-Leslie James' handsome period costumes rather than modern military uniforms and business suits.
Unfortunately, that lack of daringness also results in the evening feeling stodgy and dull, Stoll's attempts at comic relief notwithstanding. Performed on Rachel Hauck's visually drab set consisting of little more than faux stone arches, the production lacks the passion and urgency necessary to make us care about the tragic fates of its principal figures.
Allison Adato, Entertainment Weekly: In other words, there is no time travel, no too-clever rethink. It can be effective and fun to stage Shakespeare in modern times - Sam Gold's terrific 2017 New York Theatre Workshop take put David Oyelowo's Othello in a present-day army barracks with "Hotline Bling" on the soundtrack. But a temporal update is no guarantee that a young or new-to-Shakespeare audience will get it. More essential is an ease with the words, in whatever era they are delivered, that puts the listener also at ease. As villianous Iago, Stoll (Brutus in last year's Trump-eraJulius Caesar) brings a comic's timing and puts over even very well known lines ("your daughter and the Moor are making the beast with two backs," "jealousy... is the green-eyed monster") as if he is speaking extemporaneously. It is not only a delight to watch, it is a boon to anyone who avoids Shakespeare for fear of missing the meaning. He knows where the laughs are in this tragedy, and when the bodies pile up at the show's end, he has somehow made us culpable - we were laughing along, even cheering for the ruthless plan he had laid out to succeed.
Joe Dziemianowicz, NY Daily News: Green is the color of envy, the toxic stuff that shakes the otherwise steady Venetian general from his moorings in "Othello." So it's no fluke that an emerald cape - not his - is seen early in The Public Theater's free revival running through Sunday at the Delacorte Theater in Central Park.
But the primary tone of the accessibly middle-of-the-road revival directed by Ruben Santiago-Hudson is beige. Not just because that's the hue of the arch-filled set, plus some gilded costumes. But because the stakes in this Shakes don't feel particularly high. Even when people start dropping like flies.
Greg Evans, Deadline: Though the racial underpinnings of the play aren't overlooked - more than one character spits out the word "Moor" as if no further explanation is required - Santiago-Hudson seems more intent on examining gender violence here, as Lind's sweet, rather befuddled Desdemona is altogether incapable of fully grasping the hair-trigger brutality of men, or at least one in particular who convinces himself (with a little help from a friend) that he's been done wrong.
Thom Geier, The Wrap: You almost have to feel sorry for Chukwudi Iwuji, the talented British actor who plays the title role in "Othello" in The Public Theater's Shakespeare in the Park production that opened Monday.
He delivers a confident performance in an exquisite revival of the Bard's classic tragedy, infusing the tragic Moor with both the cockiness of a war hero and the lustiness of a man who has wooed a woman seemingly above his station but whose ardor is very much at the forefront of his thoughts.
Like so many Othellos before him, though, Iwuji is ultimately upstaged by a truly brilliant performance by Corey Stoll as the duplicitous Iago. Stealing a page from his former "House of Cards" co-star Kevin Spacey, Stoll delivers a portrait of evil at its most charming and, dare I say, appealing.
Barbara Schuler, Newsday: Corey Stoll gives Iago a frightening, psychopathic edge, making it obvious that his proclamations of honesty are anything but. "I am not what I am," he proclaims, a message so relevant that's its emblazoned on the souvenir T-shirt's. Appropriately his comeuppance is delivered by his wife Emilia (Alison Wright, an intelligent performance as a desperate housewife who ultimately perceives, and tragically reveals, her husband's deception).
Matt Windman, amNY: The first half of the three-hour production runs smoothly, with fine performances from Corey Stoll ("House of Cards") as an expressive and jovial Iago and Chukwudi Iwuji ("The Low Road" at The Public Theater) as an unfazed, unusually young Othello. Alison Wright ("The Americans") also stands out as Iago's outspoken wife Emilia.
But following intermission, as Iago's scheme to destroy Othello rushes to its bitter end, the production loses its drive and dramatic tension, and the famous final scene is especially ineffective.
Related Articles