Review Roundup: Tom Stoppard's THE HARD PROBLEM at Lincoln Center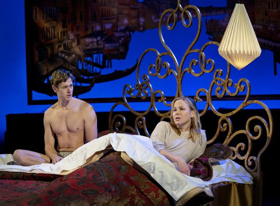 Lincoln Center Theater presents The Hard Problem, a new play by Tom Stoppard, to be directed by Jack O'Brien. The production features Eshan Bay, Adelaide Clemens, John Patrick Doherty, Nina Grollman, Katie Beth Hall, Eleanor Handley, Olivia Hebert, Sagar Kiran, Chris O'Shea, Madeleine Pace, Robert Petkoff, Tara Summers, Jon Tenney, Baylen Thomas, Kim N. Wong, and Karoline Xu. The Hard Problem began performances Thursday, October 25 and will open Monday, November 19 at the Mitzi E. Newhouse Theater (150 West 65 Street).
In Tom Stoppard's The Hard Problem, Hilary (to be played by Adelaide Clemens) is a young psychology researcher at the Krohl Institute for Brain Science where psychology and biology meet. If there is nothing but matter, what is consciousness? This is "the hard problem" facing science, and for Hilary the possibility of genuine altruism, without a hidden Darwinian self-interest, depends on the answer. Meanwhile she is nursing a private sorrow. She needs a miracle and is prepared to pray for one.
THE HARD PROBLEM will feature sets by David Rockwell, costumes by Catherine Zuber, lighting by Japhy Weideman, sound by Marc Salzberg, and original music by Bob James.
---
Ben Brantley, The New York Times: Mr. Stoppard, always a tireless self-editor, has tweaked and massaged"The Hard Problem" since I first saw it at the National Theater in London. And Mr. O'Brien's staging feels lighter on its feet than Nicholas Hytner's original version. Yet it is hard to avoid the impression that "The Hard Problem" - which often feels like the work of a precocious young neophyte rather than an old master - has yet to solve itself.
Michael Dale, BroadwayWorld: Clocking in at 100 minutes, The Hard Problem may seem a bit overextended at times, but Stoppard's dialogue is sharp and challenging and O'Brien's staging has a crisp energy. And in this season of giving, the topic may especially inspire some interesting post-theatre chatter.
Tim Teeman, The Daily Beast: Any Stoppard fan knows an evening of his playwrighting will not be an easy matter of plot, complication, and resolution. But whereas the likes of Travesties and the Tony-winning The Coast of Utopia fold big ideas into involving characters, The Hard Problem feels more distancing, its characters more repositories for ideas, and generally unsympathetic at that. To get the most from it, you may have to revisit it as O'Brien did.
Frank Scheck, The Hollywood Reporter: The latest work from the celebrated playwright is a typically brain-stretching intellectual exercise trading more in theoretical concepts than flesh-and-blood drama. In the past, Stoppard has been able to balance these elements to commanding effect with such acclaimed works as Arcadia and The Real Thing. Unfortunately, The Hard Problem, receiving its New York premiere in a Lincoln Center Theater production three years after its London debut, represents a minor effort unlikely to have the lasting appeal of those predecessors.
Barbara Scbuler, Newsday: While far from his best, this is a fascinating piece of theater from the cerebral Stoppard, one that requires rapt attention at every turn as we're asked to process a litany of complex scientific concepts. Some are familiar -nature vs. nurture, the Big Bang Theory. Others you'd know about only if your reading list includes high-level science journals - panpsychism, quantum-level brain processes, evolutionary neurobiology. Oh, and let's not forget the life cycle of bovine parasites.
Sara Holdren, Vulture: Its ideas are, as ever, rich and varied, while its dramatic scope is relatively modest. And while it may seem paradoxical, I think a sparer production - and one that remained a little less sentimental for a little longer - would have moved me more. O'Brien is gamely feelings-forward in his approach to the play, but he's making it more treacly than it need be. As his overlarge ensemble (there are six actors whose only job is to move furniture between scenes and benignly observe the play's action from the background) enters at the top of the show to one of those warm piano melodies, scripts in hand and smiles on faces - as if to say, "Here we all are, ready to tackle our own hard problem!" - the effect verges on schmaltz.
Adam Feldman, Time Out New York: The title refers to the difficulty of accounting for human consciousness and morality, and the play's main characters are cognitive scientists. Yet Stoppard's approach to this question is rudimentary: an intro-level survey of the shades of gray matter, starting with a discussion of game theory's familiar "prisoner's dilemma" and then strolling down well-trodden paths about religion, science, altruism and the nature-versus-nurture debate. He doesn't grapple with his central question so much as he thumb-wrestles it.
Robert Hofler, TheWrap: Stoppard wows us with his talk of "neurobiology crossovers" and "quantum-level brain processes," but when it comes to developing his characters, he doesn't bother being subtle or even remotely smart. American equals crass, and British equals...well, those characters are nicer and brighter but sometimes much gooier.
David Finkle, New York Stage Review: The wonderful result of Stoppard's insisting in The Hard Problem that his audiences think seriously as they watch his play are the simultaneous emotional feelings he elicits in them. He allows no let-up in brain and consciousness awareness but makes certain that humanity accompanies, if not predominates, the effect.
Elysa Gardner, New York Stage Review: The focus of Problem is ostensibly the mysteries of the brain, an enormous subject in itself-though as this early exchange suggests, that other tricky and inexplicably related organ, the heart, is just as relevant. This would be vast and perilous terrain for most writers, but Stoppard, who is now 81, has retained an ability to mine all sorts of complicated subject matter with compassion and empathy as potent as his wit. Problemranks with his most fully realized work, recalling Arcadia in its reconciliation of concepts that may seem arcane at first blush with characters who, beyond their dazzling dialogue, speak to our souls.