Review Roundup: DIANA, THE MUSICAL Opens on Broadway - The Critics Weigh In!
Diana, The Musical stars Jeanna de Waal as Diana, Roe Hartrampf as Prince Charles, Erin Davie as Camilla Parker Bowles and Judy Kaye as Queen Elizabeth.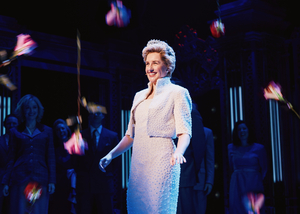 Diana, The Musical celebrates official opening night tonight, Wednesday, November 17 at the Longacre Theatre (220 West 48th Street). Diana, The Musical stars Jeanna de Waal as Diana, Roe Hartrampf as Prince Charles, Erin Davie as Camilla Parker Bowles and Judy Kaye as Queen Elizabeth.
The complete cast of Diana, The Musical includes Zach Adkins, Ashley Andrews, Austen Danielle Bohmer, Holly Ann Butler, Richard Gatta, Alex Hairston, Lauren E.J. Hamilton, Shaye B. Hopkins, André Jordan, Gareth Keegan, Libby Lloyd, Nathan Lucrezio, Tomás Matos, Chris Medlin, Anthony Murphy, Kristen Faith Oei, Laura Stracko, Bethany Ann Tesarck and Michael Williams.
Diana, The Musical celebrates the life of Princess Diana and the light of her legacy that continues to shine across the world. The musical has book and lyrics by Tony winner Joe DiPietro and music and lyrics by Tony Award winner David Bryan. Direction is by Tony winner Christopher Ashley, choreography by Olivier Award winner Kelly Devine and musical supervision and arrangements by Olivier winner Ian Eisendrath.
Celebrate a life unlike any other...Diana tells the story of one of the most beloved women of modern times. Engaged to a prince she barely knows, 19-year-old Diana Spencer is thrust onto the world stage and, overnight, becomes the most famous woman in the world. As she struggles to navigate her way within the rigid structure of the royal family, Princess Diana finds herself trapped in a loveless marriage, eventually finding her voice by devoting herself to those in need. Forced to endure a media spotlight brighter than the world has ever known, Princess Diana defies all expectations to emerge as her own woman and create a legacy that will endure forever.
---
Jesse Green, The New York Times: "Diana," as directed by Christopher Ashley, has on display. The real problem is intrinsic, arising from the choice to tell the story in song at all. Musicals, like laws, are often compared to sausages: You don't want to know what goes into them. In this case, you don't want to know what comes out, either; if you care about Diana as a human being, or dignity as a concept, you will find this treatment of her life both aesthetically and morally mortifying.
Helen Shaw, Vulture: Speaking of day drinking, the best Diana can hope for is that its tackiness will transform, through the magic of mess-addicted theatergoers, into a sort of warmly accepted kitsch. The show's social-media account has been encouraging people to have wine beforehand, cheering "here for a good time not a long time!" There's plenty of evidence that the show's creators Joe DiPietro and David Bryan are going for a kind of late-night extended-SNL-sketch vibe.
Naeen Kumar, Variety: Director Christopher Ashley, who heads La Jolla Playhouse where this production premiered, hands in a seamless and unfussy physical staging, on set designer David Zinn's royal-blue colonnade, an obvious gilded prison. But Ashley, a Tony winner for "Come From Away," offers no solution for the musical's narrative inertia, and Kelly Devine's choreography, a stock blend of mugging and scurrying, doesn't help. Though Diana's life ended in a frenzy, the musical whimpers to a conclusion, succumbing to its own lack of purpose.
Peter Marks, The Washington Post: Devoid of insight and ricocheting between dull vulgarity and vacuous hero worship, the show, which had its official opening Wednesday at the Longacre Theatre, is less edifying than a scroll through the archives of the tabloids. The musical purports to ridicule them for hounding their prey, but in actuality matches them for exploitation.
Charles Isherwood, Broadway News: To answer the question that absolutely no one with a Netflix account and an interest in Broadway musicals is asking: Why, yes, "Diana, The Musical" is every bit as abysmal as rumored. Social media was briefly aflame with withering descriptions when the show first began streaming in October, so the Broadway opening - long delayed by the pandemic - almost feels like a pointless afterthought. The wedding cake that was flavorless to begin with is now both flavorless and stale.
Greg Evans, Deadline: By now you've probably read, heard or seen for yourself, via Netflix, just how deliciously bad Diana is, but the truth isn't quite so much fun. Diana, opening tonight on Broadway at the Longacre Theatre, is not a so-bad-it's-good disaster. It's just a regular, run-of-the-mill mess, a well-intended celebration of a beloved figure undone by one bad turn after another. More's the pity.
Matt Windman, amNY: Contrary to the vicious ridicule it was greeted with on social media, "Diana" is not a disaster - it's just not very good. If anything, it is an example of what the late composer Mary Rodgers called a "why musical," as in a musical that is completely unnecessary. Why did the world need another retelling of the marriage of Diana and Charles, especially after it has been so thoroughly explored in the tabloids and onscreen (i.e. season four of "The Crown," "Spencer" with Kristen Stewart)? You don't even need to watch "Diana" in person or on Netflix to feel like you've already seen it.
Johnny Oleksinski, The New York Post: The Caesars Palace buffet of camp, "Diana" tells the story of an innocent, teenage Diana Spencer meeting eligible bachelor Prince Charles at a party, marrying him very quickly and then becoming trapped in the cold, stifling royal family. The fame, of course, led to her 1997 death in Paris. In the show, Di suffers from postpartum depression, commits self-harm, has extra-marital affairs, visits an AIDS ward and is hounded by the paparazzi - Lifetime Channel-sized events paired with some of the silliest lyrics you've ever heard.
Tim Teeman, The Daily Beast: This musical is truly awful and truly nuts, but-intentionally or not-it neatly reflects straight back to the audience the cartoon and circus the royal family has become both in the eyes of the world, and in the world's own making. De Waal appears before us in front of a wall of flashing lights, and exits the same way-in the glare of the paparazzi. But the paparazzi aren't the villains here; they are merely fulfilling their editors' and audience's desire to see pictures and get the story. As the musical makes clear, the royal family -a fusty institution desperate for an injection of glamor-needed Diana too. Eventually Diana recognizes her own power, and uses the media for her own ends.
Adam Feldman, Time Out New York: This number, titled "The Dress," encapsulates the combination of bad taste and tasty badness that is Diana, one of the most enjoyable Broadway farragos of the 21st century so far. The real Princess Di died in 1997 at the age of 36, and her story might be the stuff of opera. Instead, in defiance of the potential gravity of their subject, book writer Joe DiPietro and composer David Bryan-who share blame for the show's lyrics-have opted for a campy, dishy pop-rock clip job of memorable moments from Diana's life, rendered in a stream of ploddingly banal rhyming couplets set to tunes that sometimes assume a vaguely 1980s accent. (Don't think New Wave; think Starship and Sheena Easton.) When the lyrics stray from the generic, it is often for the worse. "Wasn't I the most beautiful bride? A glittering jewel right by his side," sings Diana when she begins to wise up. "Serves me right for marrying a Scorpio." This may have been one of the half-dozen times when a gentleman in back of me at the theater uttered a sassy "Period!" in response to a line onstage.
Chris Jones, The New York Daily News: "Diana the Musical" offers no meaningful insights (nor even ones lacking in meaning) into a woman who really should be allowed to rest in much-deserved peace. Dramaturgically speaking, this trashy show makes "The Crown" look like Tolstoy's "War and Peace." But director Christopher Ashley has pumped up the energy. The fearless choreographer Kelly Devine (anyone who puts a real Dancing Queen on a Broadway stage gains a lifetime of stories to tell at parties) takes, as her ubertext, revenge served cold. And the masked hordes thus fasten their seat belts (as if they could find the buckle after all those pregame cocktails) and settle down for a melodrama of retribution that is perhaps best summed up by another of the show's immortal lyrics, deftly referencing one of Diana's famous attempts at exacting revenge through her couture, "a feckity-feckity, feckity-feckity, feck-you dress."
David Cote, Observer: I'm ignorant as to whether or not Jeanna de Waal intends to live in the States, the German-born yet English-raised actress who stars in Diana: The Musical, but she may want to weigh options. If any of her countrymen catch her in this tedious tuner about the trials of Diana Spencer, Princess of Wales, she could be denied reentry. Actually, too late! Last year during lockdown, this Platonic ideal of a Broadway faceplant did an onstage video capture for Netflix. The tacky, bewildering result is there for all to stream, very useful for reviewers who suffered dissociative amnesia during the live event.
Juan A. Ramirez, Theatrely: I will level with you. Diana, the new musical which just opened at the Longacre Theatre, is not "good" by cis-hetero-patriarchal standards of quality. But let's decenter that trade and focus on what it approximates: a maxi-challenge on RuPaul's Drag Race blessedly mixed with a Simpsons parody of Evita (which, of course, they've already done). It has the preposterous high gloss of a Ru production, with The Simpsons' innate understanding of the overly-literal silliness that makes the form work.
Elysa Gardner, New York Stage Review: I could cite a number of even more cringe-worthy lyrics, but why bother? In truth, Diana isn't much more insipid than any number of musical hagiographies that have popped up in recent decades, and director Christopher Ashley, to his credit, guides it with a light hand, having fun with the dishier aspects of the story rather than wallowing in the pathos. A scene documenting Diana's rapport with AIDS patients is offset by one in which her boy toy James Hewitt turns up, played by a strapping, shirtless Gareth Keegan, bumping and grinding a bit of relief into our heroine's dreary lot. Diana's butler, Paul Burrell, is a stock character, the dutiful but mischievous servant, but Anthony Murphy plays him with infectious relish.
Jesse Oxfeld, New York Stage Review: It is not good. It is not terrible. It is bloodless, procedural, and, in Christopher Ashley's staging, constantly, exhaustingly turned up to 11. It lacks nearly any wit, poetry, or sense of fun-except in the few moments when the tone shifts, briefly and inexplicably, to camp. (The estimable Judy Kaye doubles as both Diana's regal mother-in-law and also her over-the-top step-grandmother, the pulpy romance novelist Barbara Cartland, and in the latter role offers those few goofy moments.) We appreciate, once again, the many trials, stolen triumphs, and ultimate tragedies of Diana's life. But watching it all rehashed at the Longacre, we are not especially amused.
Jonathan Mandell, New York Theater: The surprise of "Diana the Musical," which is opening tonight at the Longacre Theater, is that it's more enjoyable - better! - on Broadway than it is on Netflix, where a recording of this stage musical about the life of Diana, Princess of Wales, has been streaming since October 1. Critics, especially British ones, eviscerated it: "comically misconceived" (The Times of London) "cringey...confusing..ickiest" (The Standard) 'What? What? WHAT?' (The Guardian.) Now, nobody on this side of the Atlantic is going to nominate "Diana" for a Pulitzer Prize. But the show I saw on stage has several things going for it.
Joe Dziemianowicz, New York Theatre Guide: In the title role and, of course, a signature Diana coif, Jeanna de Waal hits her marks and notes and, as this clothes-conscious production requires, makes a fine mannequin. During the pandemic, Diana was captured for Netflix. On film and on stage, the show doesn't sing.
To read more reviews, click
here
!