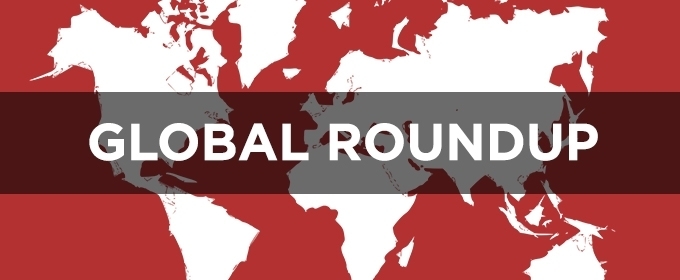 Regional Roundup: Top New Features This Week Around Our BroadwayWorld 6/15 - JESUS CHRIST SUPERSTAR, IN THE HEIGHTS and More!
"BroadwayWorld presents a comprehensive weekly roundup of regional stories around our Broadway World, which include videos, editor spotlights, regional reviews and more. This week, we feature JESUS CHRIST SUPERSTAR, IN THE HEIGHTS, and More!
Check out our top features from around the BroadwayWorld below!
---
St. Louis: Contributor Chris Gibson reviews The Muny's JESUS CHRIST SUPERSTAR. He writes "Bryce Ryness is superb as Jesus of Nazareth, striking just the right chord with his vocals, and compelling you to care deeply about him. Constantine Maroulis is the perfect misguided and forthright Judas Iscariot. Ciara Renée is a fetching presence as the conflicted Mary Magdalene, delivering up a heartfelt rendition of "I Don't Know How to Love Him" that perfectly sums up her relationship with Jesus. Christopher Sieber brings flair to his interpretation of King Herrod, while Ben Davis is sharp as Pontius Pilate, whose dream comes to fruition. Nicholas Ward brings power and strength to his role as Caiaphas, corroborated by Annas (Mykal Kilgore) in seeing Jesus as a genuine threat."
---
Austin: Contributor Lynn Beaver reviews IN THE HEIGHTS at ZACH Theatre. She writes "But it's Keith Contreras McDonald who is the glue who holds the various threads together as Usnavy. His awkward attempts to attract Vanessa are so sweetly earnest that we laugh and cry with him. Anna Louizos' set design is spectacular in every detail from the weatheRed Awnings to the clever design of the bodega. Scott Westervelt's costume design is bright and warm, allowing the dancers to move fluidly and freely. The lighting design by Sarah EC Maines is perfection, from the fireworks effects to dusk over the Brooklyn bridge, her use of color is inspired. If I didn't know is was in Austin, I would swear that I was seeing the IN THE HEIGHTS on Broadway."
---
Louisville: Contributor Taylor Clemons reviews KINKY BOOTS at the Kentucky Centre for the Arts. He writes "The technical elements are just stunning, starting with the flawless costume design by Greg Barnes. Even if you hate everything else (why would you), you will adore these brilliant costumes. Director/Choreographer Jerry Mitchell knows exactly how to put on a big flashy Broadway show, and Kinky Boots is no exception. His staging is sleek, while his production numbers are absolutely everything a show should be. That little known singer/songwriter Cyndi Lauper's score is downright infectious. I dare anyone to leave without at least 3 tunes stuck in your head. Harvey Fierstein's book is funny, witty, and touching, everything a great musical comedy should be."
---
Jacksonville: Contributor Heather Vollman reviews THOROUGHLY MODERN MILLIE at Theatre Jax. She writes "MILLIE offers something for everyone. If you like a quirky, extroverted adventure seeker, you'll love Taylor Kearschner's interpretation of Millie Dillmount. If you take to divas and drama with surprisingly tender morale to bestow, Felicia Ewing's Muzzy Van Hossmere will win your heart. Logan Smith, a recent Douglas Anderson graduate, plays the likable Jimmy Smith, whose story takes an interesting turn. Smith's voice is stunning; he can probably sing upside down, under water. Perhaps you're more of a comedic antagonist fan...if so, Tracy Olin's Mrs. Meers will deliver wit and energy. Matt King maintains strong comedic delivery as Trevor Graydon, Millie's fast-talking boss. Ching Ho, played by Brandon Leporati, is an absolute show stealer. Each ounce of this young man is devoted to the story in every moment: he brings much laughter and even a few tears. Rounded out by an energetic supporting cast and a seemingly always dancing ensemble, these characters successfully recreate an almost century old culture of prohibition, bobbed hair, and plenty of sequins."
---
Delaware: Contributor Rosanne DellAversano reviews AMERICAN IDIOT at Wilmington Drama League. She writes "The show itself is flawed; thus, making an improved product quite difficult. Drama League's production suffers the inherited fate with its own hits and misses. Ben Long as Tunny and Ty Pride as the Extraordinary Girl deliver complete experiences. Mr. Long capably displays his ever-changing life cycle. His voice isn't too shabby either. Ms. Pride makes you watch and listen with her galvanized body movements and burning vocals. Her execution of an alternative flying sequence is lovely. The male ensemble members providing her "walking cloud" are sturdy supports."
---
Madison: Contributor Scott Rawson reviews BEAUTIFUL on Tour at the Overture Center. He writes "The surprise for me in this show surrounded an entirely different couple. Songwriting rivals Barry Mann (portrayed with comedic brilliance by Ben Frankhauser) and writing partner/love interest Cynthia Weil (Erika Olson). As Carole and Gerry's relationship disintegrated, Barry and Cynthia's grew. Barry was without a doubt the main comic in this work. Not that everyone else didn't have comedic timing or moments, because they did...but Barry stole the show on this front. The neurotic hypochondriac Brooklynite and his future wife/ writing partner wrote over 60 hits together and both were a pleasure to watch every time they were on stage. I can't imagine anything erasing the memory of Barry angrily banging on the piano and singing "You've Lost that Lovin' Feeling" because he hated the words "Woh woh woh". I am still laughing about that!"
---
Regional Editor Spotlight:
Chris Gibson
St. Louis Contributor
Chris has been been reviewing theatre in St. Louis for the past 11 years, and I am constantly amazed at the quality of productions I am able to attend, as well as the vast amount of talent we have in our region. I'm also a musician, composing my own songs under the band name Me As We, and performing in the cover band Mo' Papaya. Before I became a reviewer I worked in local theatre for over 30 years. In that time I took on roles as an actor, director, musical director, writer, and composer. I was bitten by the theatre bug when I was in high school many years ago, and I've been passionate about it ever since.
"I enjoy writing for Broadway World because I feel that I'm part of a worldwide community that is dedicated to covering theatre wherever it happens. It's amazing to think that people from around the globe are taking the time to explore all the different regions that we cover, and it's led me in directions I never thought I would go. I've made a lot of friendships along the way, and had the privilege of not just reviewing theatre, but concerts, CDs, books, and DVDs. And, I've been able to expose my family to the many joys that the stage affords us."
---
Join Team BroadwayWorld! Interested in joining our team, but not exactly sure what we do? All of your questions are answered, along with every open position from guest and student bloggers, Regional Editors, and more! Find out where we have open positions available here!