Rattlestick's NEW SONGS NOW to Feature Georgia Stitt, Lucas Steele, and More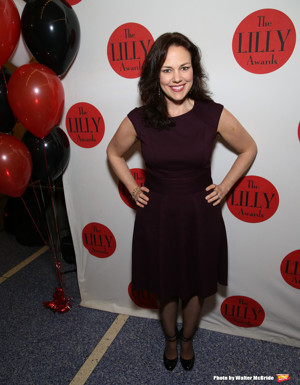 Rattlestick Playwrights Theater has announced the line-up for performers and post-show facilitators for NEW SONGS NOW, an unplugged concert series taking place July 22 through July 26 at 7:00pm at Rattlestick Playwrights Theater.
NEW SONGS NOW is an unplugged concert series that gives inventive songwriters the opportunity to test out new material in a low-key, fun environment. Each night, two different songwriters share selections of their work, followed by a conversation with the artists to demystify the songwriting process.
The 2018 NEW SONGS NOW songwriters include Jen Goma (Smiley Face), Georgia Stitt (Snow Child, Sweet Charity), Rebecca Hart (The Cabaret at the End of the World), Or Matias (Natasha, Pierre, & the Great Comet of 1812), Nehemiah Luckett (Brick by Brick, Moons of Mercury), Jonathan Larson Award winner Melissa Li (Interstate), Simone Allen (The Cher Show, Cruel Intentions), Drama Desk nominee Helen Park (KPOP), LPfunK (Once, Cyrano de Bergerac), and Tony Award nominee Lucas Steele (Natasha, Pierre, & the Great Comet of 1812, St. Vincent's Project). Post-show facilitators include OBIE, Lortel, and Drama Desk award winner Anne Kauffman (Mary Jane), Tony, NYDCC, OBIE, and Outer Critics Circle (OCC) Award winner Lisa Kron (Fun Home),OCC nominee Paul Scott Goodman (Bright Lights Big City, Rooms - a Rock Romance), Natasha Sinha (Associate Director LCT3, co-founder Beehive dramaturgy), and OBIE Award winner Eisa Davis (Passing Strange, Preludes). The lineup is subject to change.
Tickets for NEW SONGS NOW are $10, general admission, and can be purchased at www.rattlestick.org and by phone at 212-627-2556. Standard ticketing fees apply to all orders.
LINE-UP
JULY 22:
JEN GOMA / Georgia Stitt
Conversation facilitated by Anne Kauffman
JEN GOMA (Showtime Goma) is a performer/creator of music, videos and live shows. A self-propelled multi-media artist with "serious chops... (and) undeniable charm"--Pitchfork Music, whose debut album, Smiley Face (June 2017), "shows how she can cause - and helm - a commotion while working with beats borrowed from R&B and pop."-- Rolling Stone, "Albums to Stream Now" list. Her self-produced music and videos have appeared on Playboy, NPR, Pitchfork, Consequence of Sound and Stereogum. A member of the bands A Sunny Day in Glasgow and Roman à Clef, she is currently alongside Kristine Haruna Lee in the Soho Rep. Theater Writer/Director Lab. Goma was also a member of People Get Ready, a band/performance vehicle that has mounted shows at NY institutions like The Kitchen and New York Live Arts. Jen is currently writing music and lyrics for You're It, a musical based on the Netflix series "Making a Murderer," while composing and sound designing for Haruna Lee's Memory Retrograde and Built for Collapse's Danger Signals.
Georgia Stitt (composer/lyricist) wrote the musicals Snow Child (Arena Stage); Big Red Sun (11th Hour Theatre); Samantha Spade, Ace Detective (TADA Youth Theater); The Danger Year; Mosaic; and The Water. She is currently writing The Big Boom (with Hunter Foster), SHE (with Warren Adams), and an as-yet-untitled oratorio for choir and soloists. She has released three albums of her music: This Ordinary Thursday: The Songs of Georgia Stitt; Alphabet City Cycle (featuring Kate Baldwin); and My Lifelong Love. Georgia serves on the Council of The Dramatists Guild, the Board of Directors for The Lilly Awards Foundation, and she is the Founding Director of MAESTRA, an organization for women theater composers and conductors. Other fun credits include music directing the recent Off-Broadway revival of Sweet Charity (starring Sutton Foster), music supervising the Anna Kendrick/Jeremy Jordan film "The Last Five Years," and playing a nun in "The Sound of Music Live!" on NBC with Carrie Underwood and Audra McDonald. www.georgiastitt.com
JULY 23:
Conversation facilitated by Lisa Kron
Rebecca Hart: Recent acting credits include the workshop of The Pogues' Fairytale of NY (The Public); (Not) Water (New Georges @3LD); the short film I Enjoy Being a Girl (Play Mountain Productions), and Midsummer; a Play With Songs (Hartford Theaterworks - CT Critics Circle Best Actress Nomination). Recent composer-lyricist activity: The Cabaret at the End of the World (Hard Sparks, co-winner of NY Innovative Theatre Best Original Music Award); Rimbaud in NY (The Civilians @BAM), How to Break (Village Theatre, Seattle), Uriel Acosta (Target Margin). She is a regular at the Rockwood Music Hall and plays all over NYC and elsewhere with and without her band. She is a Civilians Associate Artist and a recent graduate of NYU's Graduate Musical Theatre Writing Program (book & lyrics). Her new album The Magician's Daughter was produced by Ben Sollee in Louisville KY and by Ben Arons in NYC and is available now. www.rebeccahart.net
Or Matias is a composer, lyricist, pianist, orchestrator, and music director. He has worked with Josh Groban, The Trans-Siberian Orchestra, Ingrid Michaelson, Rachael Yamagata, and tap dancer Andrew Nemr, alongside countless others. Most recently the music director and conductor for Natasha, Pierre, and the Great Comet of 1812 (Broadway). He frequently composes for the radio show "Israel Story," alongside other collaborations in Israel. His musical Wall Between Us was performed across the United States to wide acclaim. Or is writing a musical adaptation of The Wave - the 1967 experiment which turned an entire high school into a proto-fascist movement in just 5 days. He is also currently writing scores for "Rise to the Tap," featuring virtuoso tap dancer Andrew Nemr, and a musical about Ignacy Paderewsky, sponsored by The Adam Mickiewicz Institute of Poland. Or has served as the music director for the NY branch of Playing for Change. He is proudly sponsored by Yamaha.
JULY 24:
NEHEMIAH LUCKETT / Melissa Li
Conversation facilitated by Paul Scott Goodman
NEHEMIAH LUCKETT: Originally from Jackson, Mississippi, Nehemiah Luckett has been composing, conducting and performing for over 20 years. He has been a featured soloist at the National Cathedral, Carnegie Hall and has performed all over the US and Europe. He has composed solo, choral and instrumental pieces: Secular Mass (2004), Requiem for Arctic Ice: The Northernmost Part(Greenpiece UK commission, 2015), Kyrie 2017 (Carnegie Hall premiere, 2017) He has also written two full length musicals: Hamlet: Prince of Funk (1999) and Brick by Brick (2006). Nehemiah is the Music Director and composer for Rev. Billy and the Stop Shopping Choir and is the choral accompanist and Drama teacher for Manhattan Country School. Nehemiah is also part of the band Moons of Mercury, playing keys and providing vocals. Nehemiah has deep gratitude for Power APAC in Jackson, Mississippi where he studied music and theater and for his family that allowed him to dream crazy dreams.
Melissa Li is a composer, performer, and writer. She is a recipient of the Jonathan Larson Award and a Queer|Art|Mentorship fellow. Musicals include Surviving the Nian (The Theater Offensive, IRNE Award for Best New Play 2007), 99% Stone (The Theater Offensive), and Interstate (New York Musical Festival). Her works have received support from the National Performance Network, New England Foundation for the Arts, Dixon Place, terraNOVA Collective, and Musical Theater Factory, among others. Upcoming residency: The Village Theater.
JULY 25:
SIMONE ALLEN / Helen Park
Conversation facilitated by Natasha Sinha
SIMONE ALLEN is a singer/songwriter, music director/pianist, and arranger. She has performed at venues such as 54 Below, Joe's Pub, and Ars Nova, and New York SongSpace. She has collaborated with artists such as Shaina Taub, Mike Brun, Andrea Grody, Leigh Silverman, Ellen Winter, Justin Levine, & Bandits on the Run and accompanied performers such as Aaron Tveit, Stephanie J. Block, Karen Olivo, and Joel Perez. Recent theater credits: The Cher Show (Chicago), The Suffragists (Public Theater), Cruel Intentions, Folk Wandering, Moulin Rouge, As You Like It (Public Works). She is a composer in the BMI Musical Theatre Workshop.
Helen Park is a composer and arranger based in New York City. Helen has received the 2018 Lucille Lortel Award for Best Musical, 3 Drama Desk Nominations and the Richard Rodgers Award for her Off-Broadway musical KPOP, which had a critically-acclaimed, sold-out Off-Broadway run last year. Helen's other work includes Baked Goods (lyrics: Christyn Budzyna /book: Charlie Cohen), which received 2017 City Theatre National Award for Short Playwriting Contest. Currently, Helen is writing songs for a new Animated Feature musical film, "Over the Moon," directed by Academy Award Winner Glen Keane and produced by Pearl Studio in collaboration with Netflix, slated for a 2020 global release. Helen's music has been featured at Ars Nova, The Duplex, NYMF, BMI Smoker, Joe's Pub, Rockwood Music Hall and 54 Below among others. Helen is an alumnus of NYU's Graduate Musical Theater Writing Program, a member of the Dramatists Guild and a member of the BMI Lehman Engel Musical Theater Workshop (Advanced). www.Helenparkmusic.com
JULY 26:
LPfunK / Lucas Steele
Conversation facilitated by Eisa Davis
LPfunK (a.k.a. Lucas Papaelias) is an actor, musician, composer, & filmmaker. He was an original cast member of the Tony-winning musical Once on Broadway and was a regular on the Cinemax medical drama "The Knick." LP appears in the Lake Lucille Chekhov Project's upcoming docudrama "I Am A Seagull," for which he composed original music. He also appeared onscreen in "School of Rock," "It's Always Sunny in Philadelphia," and four episodes of "Law & Order," among other guest TV spots and indie films. Additional onstage credits include This Flat Earth at Playwrights Horizons, New Neighborhood's These Paper Bullets! at the Atlantic, Jack's Precious Moment at 59E59, Cyrano on Broadway for which he also composed original music, Essential Self-Defense at Playwrights Horizons (Drama Desk nomination: Original Music) and Cellini at Second Stage. His most recent project in development with New Neighborhood is BYWAYZ with Randy Roads: an odd-time blues rock migration of the lost highways & scenic byways of the great American landscape. http://www.instagram.com/bywayz
Lucas Steele: Broadway: Natasha, Pierre, & The Great Comet of 1812 (Tony Nomination) and The Threepenny Opera (with Alan Cumming and Cyndi Lauper). Off-Broadway: credits includeMyths and Hymns (Prospect Theater Company), The Kid (The New Group), Wickets (3LD), Oliver Twist (TFANA), Corpus Christie (Bowery Lane), and Natasha, Pierre & The Great Comet of 1812(Ars Nova, Kazino) for which he received the Lucille Lortel Award for best featured actor in a musical. Regional: Berkley Rep, The Intiman, and A.R.T. (Elliot Norton and IRNE award nominations). Television/film: "Dangerous Liaisons" (pilot), Photo Op, and Cavan. For more information visit www.LucasSteele.com.
Rattlestick Playwrights Theater recently concluded its 2017/2018 season with a workshop production of Cusi Cram's St. Vincent's Project: Novenas for a Lost Hospital, directed by Daniella Topol(Ironbound) and starring Kathleen Chalfant (Angels in America, Wit).
In Fall 2018, MacArthur Genius Grant Winner Samuel D. Hunter (The Whale, Bright New Boise, The Few) will team up with long-term collaborator Davis McCallum with the plays Lewiston and Clarkston, to be performed on a double bill for the first time. In Spring 2019, Rattlestick will present the World Premiere of Lockdown by Cori Thomas (When January Feels Like Summer), and directed by Kent Gash (Barbeque), commissioned by Rattlestick with support from The Toulmin Foundation.
Subscriptions for the 2018/19 Rattlestick season are $99 for returning members. For new members, subscriptions are $109 if purchased prior to September 1. After September 1, subscriptions are $125. Rattlestick memberships include a choice premium seat for Mainstage and Apprentice shows, discounted guest tickets, unlimited ticket exchanges (subject to availability), advance notice and discount offers to readings, special events, and more.
Photo Credit: Walter McBride / WM Photos