Ramin Karimloo Will Duet With Yuu Shirota On Upcoming Musicals-Themed Album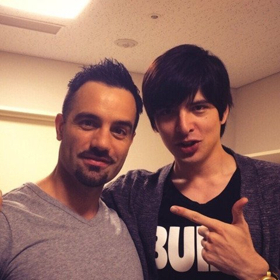 In 2013, Yuu Shirota met Ramin Karimloo through the concert series "Four Stars: One World of Broadway Musicals". And now, five years later, the two are going to be dueting on Shirota's upcoming album. On October 24th, Shirota will release his first musical-themed album: a project titled "A Singer", featuring a duet with Ramin.
It's been over six years since Shirota released an album. He has starred in a variety of roles, from his well-known performance as Death in the Japanese production of Elisabeth, to playing Tuxedo Mask in Sailor Moon or Tezuka in Prince of Tennis. Meanwhile, Karimloo is also working in Japan, currently playing Che in a production of Evita.
Check out the tracklist below!
Tracklist:

1. The Shadows Grow Longer - Elisabeth (duet with Ramin Karimloo) (in Japanese)

2. A Whole New World - Aladdin (duet with Sumire) (in English)

3. Aimer - Romeo and Juliet (in Japanese)

4. My Mother Bore Me - Phantom (in Japanese)

5. I am Music - Mozart! (in Japanese)

6. Corner of the Sky - Pippin (in English)

7. Not while I'm around - Sweeney Todd (in Japanese)

8. My Favorite Things - The Sound of Music (in English)

9. The Greatest Show - The Greatest Showman (in English)

10. A Million Dreams - The Greatest Showman (in English)

11. Isabel - Il Divo (in Spanish)
Check out the full article here.