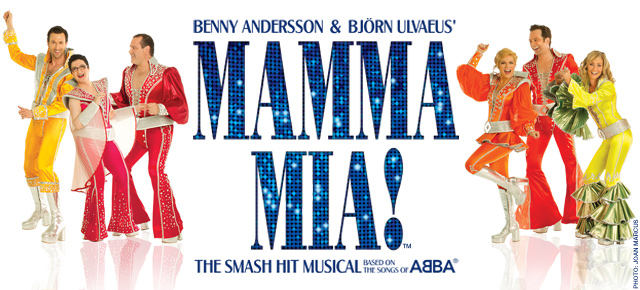 Click Here for More Articles on MAMMA MIA!
Pierce Brosnan Joins Mamma Mia! Film Alongside Meryl Streep
Variety reports this morning that Pierce Brosnan will star in the feature film adaption of Mamma Mia! opposite Meryl Streep. Brosnan will star as Sam in the film, one of Mammia Mia's "potential fathers." Variety also notes that Brosnan isn't a total stranger to the world of singing, having sung on screen in the indie film Evelyn along with some on stage appearances earlier in his career.
Brosnan tells Variety that "I said yes right away because it meant working with Meryl Streep...Secondly, I saw the show with my family in London, and found it just so wonderfully happy and joyful..."The film begins shooting on June 25, 2007 in London and Greece will be directed by Phyllida Lloyd who directed the stage show in New York and London with a screenplay by the stage show's book-writer Catherine Johnson.
The film will be produced by Judy Craymer of Littlestar films, with Gary Goetzman, Tom Hanks, Rita Wilson, Benny Andersson and Bjorn Ulvaeus executive producing. It's set to start filming this summer.
Pierce Brosnan is recognized internationally as one of the most dashing and skilled dramatic actors in Hollywood today. In 2005, Brosnan received a Golden Globe Award nomination for Best Performance by an Actor for his role as Julian Noble in the critically acclaimed film "The Matador."
Brosnan recently completed filming "Marriage," written and directed by Ira Sacks. Co-Starring Chris Cooper, Patricia Clarkson and Rachel McAdams, "Marriage" is a 1940s-set drama about a married man who cheats; to spare his wife the shame of a divorce, he plots to kill her.In addition to his work in front of the camera, Brosnan has always had an interest in the art of filmmaking. Having achieved international stardom as an actor, Brosnan expanded the range of his film work by launching his own production company, Irish DreamTime in 1996, along with producing partner Beau St. Clair.Apart from "The Matador," Irish DreamTime has produced four films to date: "The Nephew" (1998), "The Thomas Crown Affair" (1999), "Evelyn" (2002) and "Laws of Attraction" (2004). The company's first studio project, "The Thomas Crown Affair," was a critical and box-office success and one of the best-reviewed and highest-grossing romantic thrillers in years. "Evelyn," directed by Bruce Beresford, opened to critical acclaim at the Toronto and
Chicago
Film Festivals and also garnered rave reviews. "Laws of Attraction," a romantic comedy, which teamed Brosnan with Julianne Moore, focused on dueling divorce attorneys who fall in love. In early 2007, look for Irish DreamTime's sixth production "Butterfly on a Wheel" in which Brosnan stars with Maria Bello and Gerard Butler. The psychological thriller, centers on a happy couple with a seemingly perfect life whose daughter is abducted. Over the course of a day, the kidnapper dismantles the family's lives with brutal efficiency.Perhaps best known worldwide as James Bond, Brosnan reinvigorated the popularity of the Bond legacy in box-office blockbusters such as "Goldeneye" (1995), "Tomorrow Never Dies" (1999), "The World Is Not Enough" (1999) and "Die Another Day" (2002). Brosnan's first three Bond films earned over a billion dollars at the international box-office. His most recent Bond film, "Die Another Day," was the most successful Bond film ever, garnering nearly a half-billion dollars worldwide. In addition to his four Bond films, three other Brosnan film -- "The Thomas Crown Affair," "Dante's Peak" (1997) and "The Lawnmower Man" (1992) have earned hundreds of millions of dollars internationally, cementing him as one of the world's most bankable stars. Brosnan's other film credits include John Boorman's critically acclaimed film from the John LeCarre novel, "The Tailor of Panama" (2001), Bruce Beresford's "Mr. Johnson" (1990) and Sir Richard Attenborough's "Grey Owl" (1999). In addition to "The Matador," Brosnan has also shown his comedic skills in such films as "Mrs. Doubtfire" (1993) and "Mars Attacks!" (1996). He also had a supporting role alongside Barbra Streisand in "The Mirror Has Two Faces" (1996).Some of his many accolades include a Lifetime Achievement Award at the 2002
Chicago
Film Festival, the International Star of the Year at the Cinema Expo in Amsterdam, an Honorary Doctorate of Arts from the Dublin Institute of Technology, an Honorary Doctorate from the University College Cork and an Order of the British Empire bestowed by Her Majesty the Queen.Brosnan was born in County Meath, Ireland and moved to London at age 11. At 20, he enrolled in drama school and while in London, performed in several West End stage productions including Franco Zeffirelli's "Fulimena" and Tennessee Williams' "The Red Devil Battery Sign" at the York Theater Royal. Before landing the role of James Bond, Brosnan had achieved worldwide recognition as private investigator Remington Steele on the popular television series of the same name. He lives in California and Hawaii with his wife Keely Shaye and their two children Dylan and Paris.
Inspired by the story-telling magic of ABBA's timeless songs, writer Catherine Johnson's sunny, funny tale of family and friendship unfolds on a Greek island. On the eve of her wedding, a daughter's quest to discover the identity of her father brings 3 men from her mother's past back to the island they last visited 20 years ago," state press notes on the show, which features in its score songs such as "Dancing Queen"; "The Winner Takes It All"; "Money, Money, Money" and "Take A Chance on Me."

There are currently 11 productions of the musical running around the world (9 resident productions and 2 tours). With three productions playing in North America alone, Mamma Mia! can be experienced in six different languages globally (English, Swedish, Spanish, German, Japanese and Russian). The show has earned a worldwide gross of over $1.6 billion and audiences of over 27 million people worldwide.
For more information on Mamma Mia! around the world, visit www.mamma-mia.com.