Click Here for More Articles on LOVE NEVER DIES
Photo Flash: Andrew Lloyd Webber and Glenn Slater Visit LOVE NEVER DIES Opening in Detroit
Andrew Lloyd Webber (Composer) and Glenn Slater (Book & Lyrics) joined the cast of the national tour of Love Never Dies on stage Wednesday night (October 25, 2017) during the official tour opening at the Fisher Theatre in Detroit, MI, where it will play through October 29, 2017. BroadwayWorld has photos from the festivities below!
Direct from the highly successful production of Love Never Dies in Hamburg, Germany, Gardar Thor Cortes portrays the man behind the mask, 'The Phantom,' with Meghan Picerno as 'Christine Daaé,' Karen Mason as 'Madame Giry,' Sean Thompson as 'Raoul,' Mary Michael Patterson as 'Meg Giry,' and Casey Lyons and Jake Heston Miller sharing the role of 'Gustave.' The trio of Phantom's henchmen include Katrina Kemp as 'Fleck,' Richard Koons as 'Squelch,' and Stephen Petrovich as 'Gangle.'
The ensemble includes Chelsey Arce, Erin Chupinsky, Diana DiMarzio, Tyler Donahue, Yesy Garcia, Alyssa Giannetti, Michael Gillis, Tamar Greene, Natalia Lepore Hagan, Lauren Lukacek, Alyssa McAnany, Rachel Anne Moore, Bronson Norris Murphy, Dave Schoonover, Adam Soniak, Kelly Swint, Lucas John Thompson, Correy West, Arthur Wise and John Swapshire IV.
Directed by Simon Phillips (Priscilla Queen of the Desert The Musical), Love Never Dies features new set and costume designs by Gabriela Tylesova, choreography by 2011 Astaire Awards winner Graeme Murphy, lighting design by Nick Schlieper and sound design by Mick Potter.
The year is 1907. It is 10 years after his disappearance from the Paris Opera House and The Phantom has escaped to a new life in New York where he lives amongst the screaming joy rides and freak shows of Coney Island. In this new, electrically charged world, he has finally found a place for his music to soar, but he has never stopped yearning for his one true love and musical protégée, Christine Daaé.
Now one of the world's finest sopranos, Christine accepts an invitation to travel from Paris to New York to perform at a renowned opera house. Christine's marriage to Raoul is suffering at the hands of his drinking and gambling and they desperately need the financial rewards that America can give them.
In a final bid to win back Christine's love, The Phantom lures her, Raoul, and their young son Gustave, from Manhattan to the glittering and glorious world of Coney Island - not knowing what is in store for them.
Photo Credit: Mike Ferdinande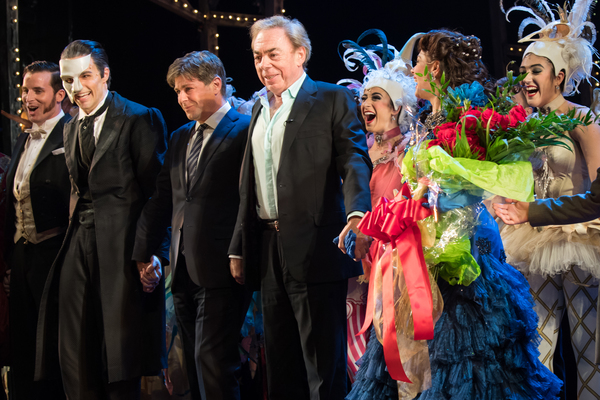 Glenn Slater and Andrew Lloyd Webber with the cast of Love Never Dies on opening night in Detroit.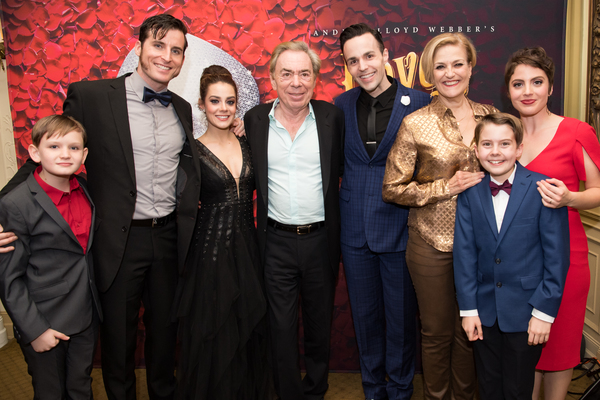 Jake Heston Miller, Sean Thompson, Meghan Picerno, Andrew Lloyd Webber, Bronson Norris Murphy, Karen Mason, Casey Lyons and Mary Michael Paterson on opening night of Love Never Dies in Detroit.