Click Here for More Articles on BroadwayHD
PIPELINE to Make Streaming Debut on BroadwayHD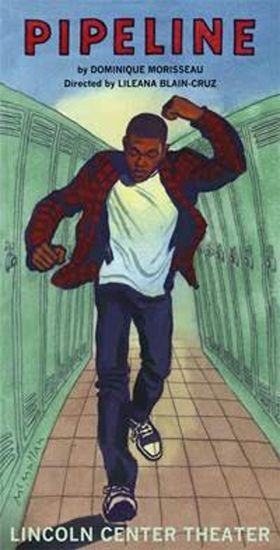 Today, BroadwayHD makes the world streaming debut of PIPELINE, a play depicting a mother's hopes for her son and their clash with an educational system rigged against him. The powerful work was captured for the screen by Live From Lincoln Center during its original, critically acclaimed staging at Lincoln Center Theater in 2017. Hailed as "potent and intensely acted" and confirming Dominique Morisseau's "reputation as a playwright of piercing eloquence" (New York Times), the play was recently featured in cinemas across the U.S. including Los Angeles, Detroit, and Chicago.
PIPELINE will be joining BroadwayHD's library of more than 250 theatre productions from Broadway, The West End and beyond, providing thousands of people with access to this emotional and educational work, many of whom may have not been able to see the play's very limited, original stage run.
Dominique Morisseau was recently awarded the prestigious 2018 MacArthur Foundation's 'Genius' Grant for her work depicting the lives of individuals and communities grappling with economic and social changes, both current and historical. PIPELINE follows in this milieu starring Nya Joseph (Karen Pittman) as a dedicated, inner-city public high school teacher who is committed to her students' achievement, while she sends her only son, Omari (Namir Smallwood), to a private boarding school. When Omari is involved in a controversial incident which threatens him with expulsion from his school, Nya is forced to reconcile Omari's rage, her own parental decisions, and the public and private school systems, as she rallies to save her son.
"I'm thrilled to bring Pipeline BEYOND the stage in New York City to a broader audience, in collaboration with BroadwayHD and Live From Lincoln Center," said Morisseau. "The school-to-prison pipeline has national ramifications for students, teachers, parents, and families. I hope the story of Nya, Omari, and their struggles within a biased system inspire new audiences to push this important topic forward in their own communities."