Open Studio to Present Fred Hersch In His First Ever Online Course Beginning in June
Thoughts and Experiments with Solo Piano will feature 18 lessons, nine performances, and an exclusive interview with Hersch.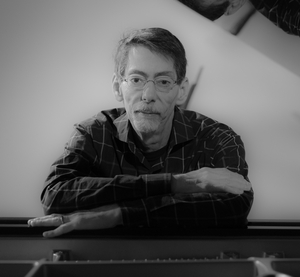 With inspiring artists, deep content, passionate students and a soulful approach, Open Studio is more than a jazz education platform - it's a global family of music lovers, joining together to celebrate jazz as a vibrant and collaborative art form. Beginning on June 11, 2021, iconic pianist Fred Hersch, a fifteen-time Grammy nominee, will present Thoughts and Experiments with Solo Piano - his first ever online course.
Featuring 18 lessons over 6 hours, the course also includes an exclusive 45-minute interview with Hersch as well as nine full performances of jazz classics and transcriptions of both those performances as well as most of the demonstrations in the lessons. Students can join the
individual course
, or they access it as an
Open Studio membership
, giving access to the full breadth of courses. Visit Hersch's Open Studio artist page
here
. Hersch, a pervasively influential creative force who has taught at the conservatory level for over 40 years, has mentored some of the most prominent jazz pianists of the past two generations, including Jason Moran and Sullivan Fortner. Rather than offer a traditional "how-to" or "method" course, he aims to inspire, enlighten, and catalyze creativity. "My goal is to embolden students to try things, play with less fear and, whatever their level of playing, have more fun as they embrace the demands of being a solo pianist," says Hersch. "As one who has recorded eleven solo albums and plays many such concerts a year, I also want to share my experiences, some funny and meaningful stories, and some tips that I have picked up over the years." Hersch also applied his masterful, intuitive improvisational instincts to devising the course. "I had no 'plan' going in," he says, "I just let it fly - and the laborious editing of the wizards at Open Studio helped shape it all into a logical sequence and flow that builds upon itself, and will hopefully help some pianists embrace the 'aha' moments that can happen when one takes the 'should' and 'should-nots' out of their time at the piano." Hersch first met Open Studio's Brian Fielding in 1980 at a jazz club in Greenwich Village. Fielding was a serious amateur jazz pianist and began studying with Fred. Several years ago, Brian, then recently retired from Audible.com, told Fred about Open Studio. "I checked it out and was very impressed with the audio and visual quality and the passion that everyone involved had for making online jazz education as good as it could be," says Hersch. "No one, of course, could have predicted the COVID-19 pandemic - Open Studio has been a lifeline for many aspiring musicians and teaching artists during these strange times."
A select member of jazz's piano pantheon, Fred Hersch is a pervasively influential creative force who has shaped the music's course over more than three decades as an improviser, composer, educator, bandleader, collaborator and recording artist. With some fifty albums to his credit as a leader or co-leader, he's a 15-time Grammy Award nominee who continues to earn jazz's most prestigious awards, including recent distinctions as a 2016 Doris Duke Artist and 2018 Jazz Pianist of the Year from the Jazz Journalists Association. Proclaimed "a living legend" by The New Yorker, Hersch has long defined jazz's creative edge in a wide variety of settings, from his breathtaking solo recitals and exploratory duos to his extraordinary trios and innovative chamber settings. As a composer, he is a recipient of a Guggenheim Fellowship - and his recent releases, Live In Europe with his celebrated trio, and the 2020 solo disc Songs From Home are definitive statements. His acclaimed memoir Good Things Happen Slowly is available from Crown Archetype Books.
---
Shop BroadwayWorld

Shop this season's new musicals! Get dressed up for a night at the theatre, or just a night at home, with merch from some of Broadway's biggest hits including SOME LIKE IT HOT, KIMBERLY AKIMBO, and more!
---
Related Stories