Netflix Orders Ballet Drama Series Starring Broadway's Damon J. Gillespie, Michael Hsu Rosen, and More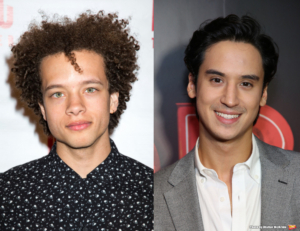 Netflix has given a 10-episode order to Tiny Pretty Things, a drama series based on the book by Sona Charaipotra and Dhonielle Clayton, according to Deadline.
The cast features Broadway's Damon J. Gillespie (Newsies, Rise) as Caleb, a dancer who uses humor to mask a deep loss; Michael Hsu Rosen (Torch Song) as Nabil, a Malaysian-born dancer who comes to the school from Paris with an intimidating streak; and Tory Trowbridge (The Cher Show, An American In Paris) as Delia, THE RESIDENT diva just back from two years abroad.
The shows cast also includes Lauren Holly, Kylie Jefferson, Casimere Jollette, Daniela Norman, Brennan Clost, Bayardo De Murguia, Barton Cowperthwaite, and Jess Salgueiro.
Tiny Pretty Things is set in the world of an elite ballet academy and charts the rise and fall of young adults who live far from their homes, each standing on the verge of greatness or ruin. As Chicago's only elite dance school, the Archer School of Ballet serves as the company school for the city's renowned professional company: City Works Ballet. The Archer School is an oasis for an array of dancers: rich and poor, from north and south, and a range of backgrounds. Yet they all share a rare talent and passion for dance, a loyal sense of community... and when it comes to their dreams, no Plan B.
Read the original article on Deadline.