NYPL Library Lions Gala Honors Icons Tom Brokaw, Colson Whitehead, and More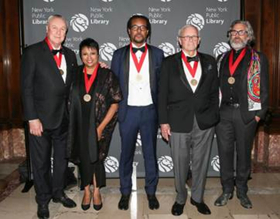 At Monday's Library Lions Gala, The New York Public Library (NYPL) celebrated the artists and wordsmiths comprising its 2017 class of Library Lions-including celebrated journalist and author Tom Brokaw; Pulitzer Prize-winning novelist Michael Chabon; 14th Librarian of Congress Carla Hayden; Pulitzer Prize and National Book Award-winning author Colson Whitehead; and foremost avant-garde theatre director and artist Robert Wilson. The evening, which hosted over 500 guests and raised over $2 million, featured a specialperformance by Tony Award-nominated Broadway actor and singer, Norm Lewis who sang a rendition of Cole Porter's "I've Got You Under My Skin."
For over 30 years, the Library has celebrated individuals who have made significant contributions to New York City and to the creative community at large during its annual gala. Previous honorees include Margaret Atwood, Anna Deavere Smith, Dave Eggers, Ethan Hawke, Judith Jamison, Nelson Mandela, Steve Martin, Martin Scorsese, Zadie Smith, Gloria Steinem, Elie Wiesel, Oprah Winfrey, among many others. Harry Belafonte, Hilary Mantel, Javier Marías, Peggy Noonan, and Colm Tóibín were last year's Library Lions.
Special guests in attendance, included: Tony Marx, President of The New York Public Library; Evan Chesler, Chairman of The New York Public Library Board; Chuck Schumer, United States Senator; Katherine Boo, Journalist and author; Aunjanue Ellis, Actress; Melissa Harris-Perry, Journalist/TV Personality; Carolina Herrera, Fashion Designer; Nicky Hilton, Fashion Designer; Naeem Khan, Fashion Designer; Frank Langella, Actor; Harry Lennix, Actor; Margarita Levieva, Actress; Phylicia Rashad, Actress; David Remnick, Pulitzer Prize-winning author and journalist; Al Roker, Television Personality Beatrice Santo Domingo, Philanthropist; Zadie Smith, Novelist and Essayist; Arthur Sulzberger Jr., Publisher of The New York Times; Sophie von Haselberg, Actress, and many more.
Co-Chairs included: Mr. Adam Bartos, Dr. Mahnaz Ispahani Bartos, H.R.H. Princess Firyal, Catherine C. Marron, Donald B. Marron, Ms. Sana H. Sabbagh, Christine Hearst Schwarzman, Stephen A. Schwarzman, The Honorable Merryl H. Tisch, and Sue Ann Weinberg.
About The New York Public Library
The New York Public Library is a free provider of education and information for the people of New York and beyond. With 92 locations-including research and branch libraries-throughout the Bronx, Manhattan, and Staten Island, the Library offers free materials, computer access, classes, exhibitions, programming and more to everyone from toddlers to scholars, and has seen record numbers of attendance and circulation in recent years. The New York Public Library serves more than 18 million patrons who come through its doors annually and millions more around the globe who use its resources at www.nypl.org. To offer this wide array of free programming, The New York Public Library relies on both public and private funding. Learn more about how to support the Library at nypl.org/support.
Photo Credit: Angela Pham/BFA.com