NIGHT WITCHES, New Play About WWII Soviet Female Pilots, Gets NYC Workshops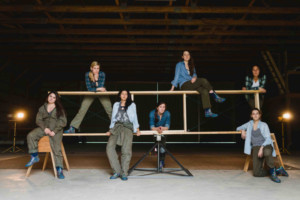 NIGHT WITCHES, a new play following the true story of the first all-female Soviet combat pilots of the 46th Guards Night Bomber Regiment, will be performed at The MUSE on 350 Moffat Street Brooklyn, NY on October 21st at 9:00PM, October 22nd at 6:30PM and at Dixon Place on 161A Chrystie Street, New York, NY 10002 on October 26th at 7:30PM.
In April 2017, Elena Kritter and six other female theater artists from New York City, Boston, and the Dominican Republic devised NIGHT WITCHES in artist residency in a crop-dusting airplane hangar on Ground Rush Farm in Culpeper, VA. It was developed from scratch in just one month, with script, direction, sets, and costumes all created by the artists. At Ground Rush, they had access to crop-dusting helicopters as well as an airplane hangar for research and inspiration. They read Anne Noggle's, A Dance With Death: Soviet Airwomen in World War II (a compilation of interviews done with surviving Night Witches in 1992) and other research on the lives of the female pilots. The farm's aesthetic was similarly inspirational - the artists incorporated found materials, flood-lights, and a contemporary perspective on the women's uniforms into the project.
The Night Witches or "nacthexen," were named by the Germans for the "whooshing" sound of their repurposed Polikarpov-2 (PO-2) crop-dusting biplanes, made of canvas and plywood, as they dropped bombs. The Night Witches, were one of three female units in the 122nd Air Group, founded by aviatrix Marina Raskova, a Russian equivalent of Amelia Earhart in celebrity and skill. The women ranged between ages 19 and 26 years old. Of the 112 members, 24 of them were named "Hero of the Soviet Union", and became the most decorated regiment in Soviet history. The regiment flew for 3 ½ years, completing more than 24,000 nighttime bombing missions across the Eastern Front.
"We are interested in engaging with The New York City creative community to help this show take flight," says Executive Producer Elena Kritter. "We're performing in The MUSE because we believe it best encapsulates the aesthetic of an airplane hangar, and supports the rouge theatrical elements of the show."
Through conventional realism, physical theatre, music, dance, acroyoga, shadow puppetry, as well as source material directly from Anne Noggle's book, the audience comes into immediate contact with the women's stories. In this shared space, the audience witnesses a young generation of women embodying the courage, endurance, and sisterhood of a former generation of women once lost to history. 
"We can't fit all of the incredible accounts from Anne Noggle's book into the play," says Associate Producer Alida Rose Delaney. "However, even recognizing the Night Witches place in history is keeping women's stories alive, especially in today's climate that tries to belittle female strength, empowerment, and capability. It's an exciting time to be a woman right now."
NIGHT WITCHES Phase II will be touring this fall, with performances at the MUSE October 21st at 9 PM and 22nd at 6:30 PM and at Dixon Place October 26th at 7:30 PM. Tickets: October 21st and 22nd at The MUSE - HERE; October 26th at DIxon Place - HERE.
NIGHT WITCHES will be directed by Kathleen Anne Hefferon. The play was conceived by and features performances by Madeline Barr, Elizabeth Chahin, Josephine Cooper, Alida Rose Delaney, Alexis Ingram, Elena Kritter, and Maggie Ronck.
NIGHT WITCHES is produced by Ground Rush Productions LLC.
Pictured: Night Witches cast on Ground Rush Farm (from left-right) Madeline Barr, Maggie Ronck, Elizabeth Chahin, Elena Kritter (Producer), Josephine Cooper, Alexis Ingram, and Alida Rose Delaney (Associate Producer). Photo by: Stephanie Dougher