Kelsey Grammer, Hannah Waddingham & More to Record Songs From THE GRINNING MAN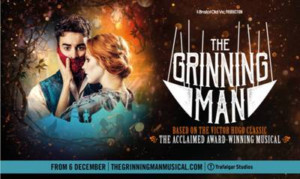 Hot on the heels of last week's celebrity recordings announcement, more stars have jumped on board to perform their own versions of songs from the West End's newest British musical, The Grinning Man. Matt Lucas, Kelsey Grammer and Hannah Waddingham have now joined Harry Enfield, Alexander Armstrong and Louise Dearman in a star-studded line-up of celebrities releasing unique versions of their favourite tracks from The Grinning Man.
Directed by Tom Morris, The Grinning Man is now showing at Trafalgar Studios following a hugely successful 2016 premiere at the Bristol Old Vic. This visually stunning production, "powered by an outstanding score" (Sunday Times) composed by Tim Phillips and Marc Teitler, has entranced audiences and critics alike. Now, unleashed on the West End, the sheer quality of each carefully-considered element of this award-winning musical - from the story, to the set, to the music - has inspired some of the most well-known names in TV, comedy, musical theatre and beyond to make the music of The Grinning Man their own.
The latest songs to be released are now available on YouTube. They are: I Have Never Seen a Face, a stunning duet performed by comedian Matt Lucas and musical theatre star Hannah Waddingham and Stars in the Sky by Frasier actor Kelsey Grammer.
These tracks follow the recordings of Stars in the Sky, by actor Alexander Armstrong, Laughter is the Best Medicine by comedian Harry Enfield, and Born Broken by musical theatre star Louise Dearman. There may be more to come - watch this space!
The critically acclaimed production of The Grinning Man, is based on the classic Victor Hugo (Les Misérables) novel, The Man Who Laughs, and directed by Tony award-winning Tom Morris (War Horse). A romantic gothic musical love story, set in a fantastical world with a dark heart, which is brought to life by Kneehigh writer Carl Grose (Dead Dog in a Suitcase). The cast is led by Louis Maskell, in the title role of Grinpayne, and Julian Bleach, who plays Barkilphedro, a vengeful clown with a heart of lead. Macabre, magical and visually astonishing, this ultimately elating love story is a distinctive delight that barges through the gateway carved by the Nineties cult hit Shockheaded Peter with the full-blooded emotion of Les Misérables.
The Grinning Man reunites Tom Morris with two puppeteers who began their careers inside Joey and Topthorn in the original production of War Horse - Finn Caldwell and Toby Olié - now leading their own brilliant puppetry company Gyre & Gimble.
The Grinning Man is produced by Bristol Old Vic, Trafalgar Entertainment Group, Eilene Davidson, Richard O'Brien, KHAM Inc., David Adkin, Neil Laidlaw Productions and Pieter Toerien.
All tracks can now be enjoyed here: https://www.youtube.com/watch?v=xFC-8E5PQjc&list=PL7ER5L51ctdHVtFTCZkUOCxMYSE9feHZr
Bristol Old Vic is the longest continuously running theatre in the UK, and celebrated its 250th anniversary in 2016. Under Artistic Director Tom Morris, the historic playhouse aims to inspire audiences with its own original productions, both at home and on tour, whilst nurturing the next generation of artists, whether that be through their 350-strong Young Company, their many outreach and education projects or their trailblazing artist development programme, Bristol Ferment.
Bristol Old Vic uses its funding to support experiment and innovation, to allow access to their programme for people who would not otherwise encounter it, or be able to afford it, and to keep their extraordinary heritage alive and animated.
Since 2016, while the theatre continues to present work, it has simultaneously been undergoing a multi-million pound redevelopment project to transform its front of house space into a warm and welcoming public building for all of Bristol to enjoy, create a new Studio Theatre and open up its unique theatrical heritage to the public for the first time. The project is due to be completed in autumn 2018.
Trafalgar Entertainment Group is a live entertainment business that owns and operates distinctive, stylish cultural buildings as well as creating, distributing and live-streaming innovative content. Based at the iconic Trafalgar Studios in London's West End, it is the latest venture from Sir Howard Panter and Rosemary Squire OBE - two of the most influential entertainment entrepreneurs of the last 20 years.
www.trafalgarentertainment.com
Related Articles
More Hot Stories For You