Mark Ballas, Idina Menzel to Perform on Tonight's Broadway-Themed DANCING WITH THE STARS!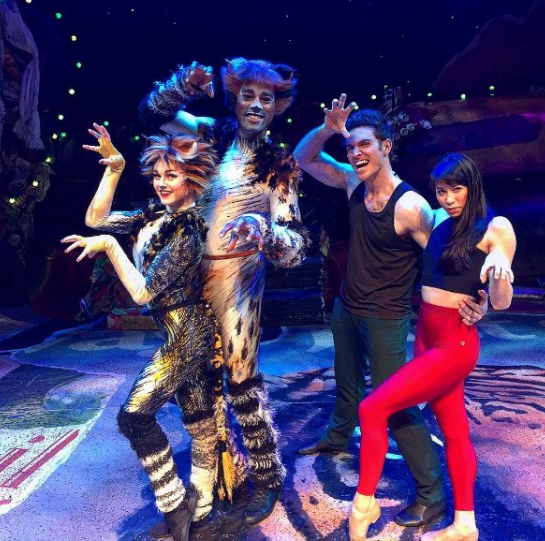 On tonight's DANCING WITH THE STARS, the six remaining celebrities will dance two show-stopping dances - one from some of the hottest Broadway musicals, and a second where they are paired up for a "Team-Up Challenge" - as "Showstoppers" night comes to the competition live, MONDAY, NOVEMBER 7 (8:00-10:01 p.m. EST), on the ABC Television Network.
Check in with BWW tomorrow morning for video of all the performances!
Idina Menzel
will perform her new single, "Queen of Swords," and join
Bruno Tonioli
,
Carrie Ann
Inaba and
Julianne Hough
as a guest judge. For the first dance, the couples will each dance a style they have not yet danced to a song from a hit Broadway musical. The teams traveled the country to see famous shows in person to get inspiration for their dances in the ballroom on Monday night. Couples will re-create dances from CHICAGO, Broadway's longest-running American musical, which is celebrating its 20th anniversary this month and playing at the Ambassador Theatre in New York; the Tony and Grammy Award-winning hit musical JERSEY BOYS; multi-Tony Award-winning CATS one of the most recognizable and longest running shows, recently revived on Broadway; SWEET CHARITY; THE WIZ and the Tony-nominated WAITRESS. Each couple will perform either a samba, Argentine tango, waltz, Charleston, paso doblé, contemporary or jazz. Following their first dance, each couple will be paired up with another couple to perform in the "Team-Up Challenge." Each team will dance together to one song, and for a portion of the dance, the two celebrities will dance together without the assistance of their professional partners. Each team will perform either a paso doblé, contemporary or jazz routine. The judges will score the "Team-Up Challenge" dances. The points from the "Showstoppers" routine and the "Team-Up Challenge" will be added together for the final judges' scores. At the end of the night, one couple will be eliminated, and the five remaining couples will advance to the semi-finals. The couples will dance to the following "Showstoppers" songs (in alphabetical order):
Marilu Henner
&
Derek Hough
- Samba - "December, 1963 (Oh, What a Night)" from JERSEY BOYS featuring a guest performance by
Mark Ballas
and his JERSEY BOYS co-stars,
Michael Lomenda
,
Kristofer McNeeley
and
Adam Zelasko
Laurie Hernandez
&
Valentin Chmerkovskiy
- Argentine Tango - "Cell Block Tango" from CHICAGO James Hinchcliffe &
Sharna Burgess
- Jazz - "A Brand New Day" from THE WIZ. Calvin Johnson Jr. &
Lindsay Arnold
- Waltz - "Memory" from CATS featuring a guest performance by
Leona Lewis
Terra Jolé &
Sasha Farber
- Charleston - "If My Friends Could See Me Now" from SWEET CHARITY. Jana Kramer & Gleb Savchenko - Waltz - "She Used to Be Mine" from WAITRESS The Team-Up Challenges are as follows and will dance to the following songs: Team-Up #1: James & Sharna/Calvin & Lindsay - Paso Doblé - "No Good" by Kaleo Team-Up #2: Jana & Gleb/Laurie & Val - Contemporary - "Bird Set Free" by Sia Team-Up #3: Marilu & Derek/Terra and Sasha - Jazz - "Big Noise from Winnetka" by
Bette Midler
Hosted by two-time Emmy-winning host
Tom Bergeron
and
Erin Andrews
(sports host and "Dancing with the Stars" season 10 finalist), "Dancing with the Stars" is the hit series in which celebrities perform choreographed dance routines which are judged by a panel of renowned ballroom experts, including dancers/choreographers
Bruno Tonioli
,
Carrie Ann
Inaba and
Julianne Hough
. Image courtesy of
@CatsBroadway