Katrina Lenk and More Perform with Their Band Youth In A Roman Field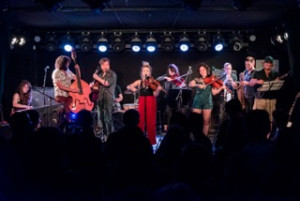 Last night, Broadway talent took the Mercury Lounge on NY's Lower East Side by storm last night with the record release for Storm Conductor with their band Youth in a Roman Field!
Tony-Award Winning Best Actress in a Musical, Katrina Lenk( The Band's Visit) played incredible viola with her bandmates Scott Stangland on guitar (Pierre, Great Comet of 1812), Claire Wellin on violin and vocals (Once) and more.
These Broadway names played exciting orchestral folk rock with Katrina playing full out on her night off, despite her demanding 8-show/week schedule for The Band's Visit.Their sound is just gorgeous- the new LP Storm Conductor is on the website link above.
Performers include: Tiffany Topol (Keyboard) - Once (1st National Tour, The Paramount Theater), The Fitzgeralds of St. Paul, Jamie Mohamdein (Bass) - The Wildness (Ars Nova), Viper, Scott Stangland (Acoustic Guitar) - Once (Original Broadway Production), Natasha, Pierre and the Great Comet of 1812 (Original Broadway Production). Matt Graff (Drums) - Drummer/Producer/Engineer
Claire Wellin (Violin) - Once (Original Broadway Production, 1st National Tour), San Fermin. Katrina Lenk (Viola) - The Band's Visit (Original Broadway Production, Original off-Broadway Production), Indecent (Original Broadway Production, Original off-Broadway Production), Once (Original Broadway Production). Cassidy Stirtz (Viola) - Once (1st National Tour, The Paramount Theater), The Typsy Spyres, Cole Kamen-Green (Trumpet) - Cuddle Magic. Stephen Chen (Baritone Saxophone) - Behaviorist, San Fermin, Zander Meisner (Electric Guitar) - Once (1st National Tour), Annie (National Tour)
Youth in a Roman Field wants to help you break the rules. The bastardized string quartet-meets folk band-meets jazz combo from singer, songwriter, and multi-instrumentalist Claire Wellin incorporates sounds of "Appalachia, cayenne pepper, & ghosts." The band includes collaborators Tiffany Topol, Scott Stangland, Cassidy Stirtz, Katrina Lenk, and Jamie Mohamdein. Their debut LP, 'Of Grit and Grace,' was released in May of 2012, and the EP 'Suits for Children' in October 2014. Originally out of Chicago, the band resides in New York City and recently released their second full-length album, recorded with legendary producer Stewart Lerman, on April 20. Claire recently completed a 6-week solo tour in support of the record, which culminated in a full band show last night at Mercury Lounge. For upcoming shows and more information, visit http://youthinaromanfield.com/
STORM CONDUCTOR - AVAILABLE EVERYWHERE NOW
Bandcamp
https://youthinaromanfield.bandcamp.com/album/storm-conductor
iTunes
https://itunes.apple.com/us/album/storm-conductor/1348933686
Spotify
https://open.spotify.com/album/7IBn0Sl8xp9KHcdKe2a7mU
Photo Credit: Anthony Mulcahy
Related Articles
More Hot Stories For You