Interview: The Genius of Bob Fosse & Gwen Verdon Lives on Through Nicole Fosse, Founder of The Verdon Fosse Legacy
Nicole Fosse discusses what she learned from her parents, the current Broadway revival of Bob Fosse's Dancin' and much more!
Bob Fosse and Gwen Verdon are two of the most influential artists in history, whose impact continues to be felt in the world of dance, theatre, film, television, music, and culture at large. Nicole Fosse, Bob Fosse and Gwen Verdon's daughter, is an integral part of preserving and sharing her parents' legacy as the founder and artistic director of The Verdon Fosse Legacy.
Founded in 2013, The Verdon Fosse Legacy honors the work of Bob Fosse and Gwen Verdon, educating dancers of all levels, from student to professional, in the Fosse repertoire as well as the styles of dance that influenced Verdon and Fosse themselves, including East Indian, Afro-Cuban, Flamenco and many more.
BroadwayWorld spoke with Nicole Fosse about creating The Verdon Fosse Legacy, what she learned from her parents, the current Broadway revival of Bob Fosse's Dancin' and much more!
---
You founded The Verdon Fosse legacy 10 years ago, and it's hard to believe that this didn't exist before then. Can you tell me about the creation of The Verdon Fosse Legacy?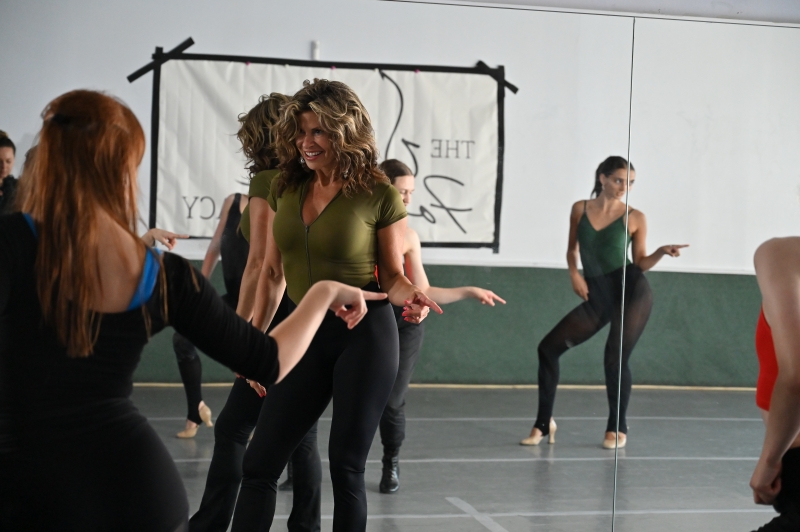 I founded The Verdon Fosse Legacy because the material was extremely scattered. The people who were teaching the material, the archival material, there was no nucleus. Whether they were a dancer, a choreographer, an interested party, there was no central point for them to come to for accurate information. It was a little bit like the game of Telephone, and it was just out there in the world, in the dance world, in the culture, in the theatre world. So, somebody would know somebody and ask them, "Hey, do you know about..." so the information changed over time, the stories changed over time.
I felt like no one story is the whole story, and we needed a place to gather all of the information as best we could, so that when someone is seeking information, whether it's about a workshop class, or archival material, there is some place to go that holds all of the information. And sometimes that means I simply point somebody in the direction, "Oh you need to go and talk to this person, they would be a good person for you to get information from." But, at least there is a central place where we can all share our knowledge. So, that was why I created it. That didn't exist and we needed that.
The Verdon Fosse Legacy offers education and training in the Fosse style, masterclasses, performances. Can you tell me more about that?
I love to talk about our professional training program! Many, many years ago we began with master classes, and we would invite dancers to come, and we had our primary founding reconstructeurs who did the teaching. That's Lloyd Culbreath, Dana Moore, and Valarie Pettiford, and they would come and teach the material to a roomful of selected dancers, invited only. And we would also have guests come, for example, Candy Brown would come and watch, or Pam Sousa, or Chita Rivera, or Gene Foote, we would have the dancers come and watch and contribute. And one of the things that I noticed was, as we began teaching students, no matter how well they were taught, and no matter how fabulous the student, or professional student was, there was always something missing. And what all the teachers said was, "It is a different background of information that they come from. This generation is different. They don't have the same training that we had back then."
So, I looked at the parts that made up each of my parents, the East Indian, Afro-Caribbean, my mother worked with Jack Cole, so she had a whole background of flamenco, tap and rhythm. My father came from a very strong rhythm and tap background, there was ballet, there was Jack Cole jazz, there was Cuban. My mother could play the castanets, she could do Indian Hastas. And they were both very involved in acting classes because they believed that they were storytellers, that performers are storytellers. So we have elements of acting class, of voice, because you have to open your mouth, if you go see Dancin' all those dancers at some point sing, or talk, or both. Even though it's a show of dancin' there is some singing, and a little bit of talking, and you have to be able to be comfortable with that, even if it it's just to introduce yourself at an audition.
We start with theatre games with Program I, and it moves into more acting exercises, fun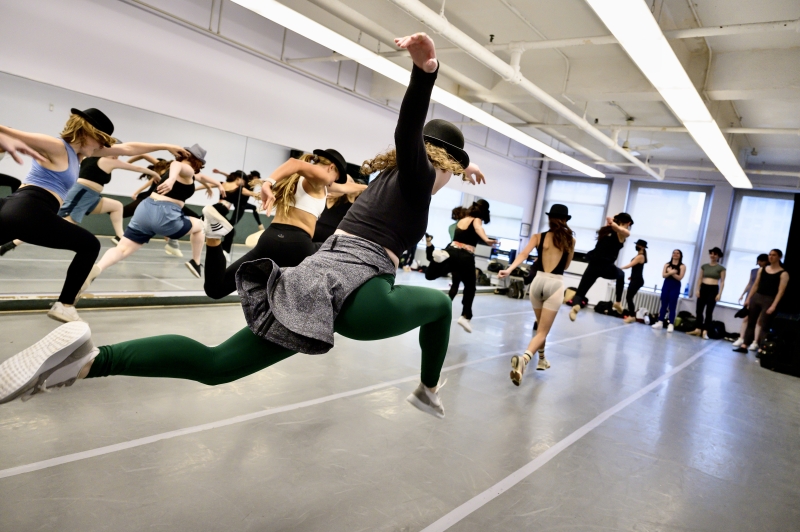 monologue work using your body as an instrument as an actor, then we add vocals. And the dance foundation, we have ballet, which is extremely important, that's how every day begins, is with a ballet class. And we move on to Fosse jazz, which is learning the vocabulary of the Fosse style. And you get to learn and practice tiny sections of the choreography disconnected from having to learn an entire piece. And then there is the Afro-Caribbean, flamenco, classical Indian, rhythm.
And after you complete Program I you enter Program II, and it's a longer afternoon, so you dive deeper into the choreography, as well as spending sometimes three and sometimes four days on a single piece of choreography. And they also have vocals in it, we try to make sure that at least one of them has some vocals in it so there's some experience of singing and dancing, the whole triple threat idea, right? And so, in the summer of 2024, we will be adding a program III, and in the summer of 2025, if all goes well we hope to add a Program IV.
It's so extensive, I feel like anybody who goes through this is going to be prepared to do absolutely anything.
Well, there's a quote in the film All That Jazz when the choreographer is yelling at one of the dancers, and he says, "I can't make you a great dancer, but I can make you a better dancer." And that's what we're doing. Our program can't turn somebody into the quintessential Fosse dancer, but you will have all the training, all the elements, the eye, the sensibility, the proprioception, to take on any choreography.
That's invaluable for a dancer.
We have professionals coming and taking our program this year. It's a grown up intensive. We also have students of several levels of abilities and experience. But we have professionals coming in, they're out there working, whether it's a circus, or a touring company, because they want the opportunity to dive into the material and learn the foundations. When you talk about learning isolations in jazz class, forget that, take Afro-Caribbean, lord, talk about isolations! Isolations isn't just moving one body part at a time, it's being able to move all your body parts completely separately different from each other, like an orchestra plays. So, it's a great experience.
The impact that your parents had on the theatre industry, the entertainment industry, culture at large, was enormous. Not only is their work constantly being revived, and the Fosse Verdon Legacy wildly successful, but interest in them as people remains as strong as ever. What does it mean to you to know that their impact is still so resonant?
I'm very proud of it, I'm very proud of the professional training program. I'm on the cusp of turning 60, and it feels like all the pieces are starting to fall in place for me now of understanding, really, what they were about, and how they applied and utilized their sensibilities in everything. The attention to detail... in 'Beat Me Daddy, Eight to the Bar' my father changed the length of the jackets that the men wore about three or four times, "Make it shorter," "Make it longer," "No, half an inch," "Three quarters of an inch," trying to find just that right spot of length on their body. The details, that's where the magic happens.
My mother, when she would curl her hair, if you look at photographs of her, frequently you will see two curls on her forehead that somehow make a heart! That was not a mistake! That was what she did. If you look at close-ups of her makeup, she was inspired by the Harlequin, and you will see that in her makeup at times, she draws some vertical lines that opened up her eyes. And putting the beauty mark in just the right place is just as important as how you utilize your hands, and your fingers, which comes from East Indian Hastas, or from the castanets. So even if she didn't have castanets in her hands, perhaps she utilized her fingers and hands the way one would if using castanets. And that's all the information that was always in there. And so, I really am very aware of how important that is in everything.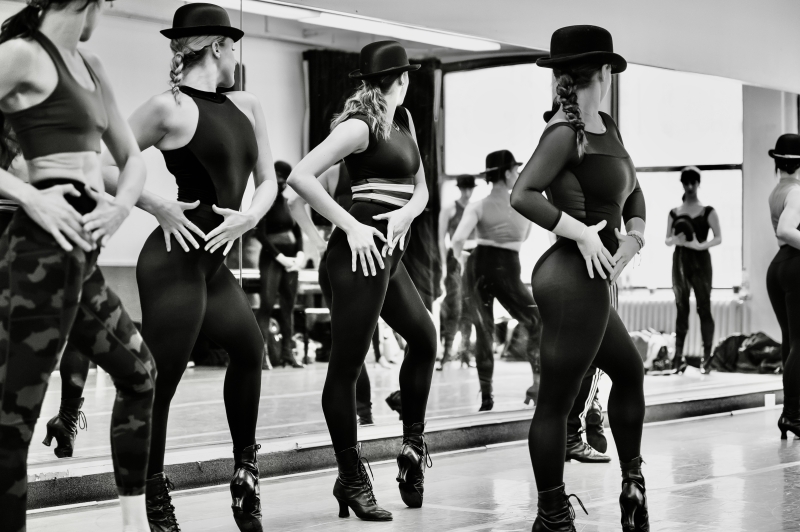 Of what you learned from your parents, from being raised by them, from watching them work, what has stuck with you the most through the years?
A few things. I was raised in the ballet world, that's really where I focused my dance training early on. There is a wonderful thing that happens in the ballet world, where the premier dancer, or the Prima Ballerina teaches the role to the next dancer in line, and that's how the information gets passed on. And many premier dancers and ballerinas teach it, it isn't disseminated from one singular person. And I thought that that was really important when creating The Verdon Fosse Legacy professional training program. And I encourage dancers, even if they've learned a dance from one teacher, go learn it from another one of our teachers.
That was something that I became very aware of, when someone would learn a dance from my father, and then they'd learn the dance again, rehearse it with my mother, it was slightly different, but it was still of the same sensibility. My mother used to say, "At some point I don't give a rat's ass if I start on my right foot or my left foot, I need to know what I am doing," meaning approaching everything as an actor, as a musician. So, I think that's one of my big takeaways is never stop learning, learn from different people, always focus on what you're doing as an actor, as an intention, as a storyteller, and really pay attention to the details.
What are you most looking forward to with this production of Dancin' on Broadway?
It's an extraordinary production, and I'm looking forward to joy being brought to people in the theatre. It's approached more like a rock concert than musical theatre. When my father first created it, he was heard to say that he was sort of bucking the mold of what musical theatre is supposed to be, and I feel like Wayne [Cilento] is doing that again. The early conversations that Wayne and I had were, "How do we do the same thing he did without doing exactly the same thing that he did? How do we bring it forward into 2023?" Theatre needs to be fun. Yes, it can be thought-provoking, yes there are important messages, it's a way to communicate, and it's also to take us out of our worries, to take us out of the world that surrounds us, and put us into a magical world. And I hope that's really what happens for the audience. I'm sure it will, I don't know if it can't, it's a very joyous show.
And then there is another layer where I really am hopeful that there is a public awareness of how influential my father's work has been in today's pop culture. Some of my father's and my mother's influences were Charlie Chaplin, Rodin the sculptor, the beginning of elbow-wrist-hand is Rodin with The Three Shades, it's the whole beginning of the prologue of the show Dancin'. The first thing that happens is like a Rodin sculpture, it's the body as a work of art. So, there was Charlie Chaplin, there was the Spanish matador, there was Rodin the sculptor, the Harlequin, there were so many influences. Horses, the way their hooves work, how my father used his feet.
It's called The Verdon Fosse Legacy, not the Fosse Verdon Legacy. The choice to have Gwen Verdon's name first feels important. Am I reading too much into that, or is that making a statement having your mother's name first in that title?
Well, my mother had a house in East Hampton, and she had a sign in front of the house with the street number on it, and it said Verdon Fosse, and everyone kept stealing it! They'd pull the stake out of the ground and steal it, she had to replace it multiple times. And that's how she signed her name, Gwen Verdon Fosse, that was her signature. It just seemed right, it sounded right. My father was a genius before he met her, but she was like the key to his genius. I don't believe he would have become who he became had he not met my mother.
Do you have favorite works of your parents?
Dancin'! That's not my mother, but... I loved Pippin, Cabaret. My father made some great films also that were not dance oriented. Lenny and Star 80 are fascinating films. I loved my mother as Sweet Charity. And I know she's not in the film of Sweet Charity, that's Shirley MacLaine, but I do remember my mother teaching other women Sweet Charity, and I could see it in her. There was something so vulnerable about how she developed that character with comedy, and authenticity.