Interview: Diane Phelan on INTO THE WOODS' Final Broadway Bow & Hitting the Road on Tour
Phelan discusses her favorite on stage moment, the love between the cast, which cities she's most looking forward to performing in, and more!
The Broadway revival of James Lapine and Stephen Sondheim's Into the Woods, just concluded its twice-extended limited engagement. The production will go on to play in select cities across the United States, beginning February 2023 at the Kennedy Center in Washington, DC, following preview performances in Buffalo, NY!
The production stars Montego Glover as The Witch, Stephanie J. Block as The Baker's Wife, Sebastian Arcelus as The Baker, and Gavin Creel as Cinderella's Prince/Wolf, Diane Phelan as Cinderella - all reprising their Broadway roles. The cast will also include - direct from Broadway - Cole Thompson as Jack, Katy Geraghty as Little Red Ridinghood, David Patrick Kelly as The Narrator, Nancy Opel as Cinderella's Stepmother, Aymee Garcia as Jack's Mother, Ta'Nika Gibson as Lucinda, Brooke Ishibashi as Florinda, Kennedy Kanagawa as Milky White, Jim Stanek as the Steward, and Alysia Velez as Rapunzel. Further casting will be announced at a later date.
Following Washington, D.C. (Kennedy Center Opera House), engagements are set for Boston, Massachusetts (Emerson Colonial Theatre); Philadelphia, Pennsylvania (Miller Theater); Charlotte, North Carolina (Blumenthal Performing Arts Center); Chicago, Illinois (James M. Nederlander Theatre); San Francisco, California (Curran Theater); and Los Angeles, California (Ahmanson Theatre). The production will tech and play preview performances in Buffalo, New York (Shea's Performing Arts Center).
The complete list of engagements is available at https://intothewoodsbway.com.
BroadwayWorld spoke with Into the Woods' Cinderella, Diane Phelan, on what it felt like to take that final bow in Into the Woods on Broadway, what she is most looking forward to with bringing the show on the road, and more!
---
You just closed Into the Woods on Broadway. How did it feel to take that bow?
It was really cathartic and bittersweet, of course. It was a culmination of everyone's dreams being realized. Everybody coming together in the thing that we created. It was a big celebration and a lot of love, sharing with the audience who was absolutely bonkers. There was so much love shown. That's what I keep coming back to, how much love and brilliance is in that room. It was really beautiful.
What did it feel like for you to star in the show, and work with such an incredible cast?
You know, it really has been a dream come true, and at the end of the day, it's just about, for me, the work, and getting the opportunity to do it. I think anybody who loves what they do wants the opportunity to build with people who are at the top of their game. This cast and creative team and company, everybody was a dream. Everyone is just brilliant and lovely in their own way, and what they're able to bring to the table is delightful. There were no egos, it was just about the love of it.
You will also be starring as Cinderella in the tour of the show. What are you most looking forward to with getting out on the road?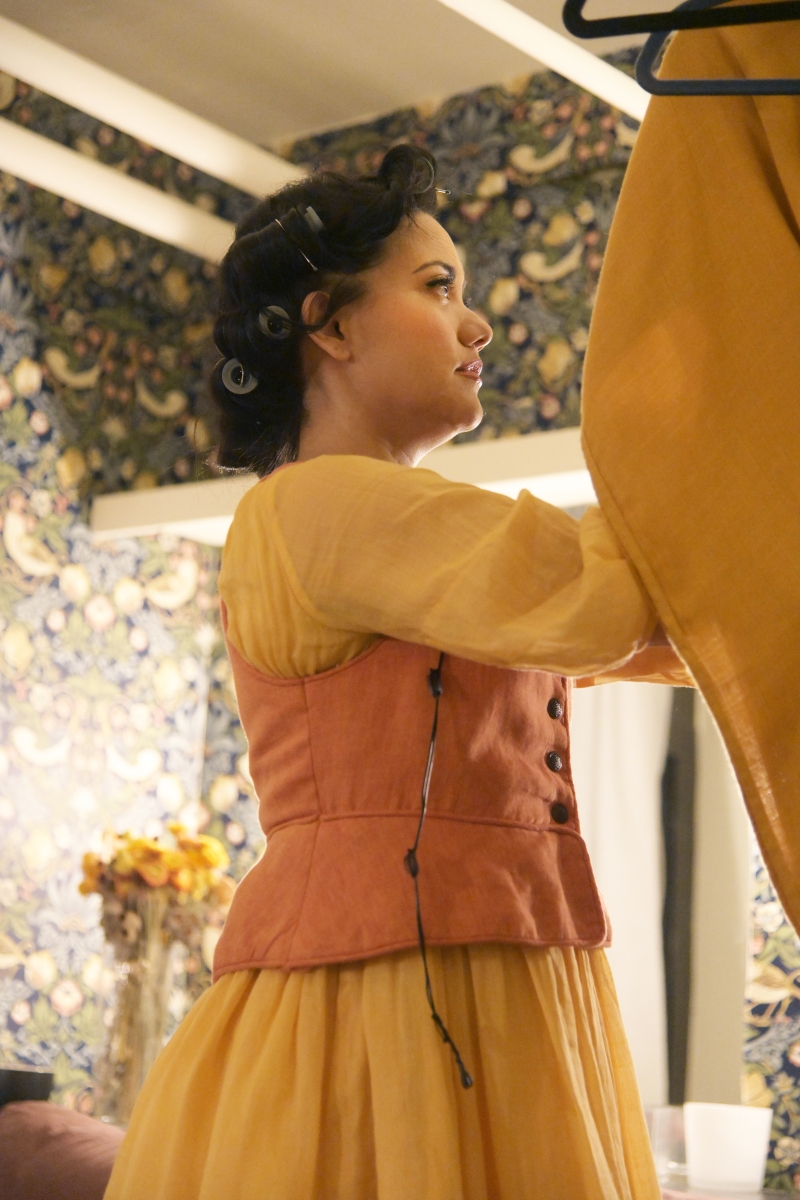 Oh my gosh, I've toured a lot before, so it's going to be revisiting these cities with this group of people that I love so much, and bringing this particular show across the country to people. People have reached out and said they're dying to see it. And knowing how much people in New York loved it, and the message of love, and joy, and hope, being able to bring that across the country is really exciting.
Do you have a city you're most looking forward to playing?
I just spent some time in LA, and I just loved it. I loved the energy there, I loved the people there. I also love Boston because of the seafood, Boston is one of my favorite cities. DC is really amazing. They're all amazing cities. I can't wait, I'm so excited! I'm excited about the food, really! [laughs]. 'What food can I eat where?' and 'Which friends are in that city?' It's going to be a blast.
What is your favorite thing about playing this character?
Cinderella has taught me a lot about empathy and patience and love. She really is a princess in the best sense of that word. She's just such a wise, patient, loving being that it's an honor to play her because I learn a lot about myself through playing her. She's not a perfect human being, she has a lot to figure out, and I really enjoy living in her shoes.
Do you have a favorite on stage moment?
I would say it's the opening number! It's the first moment we're introduced to the company, it's such a complex, intense number, and it took me a long time to get it right, from the blocking, to the words, to each individual moment, so every time I feel like I nail it, the word that goes through my head is, "Satisfying" [laughs].
What would you like to say to audience members who will be coming to see Into the Woods on tour?
That we just cant wait to see all of you!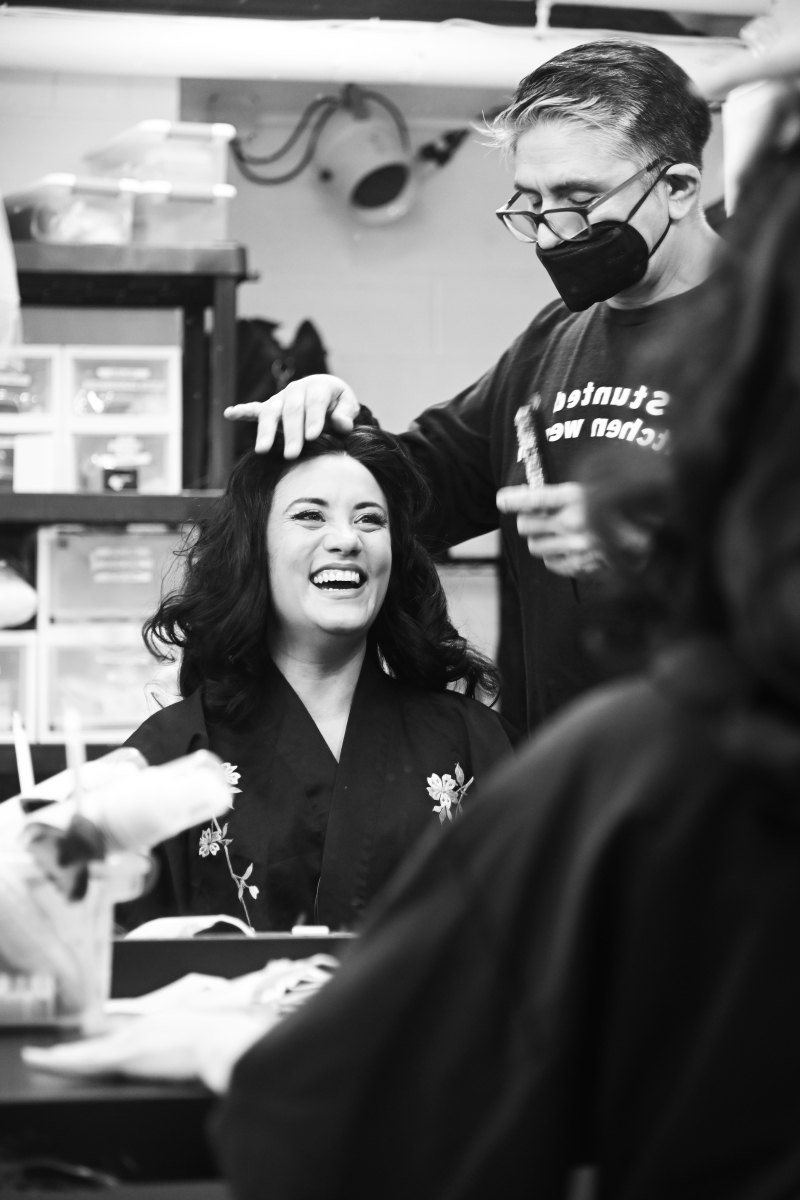 ---
Photo Credit: Michael Kushner
Michael Kushner has been photographing actors preparing for their roles backstage of Broadway shows since 2014. In his series The Dressing Room Project, he has photographed Hillary Clinton, Julie Andrews, Busy Philipps, Sheryl Lee Ralph, Todrick Hall, Colleen Ballinger, Brittney Johnson, and hundreds of other notable artists. Michael Kushner is also a headshot and portrait photographer based in NYC. For more, visit www.michaelkushnerphotography.com
---
Shop BroadwayWorld

Shop this season's new musicals! Get dressed up for a night at the theatre, or just a night at home, with merch from some of Broadway's biggest hits including SOME LIKE IT HOT, KIMBERLY AKIMBO, and more!
---
Related Stories