Industry Interview: Mike Isaacson on Why You Should Meet Him at The Muny!
For 101 seasons, The Muny has brought a little bit of Broadway to St. Louis, as one of the country's premier institutions in musical theatre. As the nation's largest outdoor musical theatre, the venue produces seven world-class musicals each year and welcomes over 400,000 theatregoers over a nine-week summer season.
In 2019, the Muny will be the first theatre in the U.S. to produce the Tony, Olivier and Grammy Award winning Best Musical Kinky Boots. In addition, Season 101 also includes two all-time beloved Muny favorites: Rodgers and Hammerstein's Cinderella and Guys and Dolls. After 56 years, Muny audiences will see the return of Lerner and Loewe's Paint Your Wagon, in a revised edition being developed at The Muny.
Other season highlights include 80s dance-favorite Footloose, the powerful musical-telling of the signing of The Declaration of Independence, 1776, and The Muny premiere of the Tony and Olivier Award-winning Matilda.
And while we countdown the days til summer, the venue is in the midst of a multi-million-dollar stage renovation. After several weeks, demolition of the existing stage area is now complete; all that remains are the scenery booms, which will be upgraded for the theatre's second century.
AT the helm of the ship is Artistic Director and Executive Producer Mike Isaacson who just chatted with us about the renovation, the 2019 season, and what keeps fans and actors alike coming back home to the Muny.
---
So, how are renovations going?
Well, we're still in excavation, so it's still a big pile of rubble. We're all kind of not looking at it. It is - joke aside - it's kind of astounding, the transformation. I mean, it is literally rubble. The only thing exists are two booms remain. Right now, knock on wood, the weather's been cooperating, so we're on time and schedule. We're running double shifts from now through probably May 1 to make sure we have Phase 1 done before the 101st Season.
Not knowing St. Louis weather, does it shut down at some point in the winter as far as construction's concerned?
Possibly, but not likely. As we're all experiencing around the country these days, weather has become a real 'X factor'. I mean, the pattern's changing. You can't be sure of anything, but historical data says St. Louis winters tend to be milder. There's usually some snowfall in January, maybe late December. So, they feel pretty confident.
The other thing that's the big X factor if we do this is, because of the history, nobody really knows what's down there. It's not like documents were kept and things were known. There was sort of a big deep breath where we go, will there be anything under there that would impede the progress? So far, we haven't discovered anything.
Like bedrock or dead actors?
[Laughs] Yes. Or lost operetta scores...
You could use that to fill in the foundation! I should ask if you're burying any dead actors or operettas scores?
No, we're not. I think there's some discussion about doing a time capsule when we officially do the stage - something like that.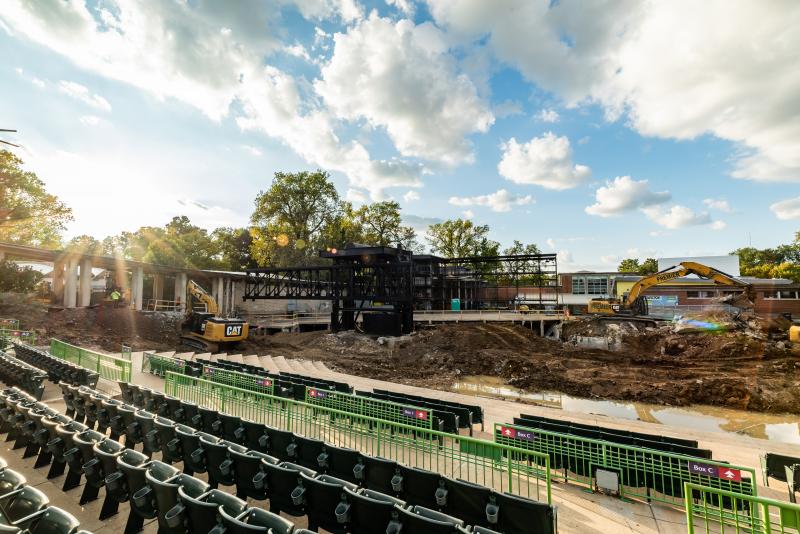 Everything will be ready for this season to start and there's a second round?
Yeah, what will happen for this season is the actual stage, the new orchestra, and the bones of the structure that supports the stage. And no trees this year. By 102 we'll have everything completed with the new trees.
The Directors and Designers I'm talking to already are like, "Okay, we've got to see how we play with it this year. One year only."
Roll in temporary trees?
They'd have to be temporarily tall.
Is it funded, or privately funded, or ticket funded, or all the above?
We privately fund it, which is unbelievable. We don't get tax revenue. We don't get arts funding. It sounds like I'm whining, but it's simply the facts. Everything else in Forest Park - the Zoo, the Art Museum, and the History Museum actually get tax funding. Historically, The Muny's not been in that.
The Muny has always had to rely on ticket sales and donations. The truth is, for most of its history, up until I want to say the late eighties-ish, ticket sales would kind of cover everything plus or minus.
That began to change in the nineties on a variable basis. And then, it became more of a situation in the late nineties, when they realized they had to work more as a non-profit, which is a real challenge in the community when they don't have that mind-set about you. When I talk to people they're surprised, "Oh, you don't get tax dollars?" because it was kind of its own thing and lucky for it.
Going into the 100th, we made the case and I got to see Denny Reagan and Courtney, our Development Head, we went out to the community. When you have the 100th, they're going to listen to you. We basically said, "Look at one time only, here's what we need. We honestly need to get us through the next 100 years." I have a University background and you're regularly doing capital campaigns. You're always in this sort of campaign mode. We said to people, and it's true, "We think if we just do this once, while everybody's here for at least 50 years."
It's interesting the intensity of it though actually does help you really understand costs and contain it. Twelve days is twelve days, the parameters are such, the weather is a huge X factor because two rainouts a season can potentially put us in the red. We live on that non-profit knife's edge, which is great for the most part. We need the cushion to do that. Also, to have the resources to support the maintenance of that place and the upkeep and everything is just huge. And then to do some new endeavors that we're going to move into in terms of education, and commissions, and stuff like that.
The community has been unbelievable. That is actually one beautiful thing about St. Louis, when you see rankings of national cities in terms of philanthropy, St. Louis is really high. It has a culture; a giving culture. It's been very moving to see - the basic response has been, "Oh, oh, okay, what do you need...?" I can say this, all the meetings I've been a part of when we've gone to major funders, the answer has never been, "No," it's been, "Let me see how much," which is unbelievable.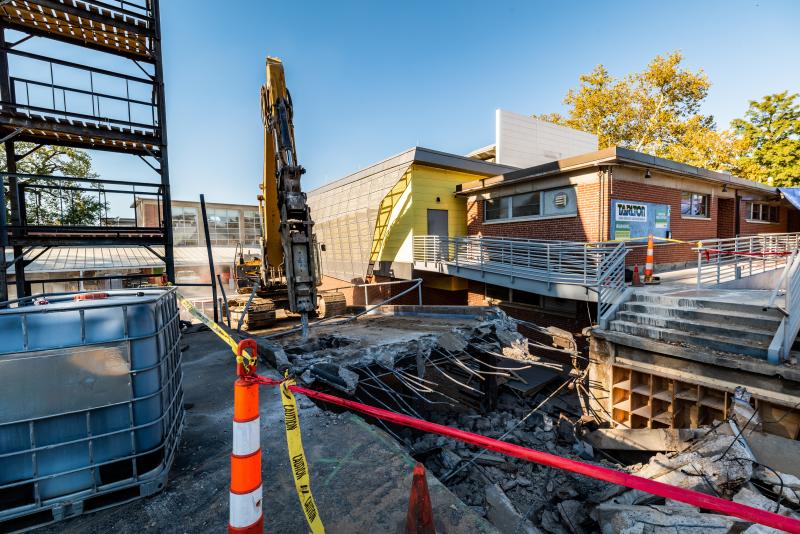 And were you a St. Louis person before this?
I went to college there in '82, so I've lived there more than I've lived anyplace in my life. I say this, part of doing the Muny for me was a little bit giving back to the City that gave me my life. I feel it's a great City and it deserves a great theater.
Is that because of the college experience?
The college, my jobs, the people I met there. I had a sort of nomadic childhood: Cheboygan, Wisconsin; Naperville, Illinois; Joliet, Illinois; Phoenix Arizona; Deerfield, Illinois; Milwaukee, Wisconsin, and St. Louis for college.
I started working with Donald Douglas, I ended up back at the University, Fox, and I just met amazing people and had really interesting work. It just really gave me my life in that sense.
Are you doing some off-season stuff this year as well?
Yeah. One of the things we found is that one of the challenges in terms of marketing identity is the whole, "you're there and then you're gone", was really hard in today's world. You have to have regular markers to remain a part of people's conversations in their minds. In recent years, we have increased institutional marketing to stay top-of-mind year-round.
The thought was, one of the things that happens there which is really beautiful, you feel the audience just really compelled to feeling great about certain artists that they see on stage. We created this thing one in the fall; one in the spring. There's this beautiful concert hall in St. Louis The Sheldon Concert Hall, right next to The Fox, 700 hundred seats, it's gorgeous. We bring people on the stage for the audience to see and I let the audience see them, who they are. They do their show or something we've created for them. I use it to announce the season, just these regular markers. Then we do a lot more sort of information stuff with donors, it's sort of mini-family during the year.
The Symphony called, we just did a thing with them. They wanted to honor our 100th, which was really lovely. I went to Ben Whitely, music director, part of The Muny Family. We put together this show with the Symphony that covered those early years, because it really was operetta. Actually, when I looked at it, much longer than I thought, it was pretty much in the early fifties that we started to phase from operetta to musicals.
If you think about it, Oklahoma! was 1944. By the time that got out, all of that was happening, you have to do sort of the speed bump, and then it's out there. We did sort of the operetta and the some of the early musical comedies, Rodgers & Hart, and so on and it turned out well.
How much of the audience for the Muny is locals versus tourists?
What's interesting, we've been picking up a lot regionally of people coming down from Chicago now. We don't have exact figures. A lot of that is just ticket sales trends that's coming. If people are in St. Louis for the summer, we do kind of a walk-up. When you don't have a roof, at 3:00 you look out and if you know they're hearing, 'It's going to be a beautiful night.' The people get on the phone say, "Hey, do you want to go to the Muny tonight?" And they just show up.
We do get a lot of out-of-towners who just sort of walk up. I had a woman come up to me said, "I live in Chicago and I now try to see three or four shows this season." If you love musical theater, you know how singular this is. You know that there's nothing like this exists. I love it when the Musical Theater geeks show up in droves.
It can be a mecca for fans of musical theatre, that not only are just excited by a particular show, it's the stars as well. Often, because you're not casting for an entire Broadway run of months full of ticket sales it feels like you have more freedom perhaps to cast the best performers and worry less about the rest?
That's been one of the gifts for me. I get to go to people I've seen, and I go, "You know what? No one knows you can do this, let's give this a shot." Or a lot of people where I'm like, "You don't know this, but you can step up to a leading role, so let's go do that."
That's another reason, for me working in the Broadway environment, what's really hard is we have a lot fewer opportunities for artists to go and really find their voice, to make mistakes safely and learn. Tommy Tune's first show that he choregraphed was at The Muny. Michael Bennett choregraphed at The Muny. That's my conversation, "Come. There's no mistakes. Let's do this. Learn your voice. If you're lucky enough to get an opportunity here, you walk in the room, you know what you're doing." It's the same thing with some artists and performers.
The way the system is right now, you're not going to play this role in New York. Come here. Even when I did Mamma Mia! Ann Harada wrote the most beautiful e-mail. She goes, "I auditioned five times to the show in New York and didn't get it, and I've always wanted to play it." That's kind of cool
How is Telsey Casting helping with that this year?
We're finding out. We're just starting out. What's really exciting about them, I mean having worked with them a lot of shows, is the vibe is very similar, and they know that our dedication is the best person for the part. I like really exciting people on that stage. Like me, they know of people who they believe in, who may not have had that breakout part.
The other thing is in terms of artists I want on that stage, who I haven't been able to get because of scheduling, whatever, Telsey's calling is a different call and that's really exciting. They know how to work with directors and they also have a really good sense of humor. It's so important to me. Seriously, if we're laughing five minutes into the meeting, let's do this.
For this season, right now, you're currently looking for creative teams?
Yeah. It's pretty funny, because midway through the season and during the season, rumors start floating. People will start coming up to me and I'll start getting e-mails. Pretty much by August I have a sense of, 'Okay, I think it's happening, this one's an X factor,' this or that. I just quietly begin to converse. Everyone's great with me. I call and say, "Here's the season, what makes your heart beat faster? What are you not interested in?" I just get a very honest reaction, which is great.
Then, realistically, a schedule, "Do you know what you're doing next summer?" Which is really the biggest deal. I get them thinking about that. I think about what I know of their work. There's two things, I live in two worlds: Number one - that's a great fit or there's a couple of directors who I've worked with that I've said, "You don't think you're right for this, and you don't want to do it, and I'm making you do it? Because you're really going to grow doing this." In both cases, they were like "Thank you, that really did..." "And I think you'll be amazing too, but I know you don't see this, put on the suit, you're going to look fabulous."
Then I have to measure. I will tell you the thing that has surprised me the most is, I don't know why, I assumed it would always be hard to find people to do this. The hardest is calling some people and saying, "I don't think this is going to work this year." People are great, they understand, but it's hard. This is so pollyannaish but, you know this, there are so many more talented people than there are opportunities. It's brutal. I hate that.
That's why I'm happier on this side of the business than the other side of business.
I believe this: If every city in this country had a Muny, we'd all be better off.
That will be your next project?
The interesting thing about it, it's almost like building a Broadway theater, the economics now, you just couldn't do it. The land space, it's insane to think about starting that today.
That said, the other thing is so potent right now is that this moment we're living in is - we are the last remaining space, where very different people feel comfortable being in the same space with each other. You don't even have churches anymore. I'm sorry, but sports is really segregated in terms of its audience. When I get the calls from reporters about certain things, I'm like, "By the way, are you also calling sports teams and asking these questions?" They never do.
You get The Muny with the free seats, and the access, and all of that, it's kind of unbelievable right now. That everybody wants to, whoever they are, just be there for this and be there together. The power of last season - the productions were fantastic. Everyone really loved it, I mean, it was just great. People showed up in droves.
But what happened was, if you're an institution, you're always there. You're never really seen. You're the Met, you're the Public Library. You get it? Right.
But because of this moment and what it was, they saw who we are on everything, and how the city and community had been doing this for 100 years. Each night that was just as palpable as the experience of the show and whatever that brought to them. It was unbelievable. It was a very specific energy and connection. It was great.
As far as picking shows for the season, if a rain-out or two can put you into the red, does that make you avoid taking more risks? Or are you looking at things that you think could be great art but more challenging to sell.
I think one of the things that always surprises people, the big family titles are always the blockbuster because that's the big ritual. It's always had that for 100 years. Obviously, next season is Cinderella. Grandma, grandpa...that thing of 'Every summer we go to Muny.' People drive in and it's, its own idea.
Outside of that, I've said to people, "My formula's pretty clear, I always do at least two classics, two new shows that have never been on The Muny stage before, and the family." So, there's five right there. The other two, I beat my head against the wall with a variety of information, artistically, stylistically, production-wise, sales, whatever it is. Overall, as a trend, the new shows sell better than the classics, and that's the interesting thing.
Do you hope to do more premieres there?
Yeah. For Paint Your Wagon I'm working with some commercial producers and Lerner and Loewe. We're the right space for them. I've said to other producers who have come to me and said, "We'd like to do this and that." I've listened to it and I've said, "No. The Muny is not the right place for you and here's why..."
This is a really good space if you're still figuring out your show in terms of song, story, character, narrative, and do we have all of that right? In other words, instead of doing half a million-dollar workshop, The Muny can give you a million-dollar production. And you can learn that very truthfully, very clearly. If your show is all about the production, The Muny is not the place. You need to go to so and so.
There is this specific niche that I think we can really serve, and help shows like we did for Holiday Inn in terms of their book and structure to get here. I think there's going to be a next chapter from Molly Brown, for which there's some conversations going on.
Paint Your Wagon, they did their first version in Seattle, and they were happy with it, but they want to do some more work.
You're still doing commercial producing on the side?
I am.
What's next there?
Kris and I are doing a workshop this week of Becoming Nancy and I'm really happy. I'm really happy.
What are you allowed to tell us about it?
Well, we're doing a workshop this week, and we're hoping to do a regional production in the next year to keep working on it, and then Broadway. It's directed by Jerry Mitchell.
I've heard of him...
Oh yeah, I've heard of him. What's really thrilling what I'm seeing in the room right now, I don't think people are going to be expecting this from him. It's really great and the music score is by Drewe and Stiles.
We'll see where it goes. It's like we were talking about earlier, the job is you're creating something out of nothing. I applaud any commercial producer on any project anywhere, because they're all really, really challenging.
Ultimately, I had this incredible gift about a month ago, Sondheim got this award in St. Louis and I did the interview. Just when you think you can't learn anything more from the master, things are coming out of his mouth. When he was talking about his career and I'm paraphrasing, but he said, "I had to write the shows that I was interested in and I cared about, and then what happened next I couldn't control..." I think that's what you do.
I've been so thrilled to do that with Kristen for all these years and I'm really proud of the shows we've produced. Loving musical theater and knowing you had a hand in that, are you kidding me?
The other thing is, right now, this is an unbelievable age of musical theater. U-n-b-e-l-i-e-v-a-b-l-e. Never thought this was possible. For a lot of the moment, you've got to give credit to Lin and Hamilton, but there's all these things that built up into that moment. There's a whole lecture I could give about rock, and Disney, and leading up to this moment where the boomers' sort of threw the musicals out as uncool, their parents' mode for a while, but there's been these steps along the way.
And then foremost, my belief, is once the computer became a part in everyday life, all of the information is relational and metaphoric, and that's what a musical is.
Suddenly, those barriers didn't feel so odd, because you were doing it every day in very strong subliminal ways. Whereas compared to rock, this is real, right? That was the esthetic in the culture, I believe. Well, enough time and they went, "Well, that was a big lie, too. Okay, it's all...that's okay." But all these things built into musicals as a form being cool. Disney gives great credit for the sort of 'Get them while their young, Ava.' All those kids with those video cassettes. And then High School Musical and all of that.
There's also an idea, for this country in particular, because we're not that old, cultural nostalgia is actually a unifying force.
It's great when old and new generations can share the same experience, and you can see for whom it's new and for whom it's nostalgic.
People need that. They need moments to connect to their past and see that we have all been through this together. Beautiful to me is the perfect example of that. You feel everybody listening to that album, and that is legitimate and necessary.
In my second season The Muny, the first one, it was like - what just happened? But the second season, I realized, that audience, when they see the classic show, it was South Pacific, I realized for them sitting there it wasn't just nostalgia for the show, it was nostalgia for who they were the last time they saw it at the Muny, and who they were with, and who was with them before that.
People would tell me stories, "The last time I saw this it was with my grandmother and she's no longer with me." There's that connection to these bookmark rituals that are really, really something. The form's not even 100 years old yet, so it's still kind of nascent in that.
You can make an argument, I'll say 10 of the last 100 years, 10 maybe 15 musicals seem destined for the ages. And most will wear away, which is what they're supposed to do. You think about Opera in its day, there were thousands of them and now there's 20 in the canon. Greatness is just not common. The fact that we've established these bookmarks in people's lives, it's amazing.