Hurricane Harvey Update- How You Can Help Houston-Area Theatres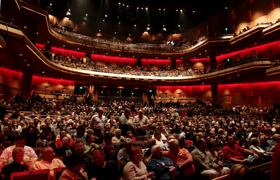 Hurricane Harvey has battered Texas, and the damage is immense. Flooding in the Houston area has left many theatres underwater, with enormous recovery projects already underway.
Check out the latest updates below:
---
Alley Theatre: The Alley Theatre is currently in recovery mode working to restore administrative and artistic facilities and provide assistance to our artists and staff who have been affected by Hurricane Harvey. "We're still assessing the damage Harvey inflicted upon the Theatre; it's heartbreaking to see the destruction," said Dean Gladden, Managing Director of the Alley Theatre. "But the Alley team, like all Houstonians, are rallying together so that we can get back to producing theatre for this great city."
Hurricane Harvey left the Alley's Neuhaus Theatre, adjacent Mitchell Lobby, prop storage and basement dressing rooms with water that reached the ceiling, past the high-water mark of 2001's Tropical Storm Allison. The Theatre's electrical systems that provide power to the administrative offices and both stages' suffered severe damage and all are offline. The Theatre's Long Lobby and Hubbard Theatre did not receive any damage.
---
Houston Ballet: The Houston Ballet family's thoughts go out to our beloved city as it contends with the ongoing crisis caused by Hurricane Harvey. We are grateful to be able to share with you that our dancers, artists, and staff are safe, although many have been displaced and otherwise affected by this terrible storm.
We want to update you on the status of Houston Ballet's activities as the new season approaches. Due to a disruption of the company's systems from a power outage and minor water damage that caused our ticketing and email systems to go offline, our offices are closed and will remain closed through Labor Day.
Furthermore, our season-opening performances of "Poetry in Motion", scheduled for September 8-17, have been unavoidably cancelled. We will endeavor to reschedule those performances in the coming months. We are hopeful that "Mayerling" will be able to open the season with performances beginning on September 21st, as previously scheduled. This plan, of course, depends on the availability of the Wortham Theater Center, which has incurred some storm-related damage, as previously reported.
---
Houston Grand Opera: Our great city and region are continuing to suffer from the aftermath of Hurricane Harvey, and we know that we are facing a long recovery together. Following is an update on the Wortham Theater Center, whose two theaters, the Brown and Cullen, are home to Houston Grand Opera. The Wortham had water penetration into the front of house areas at a low level due to high water; that water has now receded and left residual dirt. In the back of house, water surged over the storm defense and some water went onto the Brown Theater stage. This was at a low level but has resulted in damage to the surface of the stage. The Cullen Theater stage has little water damage and the dressing room corridor had water, but also at a low level. The basement of the building is completely full of flood water. We want to thank Houston First, Theater District Inc. engineers, and Andy Frank Security for their great work in protecting the building from even worse damage. The Theater District garage is completely flooded and will undoubtedly be closed for some time for repairs and cleanup. Fortunately, HGO staff members had the foresight to move valuable instruments and many costumes, including those for our opening productions of La traviata and Julius Caesar, to higher floors in advance of the storm.
---
Stages Repertory Theatre: Our thoughts are with all our fellow Texans who have been impacted by flooding and severe weather. We're grateful that Stages is dry and undamaged as of Tuesday, August 28, although our offices will remain closed through at least Wednesday, August 30, due to flooding in the surrounding areas.
For the safety of our artists, staff and patrons, all performances through Sunday, September 3, have been canceled. Always...Patsy Cline will resume performances on Wednesday, September 6. Due to schedule constraints, performances of Woody Sez will not be rescheduled.
Ticket-holders may exchange tickets for a future performance free of charge, donate the value of the tickets to support this year's 40th Anniversary Season, or request a refund.
---
Queensbury Theatre: Our hearts go out to all those who have lost so much during this tragic event. We are blessed that our facility did not sustain any damage. We hope it can provide comfort and escape to those who have lost so much in the days and weeks to come. Our sincerest thank you from the Queensbury Theatre.
---
Miller Outdoor Theatre: Performances scheduled on September 1st, 2nd, and 3rd have been POSTPONED due to Hurricane Harvey. We will attempt to reschedule the shows later in the season. We encourage everyone to stay safe and apologize for the disappointment.
---
Theatre Under the Stars: As our thoughts continue to remain with all Texans affected by the storm, we here at Theatre Under The Stars are actively engaged in deploying business continuity plans, and will resume regular business operations on Tuesday, September 5th.
With recovery having just begun across our community, we understand this is an on-going process and the full extent of the storm's impact may not be known for some time. That said, we are relieved to report everyone within the immediate TUTS Staff family is safely accounted for; though some have experienced a disruption to their lives due to flooding.
By all accounts, the Hobby Center buildings fared fairly well in relation to our arts partners in the Theater District. After further assessment, we can share we did sustain some water damage in Zilkha Hall, but not Sarofim Hall. There at one point was flooding on the first floor of the parking garage; water has since subsided. The River facility did not experience water breach other than a few minor roof leaks.
---
Pasadena Little Theatre: For your safety and security, the Opening Weekend performance of "On The Verge" has been cancelled due to inclement weather from Hurricane Harvey. Opening night is been postponed to September 1st.
---
Upstage Arts Youth Theatre: Just checked out the theater. It is mostly dry. Some water got in along the windows, all along the window wall to the voice room is a little wet. Ceiling tiles have gotten wet and have fallen under the a/c unit, a little water on and under the counter under the a/c. Probably blew in around the a/c unit. seats are dry, and of course the sawdust I left on the floor is still there and dry.....otherwise OK.
---
How can you help? Many of the affected theatres are accepting online donations (click to donate), including:
Company Onstage, Hobby Center, Pasadena Little Theatre, Shunya Theatre, Firecracker Productions, Upstage Arts Youth Theatre, Catastrophic Theatre, Katy Visual and Performing Arts Center, Baytown Little Theatre, The Landing Theatre, Talento Bilingue De Houston, Stageworks Theatre, Classical Theatre Company, Mildred's Umbrella Theatre Company, Cone Man Running Productions and Houston Arts Alliance.
Plus, you can donate to all those Houstonians who have suffered from Harvey's flooding at: https://ghcf.org/hurricane-relief/
Related Articles
More Hot Stories For You
Andrea Bocelli Will Stream A Live Performance From The Duomo In Milan On Easter Sunday
On Easter Sunday, April 12, Italian tenor and global music icon Andrea Bocelli will give a solo performance at the historic Duomo, the cathedral of Mi... (read more)

Idina Menzel, Ben Platt, Josh Groban and Many More Join SATURDAY NIGHT SEDER Benefit
Saturday Night Seder — a Passover Seder on Saturday, April 11 (the fourth night of Passover) — will be different from all other nights, as a panoply o... (read more)

VIDEO: The Marsh Family is Back With Another LES MISERABLES Cover
The Marsh family is back with another Les Miserables cover!... (read more)

Breaking: Broadway Shutdown Extends To June
In accordance with guidelines from the Center for Disease Control (CDC) and under the continued direction of Governor Andrew Cuomo, Broadway shows in ... (read more)

VIDEO: Actor Handcuffed by LAPD While Making Self-Tape of August Wilson Monologue
When LA-based actor Tyree Freely began creating his self-tape for Leah Daniels-Butler Casting's Quarantine Monologues project, he didn't realize that ... (read more)

THE BOOK OF MORMON National Tour Announces Closing
After 2,828 performances and 360 playing weeks across North America, the producers of THE BOOK OF MORMON announced today that the Jumamosi Company (se... (read more)