Audition Song Selection, What to Expect, Tips, and More!
How To Find An Acting Teacher in NYC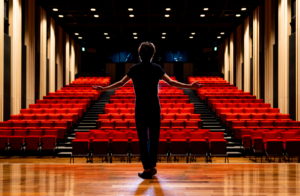 Josh Lamon most recently starred as Sheldon in the Broadway hit THE PROM. Previous credits include Groundhog Day, Finding Neverland, Wicked, Hair, and more!
Find him online here, and check out his podcast Josh Swallows Broadway!
---
You are an aspiring actor in NYC pounding the pavement, getting up at the crack of dawn and waiting in line to hopefully get seen. Congratulations! You are doing everything right! But what else can you do to book the gig? Take as many classes (acting lessons/acting techniques/audition prep) as you can. I mean that.
Education has always been very important to me. I know you are thinking... 'But Josh! You dropped out of college!' Yup, that is very true. The kind of training I was getting at my University was not working for me. In fact, I failed out of my college acting class. It took a long time to come to terms with that. After many nights filled with tears before bedtime, I learned I might not be Meryl Streep, but I am no failure. I decided to create my own rules and search for classes here in NYC that I would truly benefit from and that would help me become the working actor I always dreamed of being.
Times have changed since I moved to NYC. Many of the classes I took are no longer available. So I decided to do a city wide search for the best teachers I could find with students that were thriving. Some thriving professionally, some thriving in artistic growth - but the most important thing on my list was to find classes where the students feel emotionally supported and rewarded.
Back in my day, Craig Carnelia was the go to teacher for Musical Theatre performers like myself. Studying with Craig was the most rewarding experience of my entire career. You would be in a class with about 8 - 10 people at all stages of their careers. You would have myself, with a few regional credits and a college drop out but had a passion for performing and wanted to get better. Then you would have people like Sutton Foster (yes... she was also Craig's student) who had a zillion credits and a Tony Award. Though Craig no longer teaches his famous class here in the city, rumor has it he is working on a book for actors. All I know is it is being published by Routledge Publishing, will be out this time next year and will focus on everything he taught us for 25 years! So start pestering your favorite local book store this time next year. In the meantime... let's get you set up for some incredible training accessible right now.
Jen has been one of my favorite people in show business for years. She started as a performer so she gets it. She knows what it is like to struggle, she knows what it is like to book, she knows what it is like to train and she knows what it is like to pay a bunch of money for a scam class that gets you nothing. I first met Jen a million years ago when we played opposite each other in 'Wicked'. Since then, Jen has started an acting school that has taken over the city. Her staff is incredible and the students there are obsessed, get great results and most importantly, it is affordable. Check out www.JenWaldman.com
Audition Psych 101
With the god of all character actors, Michael Kostroff. Michael has been one of the leading character actors in NYC and LA for years now. From The Producers to Thenardier to the silver screen (I know you've seen him in a dozen tv shows and movies... he is remarkable). He teaches some incredible courses that will help breakdown how to audition and set yourself up for success. I love this man. He gets it. Check out www.auditionpsych101.com
The Freeman Studio
This place is a well known and established training center that truly focuses on the craft of being an actor. Like Craig, you will find actors from all walks of life and levels of experience. This is the place to go if you are looking for some solid acting training but not wanting to go to a four year Meisner program. Check out www.thefreemanstudio.com
Broadway Performers
Did you know that Broadway darling and current Hadestown star Patrick Page has a scene study class that is NYC's best kept secret. I have heard nothing but raves and am dying to take this class as soon as my schedule permits. Check it out! www.patrickpageonline.com. Lots of other Broadway performers also offer classes, and regularly post about it on their social media and websites! If you've got a favorite performer, you definitely want to look into their teaching schedule.
---
We are all different and we all learn differently, and that is a beautiful thing. Any teacher or mentor that comes your way and says they know it all is a liar. Finding the right teacher can be like finding the right therapist or significant other. It takes time and patience. Find where you fit. Let me know how it goes! Remember, we are not each others competition... we are each others community!
Related Articles