Hidejiro Honjoh and International Contemporary Ensemble Present SHAMISEN EVOLUTION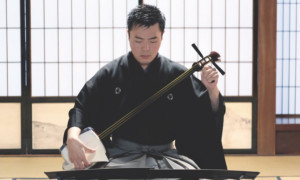 On Friday, October 5 (7:30 pm) at Japan Society, shamisen virtuoso Hidejiro Honjoh joins forces with members of the renowned International Contemporary Ensemble (ICE) in "Shamisen Evolution." Performing solo and with members of the International Contemporary Ensemble (ICE), Hidejiro delivers world premieres by Grammy-nominee and MacArthur "Genius" Award winner Vijay Iyer, ICE's own Nathan Davis, and rising young Japanese composer Yu Kuwabara.
The program also includes the North American premiere of the full score of Scott Johnson's Up and Back for shamisen, electric guitar, cello and piano, plus virtuoso pieces by Yuji Takahashi and Dai Fujikura. Along with Johnson, Hidejiro will be joined by ICE members Phyllis Chen (piano), Nathan Davis (dulcimer/ percussion), Rebekah Heller (bassoon), and Katinka Kleijn (cello).
Hidejiro Honjoh is known for pioneering new techniques and musical directions for his instrument. Past collaborators include composers Ryuichi Sakamoto and Dai Fujikura, the Japan Philharmonic Orchestra, Finland's Avanti Ensemble, and many others. The International Contemporary Ensemble was recently cited by The New York Times as "the nation's most important new-music ensemble." Tickets for "Shamisen Evolution" are $38, $30 for Japan Society members. The event will be followed by a MetLife Meet-the-Artists Reception.
Notes Japan Society's Artistic Director, Yoko Shioya, "Unlike the shakuhachi or the koto, the shamisen does not have the same name recognition amongst people outside of Japan. But without it, neither bunraku nor kabuki theater styles would have been born, nor would they have evolved into the art forms that international audiences appreciate today. The first of our two concerts features a virtuoso of traditional shamisen music and shows the longevity of the instrument's allure, while the second showcases a young prodigy of contemporary shamisen music, and proves its agility as a cool, capable instrument in the 21st century."
All events take place at Japan Society, 333 East 47th Street in Manhattan. Tickets are available through www.japansociety.org, or by calling 212-715-1258.
Less familiar to Western audiences than the koto, the shamisen (Japanese for "three strings") resembles an elongated banjo with a squarish body and oversized triangular pegs. It is plucked with a large, flared plectrum to produce a plangent, often percussive sound. Its fretless neck enables slides and glissando effects. The shamisen's lowest string is set low to its resonant, drum-like body to create a buzzing timbre known as sawari, akin to the rasping buzz of a low sitar string.
The shamisen's outer strings are usually tuned an octave apart, with the middle string tuned a fourth or a fifth above the lowest one (e.g., D-G-D' or D-A-D'). However, unlike Western instruments such as the violin or guitar, there is no fixed convention for the instrument's "home" pitch; instead, it is can be adjusted to suit the singer's register or the player's liking. In recent times, the shamisen has been taken up by jazz, rock, and even bluegrass players, who draw on its resemblance to the banjo to give the genre a Japanese spin.
Since the inception of the Performing Arts Program in 1953, Japan Society has introduced nearly 700 of Japan's finest performing arts to an extensive American audience. Programs range from the traditional arts of noh, kyogen, bunraku and kabuki to cutting-Edge Theater, dance and music. The Program also commissions new works to non-Japanese artists, produces national tours, organizes residency programs for American and Japanese artists and develops and distributes educational programs. "At once diverse and daring, the program stands toe to toe with some of the most comprehensive cultural exchange endeavors today." -- Back Stage.
Founded in 1907, Japan Society in New York City presents sophisticated, topical and accessible experiences of Japanese art and culture, and facilitates the exchange of ideas, knowledge and innovation between the U.S. and Japan. More than 200 events annually encompass world-class exhibitions, dynamic classical and cutting-edge contemporary performing arts, film premieres and retrospectives, workshops and demonstrations, tastings, family activities, language classes, and a range of high-profile talks and expert panels that present open, critical dialogue on issues of vital importance to the U.S., Japan and East Asia.
Tickets & Information: Tickets for performances and related events at Japan Society can be purchased by calling the Box Office at 212-715-1258 or in person at Japan Society (M-F 11:00am - 7:00pm and Sat-Sun 11:00am - 5:00pm). Japan Society is located at 333 East 47th Street, between First and Second Avenues (accessible by the 4/5/6 at 42nd Street-Grand Central Station or the E at Lexington Avenue and 53rd Street). For more information, call 212-832-1155 or visit www.japansociety.org.
Related Articles
More Hot Stories For You