Click Here for More Articles on SHAKESPEARE SPOTLIGHT
First Folio Addresses AS YOU LIKE IT Casting Complaints: 'Art Should Engender Discussion'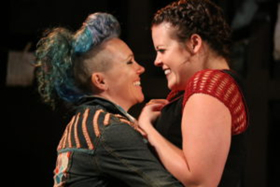 One of Shakespeare's classic romances, AS YOU LIKE IT, is currently running at First Folio Theatre through August 20. The company has received some complaints about its casting decisions and released a "Statement of Artistic Integrity" in response.
You can read it below:
"First Folio Theatre's current production of As You Like It includes casting a female in the role of Touchstone. This results in a passionate same-sex love match between Touchstone and Audrey. This production also includes a multi-ethnic cast leading to mixed race love matches for the other three pairs of lovers.

"Over the course of our first five weeks, First Folio has received some complaints about these casting decisions. As the Founding Executive Director and currently Acting Artistic Director, I take full responsibility for all artistic choices made at First Folio. However, I know my late wife, Founding Artistic Director Alison C. Vesely, would be just as supportive of these choices if she were here.

"First Folio is committed to presenting works which, to the best of our ability, reflect the experiences of our entire audience, of our entire community. We have maintained this commitment from our first production and will continue to hold this as a guiding principal for as long as I am the Executive Director. We realize that some of the decisions we make may prove controversial to some and I know they have caused us to lose some financial support. However, we also recognize that those same decisions will prove inspiring and supportive to others. The nature of art is that it will, in fact it should, engender discussion and even controversy. If it does not, we are not doing our job as artists.

"I find it worth noting that in their original productions at the Globe Theater, all roles in Shakespeare's plays would have been performed by men. That means that every embrace that was clenched, every troth that was plighted, and every kiss that was shared would have first been brought to life by...two men. Something worth thinking about.

"In closing, I could not be prouder of our production of As You Like It and the message it sends regarding love.

"Sincerely,
David Rice
Founding Executive Director"
Set in modern day Arden and directed by Skyler Schrempp, this delightful tale whisks audiences away to another world. During the summer season, First Folio's productions are held outside on the grounds of the gorgeous Mayslake Peabody Estate mansion, and guests are invited to bring their picnic baskets, candelabras, blankets and chairs, and wine and cheese to enjoy the productions under the stars.
A timeless story, AS YOU LIKE IT, follows Rosalind who must disguise herself as a boy to survive in the Forest of Arden. She has little hope that she will ever meet the dashing Orlando again, but the Forest is full of surprises and unexpected visitors. When Rosalind finds the exiled Orlando hanging love poems on trees, she must keep her wits about her and her identity as secret as possible. Before long, she finds herself in the midst of one of the most complicated love triangles Shakespeare ever wrote for the stage. A story of love at first sight, AS YOU LIKE IT will leave you writing on trees and looking up at the stars.
Watch a preview for the show below:
---
The cast of AS YOU LIKE IT is led by Leslie Ann Sheppard as Rosalind, Nick Harazin as Orlando, Vahishta Vafadari as Celia, with Luke Daigle as Oliver, Courtney Abbott as Touchstone, Kevin McKillip as Jaques, Belinda Bremner as Duke Senior, Sarah Wistermanas Phebe, Micheal Angelo Smith as Silvius, Jim Morley as Adam, Philip Winston as Duke Frederick, Evan Michalic as Charles the Wrestler, Matthew Moore as Corin, Amanda Raquel Martinez as Amiens, and Sierra Schnack as Audrey. The ensemble includes Karly Hanna, Bailey Hayman, Robin Minkens and Jared Michael Sheldon.
The artistic team includes Scenic Designer Angela Weber Miller (Dr. Seward's Dracula at First Folio Theatre), Lighting Designer Michael McNamara (The Turn of the Screw at First Folio); Original Music and Sound Design by Christopher Kriz (Roz and Ray at Victory Gardens Theatre), Costume Designer Mieka van der Ploeg, Properties Designer Cassandra Schillo. Stage Manager is Miranda Anderson, and Sarah West and Lina Benich serve as Assistant Stage Managers.
For tickets and more information about AS YOU LIKE IT, call the box office at 630.986.8067 or visit www.firstfolio.org.
Related Articles
More Hot Stories For You