Click Here for More Articles on Podcasts
BroadwayRadio Talks to SPONGEBOB Producer Susan Vargo, ONCE ON THIS ISLAND's Clint Ramos, and 'The Interval's Editor Victoria Myers in Third Annual Tony Omnibus Episode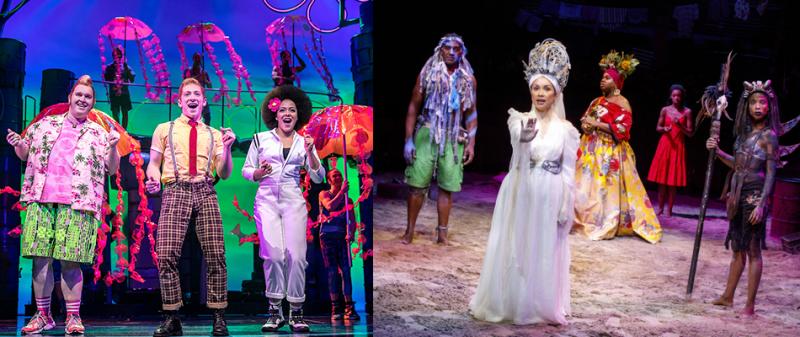 On BroadwayRadio's third annual Tony Omnibus episode, we look to fill in some of the gaps that have popped up in the theatre community's coverage of the award season. So often our focus during this five-week buildup to Sunday night's ceremony is on the performers and the writers who are front and center during this process. However, today, Matt Tamanini is talking to two Tony nominees whose impact on their shows is no less important, despite the fact that they aren't the people getting the glossy stories in the New York and theatre media. Matt also talks to a journalist who brings important context to the New York theatre community.
First, Matt speaks with Susan Vargo, the Executive Producer of Live Entertainment for Nickelodeon, and the creative force who guided "SpongeBob SquarePants" to Broadway. Then, Matt talks to 2016 Tony Winner Clint Ramos, who is nominated again this season for his costume design for "Once on this Island." Finally, Matt speaks with Victoria Myers, the Editor-in-Chief of online theatrical publication, The Interval; which focuses on amplifying the voices and works of women in theatre.
Then, Matt will close out the episode with predictions for some of the biggest awards of the season; you can see all of his predictions below.
Listen to the episode here:
---
Susan Vargo
spongebobbroadway.com
Twitter: @SpongeBobBway
Clint Ramos
onceonthisisland.com
clintramos.com
Twitter: @clintramos
Instagram: @clintramos
Victoria Myers
theintervalny.com
Twitter: @victoriaspies
Instagram: @victoriafication
Matt's Tonys Predictions
Best Musical: The Band's Visit
Best Play: Harry Potter and the Cursed Child
Best Revival of a Musical: My Fair Lady
Best Revival of a Play: Angels in America
Best Performance by a Leading Actor in a Play: Andrew Garfield - Angels in America
Best Performance by a Leading Actress in a Play: Glenda Jackson - Three Tall Women
Best Performance by a Leading Actor in a Musical: Ethan Slater - SpongeBob SquarePants
Best Performance by a Leading Actress in a Musical: Katrina Lenk - The Band's Visit
Best Performance by a Featured Actor in a Play: Nathan Lane - Angels in America
Best Performance by a Featured Actress in a Play: Denise Gough - Angels in America
Best Performance by a Featured Actor in a Musical: Gavin Lee - SpongeBob SquarePants
Best Performance by a Featured Actress in a Musical: Lindsay Mendez - Carousel
Best Direction of a Play: John Tiffany - Harry Potter and the Cursed Child
Best Direction of a Musical: David Cromer - The Band's Visit
Best Book of a Musical: Tina Fey - Mean Girls
Best Original Score (Music and/or Lyrics) Written for the Theatre: David Yazbek - The Band's Visit
Best Scenic Design in a Play: Christine Jones - Harry Potter and the Cursed Child
Best Scenic Design in a Musical: David Zinn - SpongeBob SquarePants
Best Costume Design in a Play: Katrina Lindsay - Harry Potter and the Cursed Child
Best Costume Design in a Musical: Catherine Zuber - My Fair Lady
Best Lighting Design in a Play: Neil Austin - Harry Potter and the Cursed Child
Best Lighting Design in a Musical: Kevin Adams - SpongeBob SquarePants
Best Sound Design of a Play: Gareth Fry - Harry Potter and the Cursed Child
Best Sound Design of a Musical: Kai Harada - The Band's Visit
Best Choreography: Justin Peck - Carousel
Best Orchestrations: Jamshied Sharifi - The Band's Visit
Matt was a guest on "The Blake and Sal Show" podcast last week, discussing many of these categories more in depth. You can listen to that episode here: theblakeandsalshow.com
---
Contact Matt:
matt@broadwayradio.com
Twitter: @BWWMatt
Theme music provided by www.bensound.com
Featured This Week on Stage Door
Shoutouts, Classes, and More from Your Favorite Broadway Stars
Related Articles