How to Get to Your Broadway Show
It's Broadway or bust!
You're making plans for your first trip to New York City. Your travel is booked, your hotel stay is confirmed, and most importantly, you just secured tickets to your favorite Broadway show! One small detail that you forgot: how do you get there?
New York City, sprawled over 300 square miles and five boroughs, can be difficult to navigate for first-timers, but that doesn't mean that your trip to the theatre district need be a complicated one. Below, we're breaking down transportation options that will get you to your show in time for curtain!
---
BY FOOT:
The streets of NYC are teeming with pedestrians, especially in the theatre district (40th Street-54th Street, 6th Ave-8th Ave). If you're already staying in midtown and you're up for a nice walk, there is no reason that you can't approach your theatre by foot. Keep in mind that 10 short blocks (north-south) cover about a half a mile, while one long block (east-west) is generally three times the distance of one short block.
What does that mean? John Tauranac, tells the New York Times: "At a pace of three miles an hour, you should figure an uptown-downtown walk at about one minute per block, and three to five minutes per crosstown block."
---
BY SUBWAY:
The New York City subway system is expansive, and every Broadway theatre is no more than a couple of blocks from a subway station. That means that no matter where you are staying in the city, whether it be Harlem or Queens, Broadway is no more than a train ride away.
Most Broadway theatres (with the exception of the Vivian Beaumont) are within walking distance of the Times Square-42nd St stop (home to A, C, E, N, Q, R, W, S, 1, 2, 3, and 7 trains), though some are slightly closer to local stops like 50th Street or 49th Street. Check your theatre location first to find the subway stop that is closest for you.
To use the subway, purchase either a Single-Ride, Pay-Per-Ride or Unlimited Ride Metro Card at a vending machine (found underground). Each subway ride costs $2.75, plus a $1 fee to purchase a new card.
Also- make sure to check mta.info before you leave to make sure that there are no scheduled service changes for the train you intend to take!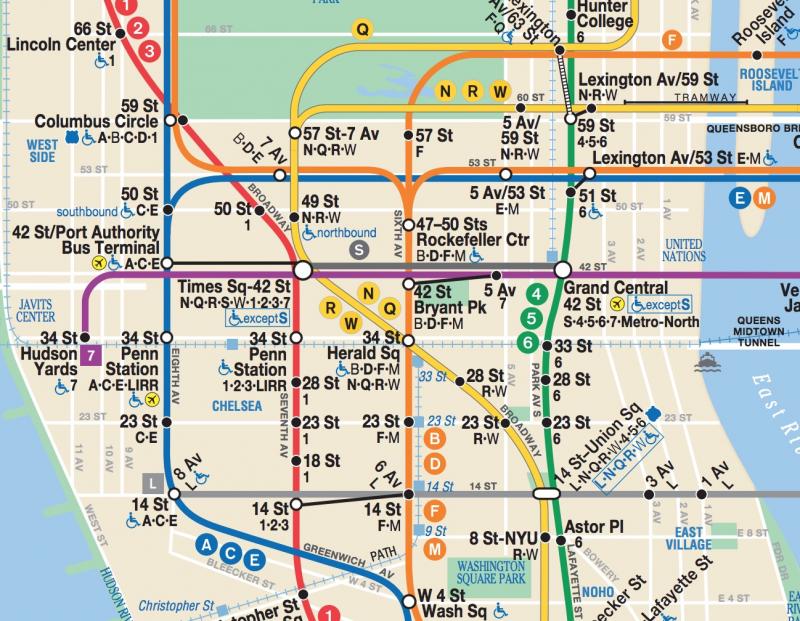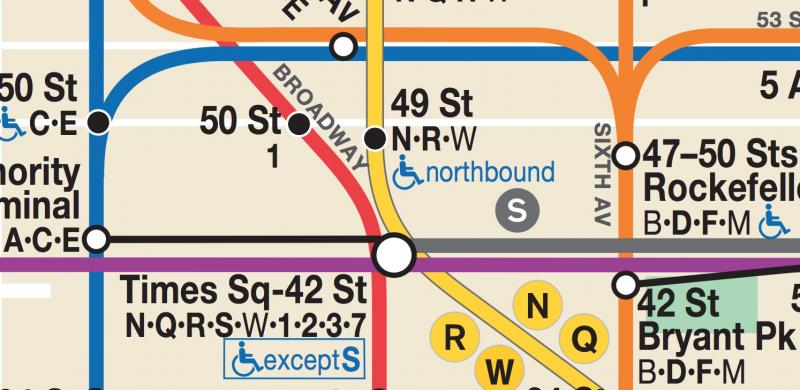 Click here for a full subway map
---
BY BUS:
New York City buses work similarly to the subways (purchase a Metro Card for a ride of $2.75), and generally bus routes stop in areas that are farthest from subway stations. The biggest con? While the ride is cheap, buses are subject to traffic, and since your heading towards Manhattan's busiest intersection, delays can be frequent.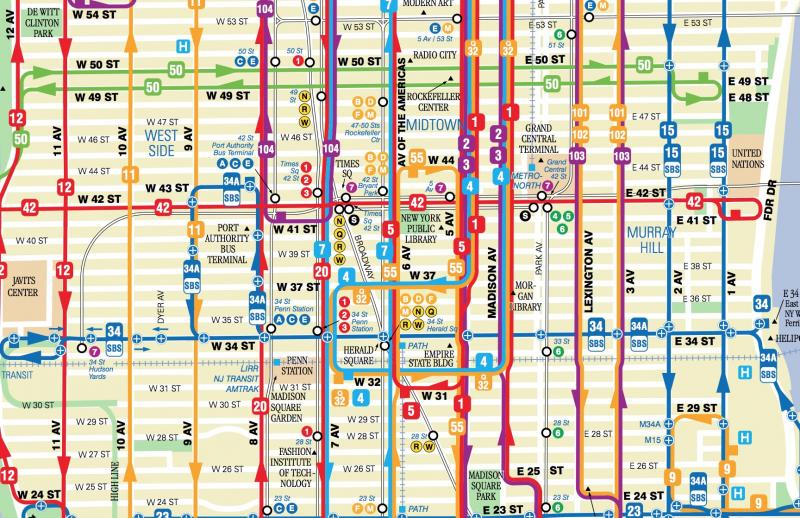 Click here for a full bus map.
---
BY CAB:
Despite the increasing popularity of car services like Uber and Lyft, New York City's streets are still spotted with yellow. Hailing a cab is easy, just throw your arm into the air to flag an oncoming taxi. If the numbers on the sign on the car's roof are lit, that means it is available. If the sign is unlit it's already occupied.
Once you're in the cab, simply tell your driver where you're going: whether that be an exact address or street corner- just be clear. When you reach your destination, you can pay for your ride with a credit card (via the touch screen in the backseat), or just give your driver cash.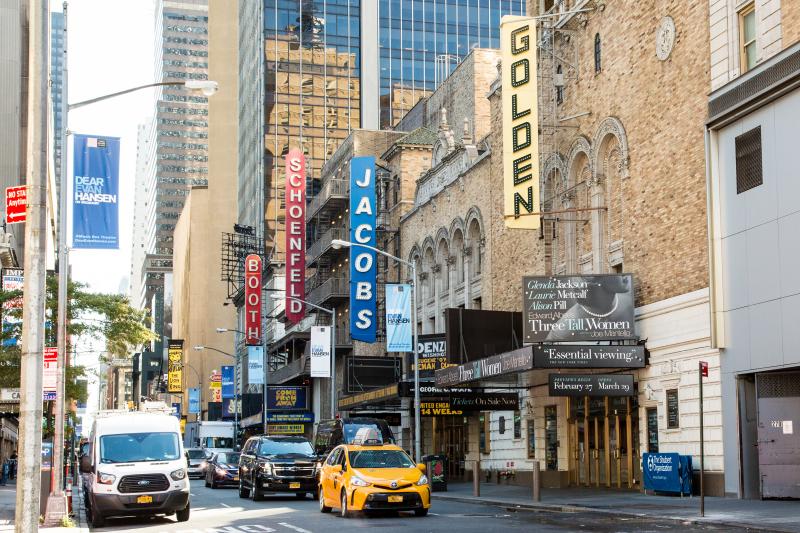 ---
BY UBER/LYFT:
Generally, a ride via Uber or Lyft will cost the same as a taxi ride. Though cabs are generally easier to spot on a busy street, there are two major pros in choosing a car service over a yellow cab. One: if you are traveling from an outer-borough, taxis can be harder to come by. Booking a car can be both faster and easier if you're traveling from outside Manhattan. Two: There are no fare surprises. Instead of getting your grand total at the end of your trip, Uber and Lyft calculate the cost of your ride before you step into the car.
---
THE BOTTOM LINE:
Don't let New York City's many transportation options stress you out. If millions of New Yorkers can do it every day, so can you!