Click Here for More Articles on Broadway by Design
Broadway By Design: Beowulf Boritt and Toni-Leslie James Bring COME FROM AWAY from Page to Stage
Who is Annie without her red dress? Or Eva with out her balcony? It is the charge of the Broadway designer to transport the audience into the world of a show, whether it be Great Depression-era New York City or outside of the Casa Rosada.
In Broadway by Design, BroadwayWorld is shining a spotlight on the stellar designs of this Broadway season, show by show. Today, we continue the series with Beowulf Boritt and Toni-Leslie James, who acted as scenic and costume designers for Broadway's big story about a small town, COME FROM AWAY.
---
In a heartbeat, 38 planes and 6,579 passengers were forced to land in Gander, Newfoundland, doubling the population of one small town on the edge of the world. On September 11, 2001 the world stopped. On September 12, their stories moved us all.
How did Beowulf Boritt come up with his Newfoundland look? "Come From Away has been such an interesting project. It's such a delicate emotional subject to touch. The story of course does not take place in New York City, but it hugely references the events both there and in Washington DC on that day. When we first started working on it, I think my core instinct was to find a way to acknowledge that without being too on the nose or frankly, offensive. You can't touch it lightly in any way," he explained.
"We always intended to stage the show very simply. There is a set there, but it's also a bit of a no-set show. The conceit was always to have twelve mismatched tables and chairs and that would be it. It's something I did with The Scottsboro Boys and its something I'm comfortable with and like a lot. And of course, for the speed that the show moves, and with the constant location changes that happen instantaneously, it needs that kind of simple theatricalism."
"The set is a rough wooden planking that has been painted blue, but most of it has been worn away by years and years of weather. What it leaves behind is spots of intense blue that mirror the color of the sky on September 11. I was in New York on that day and I remember it vividly. The beautiful deep blue sky and those horrible events happening against it is one of the things that was seared into my mind."

"Then they are surrounded by a forest of trees. In the first couple of iterations of the show we made them in the shop, but I always said, "I wanna get real trees." The emotion in this show is so raw and real that I feel like the trees need to be the real thing too- not a theatrical version of it. I don't know that the audience could actually tell the difference, but they always felt fake to me. As soon as we got the real ones in there, there was a power to that and a strength to that. Amongst those are two that have been snapped, as if a hurricane came through. You can draw your own conclusions as to the symbolism there."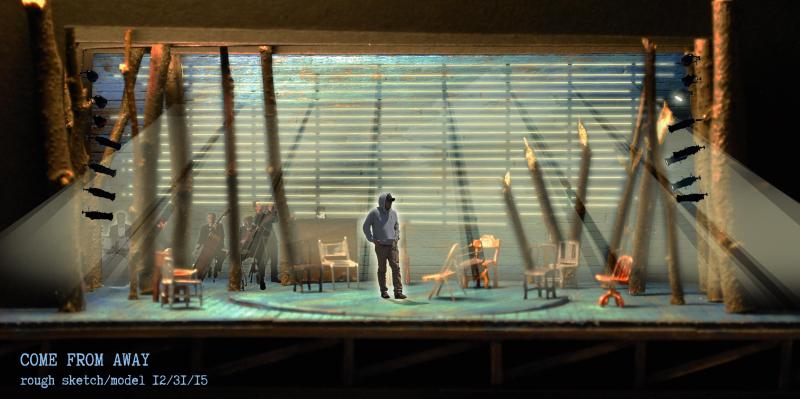 What about this particular design gave Boritt the hardest time? "The biggest challenge has been not to be heavy-handed, but to acknowledge what was going on. Symbolically I was trying to marry something that felt like an abstraction of Newfoundland. It's a very remote place with its ocean and sky and trees. It's wilderness. I wanted something that reflected that, but also referenced 9/11."
Costume designer Toni-Leslie James did her part in bringing Newfoundland to life. She explained: "The citizens of Gander that are represented in the musical were the inspiration for the design. Authenticity was important to the design. The costumes had to support the authenticity of the characters that the authors achieved when creating the characters based on the people interviewed in Gander."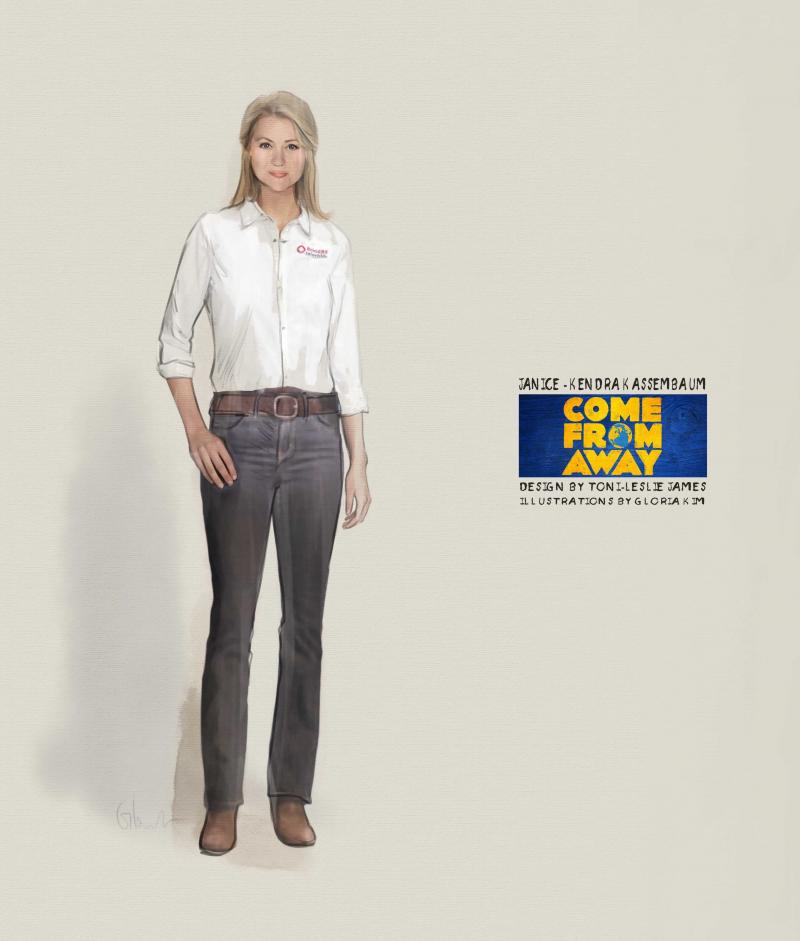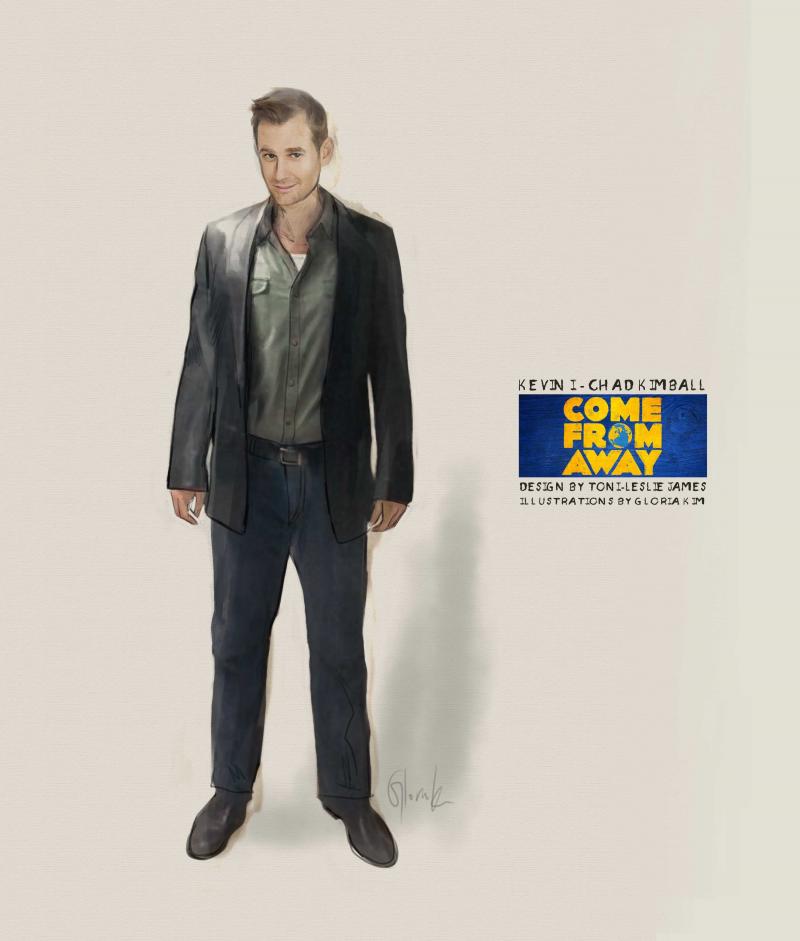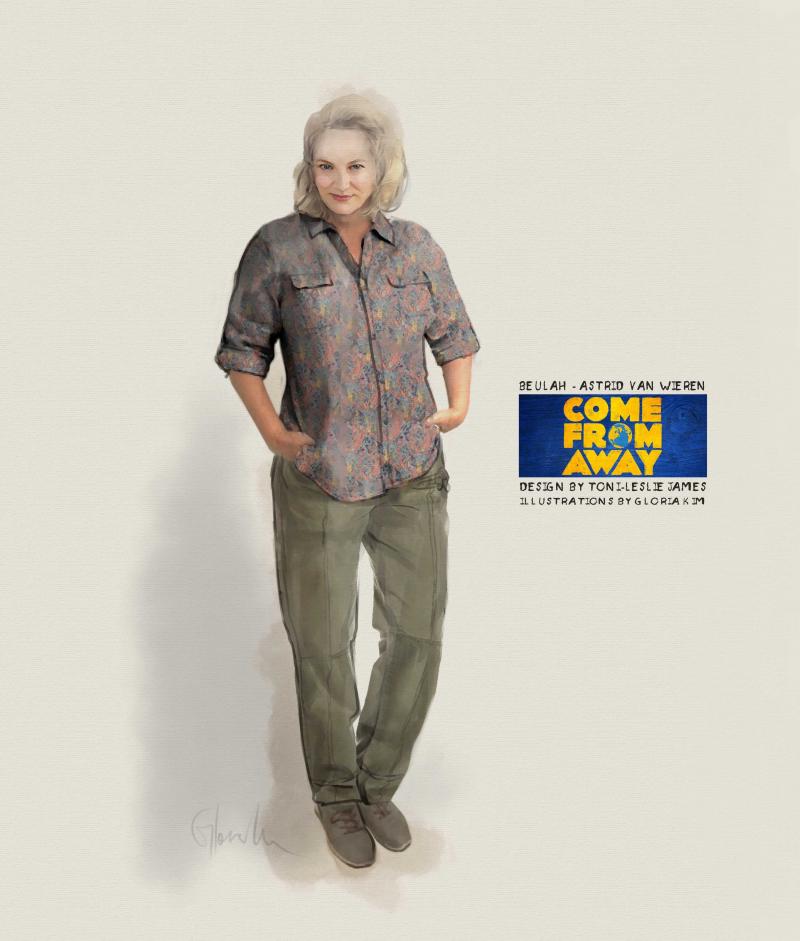 And her biggest challenge? "[It was] maintaining the costume authenticity consistently with one or two costume items to effect each change of character on stage. The "Costume Party" was continuously revised through the first four out of town productions. The quest was to find the one incongruous clothing item the "Plane People" would select from the clothing donations. A rack of Etsy pieces were purchased and we would swap out clothing until we hit on the right costume piece. I'm constantly revising this in my mind."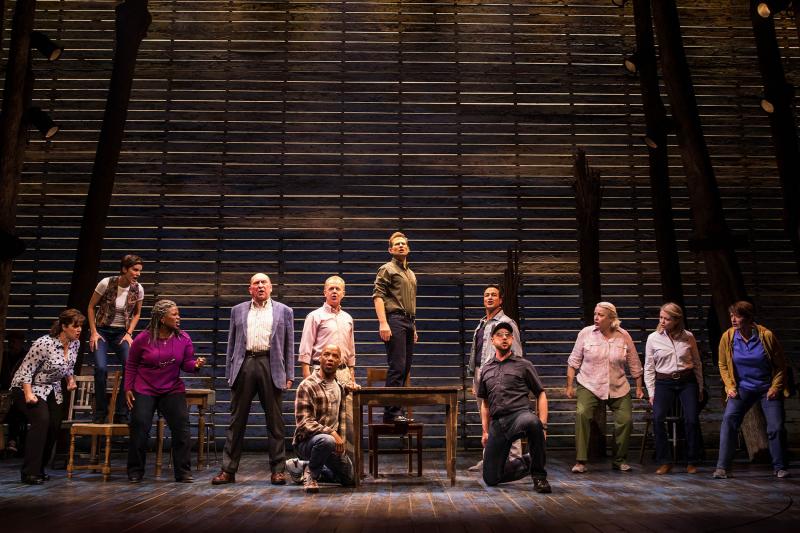 Want more Broadway By Design? CLICK HERE.
---
Following acclaimed engagements at Washington DC's Ford's Theatre and Toronto's Royal Alexandra Theatre, Come From Away began Broadway previews on February 18, 2017 and opened to critical acclaim on March 12, 2017, at the Gerald Schoenfeld Theatre.
With a book, music and lyrics by Canadians Irene Sankoff & David Hein, Come From Awayis directed by Tony Award nominee Christopher Ashley (Memphis), with musical staging by Tony Award nominee Kelly Devine (Rocky), music supervision by Ian Eisendrath (A Christmas Story), scenic design by Tony Award winner Beowulf Boritt (Act One), costume design by Tony Award nominee Toni-Leslie James (Jelly's Last Jam), lighting design by two-time Tony Award winner Howell Binkley(Hamilton), sound design by Tony Award nominee Gareth Owen (End of the Rainbow), orchestrations by August Eriksmoen (Bright Star), and music arrangements by Ian Eisendrath.