Click Here for More Articles on Broadway Books
Broadway Books: 10 Books on Directing to Read While Staying Inside!
Looking for something new to read while staying inside, but still need your Broadway fix? We've rounded up 10 of our favorite books on directing!
These books will provide insight on directing for musical theatre, plays, Shakespeare, and more! These books were written by well-known directors, many of whom have won awards, or gone on to become theatre professors.
Not a director? Check out our list of 10 books on acting here and playwriting here!
---
Changing Direction: A Practical Approach to Directing Actors in Film and Theatre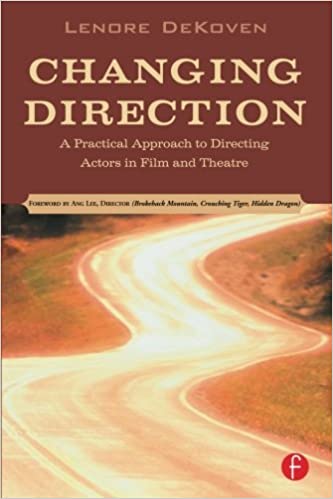 by Lenore DeKoven
The approach presented in this book, honed after years of on-set experience and from teaching at UCLA, NYU, and Columbia, and endorsed by many in the industry, including director Ang Lee (Brokeback Mountain and Crouching Tiger, Hidden Dragon) and producer/actor Edward Asner, aims to provide a helpful reference and resource for directors and actors alike. It combines underlying theory with dozens of exercises designed to reveal the actor's craft. There is material on constructing the throughline, analyzing the script, character needs; the casting and rehearsal processes, film vs. theater procedures as well as the actor and the camera.
About the Author: Lenore DeKoven has had a distinguished and varied career in film, theatre, and television. Her activity in the film industry has included executive positions in the talent and story departments of Hecht-Lancaster and Palomar Pictures. She was the managing director of the Roundabout Theatre Company in its earlier days as well as producing several off-Broadway productions: among them Take a Giant Step with Louis Gossett and Entertain a Ghost with James Caan and Carol Rossen. DeKoven was a member of the Theatre Arts Division faculty of UCLA, where she taught acting and directing on the undergraduate and graduate levels. She directed The Miracle Worker at Freud Playhouse before returning to New York in 1980, where she directed Another World for NBCTV. She is a member of the Directors Guild of America, and the League of Professional Theatre Women and has directed many plays and staged readings in New York. From 1981 to 1988 she was on both the theatre and film faculties of NYU's Tisch School of the Arts. Since 1988 she has been a member of the directing actors faculty of the Graduate Film Division of Columbia University's School of the Arts. Since 1981 she has been artistic director of Our Workshop East, a development gym for actors, writers and directors
Purchase on Amazon here.
---
Directing Postmodern Theater: Shaping Signification in Performance
by Jon Whitmore
Directing Postmodern Theater brings together critical theory and contemporary theater practice to provide valuable tools for directing in today's expansive performance world.
Directing Postmodern Theater identifies the key communications systems at work in the theater: linguistic, visual, aural, olfactoral, and physical. Further, it pinpoints and examines twenty semiotic sign-systems that can be manipulated by directors to bring about meaningful communications. It is also the first book to bridge the gap between theoretical discussions of semiotics and the actual practice of producing theater. For those theories to have an impact, argues Whitmore, they must be linked to the process of transforming a playscript or concept into a living performance. This book fills the gap in practical yet provocative ways, grounding theoretical discussions in examples from specific postmodern productions.
About the Author: Whitmore was the chief executive officer of ACT, Inc. (2010-2015), a nonprofit organization headquartered in Iowa City, Iowa, with additional offices across the United States and around the world. ACT is best known for the ACT college readiness assessment, taken by more than half of America's high school graduating class each year. Before joining ACT in 2010, Whitmore held leadership positions at San José State University, Texas Tech University, The University of Iowa, The University of Texas at Austin, The State University of New York at Buffalo, and West Virginia University.
Purchase on Amazon here.
---
A Sense of Direction: Some Observations on the Art of Directing
by William Ball
A Sense of Direction represents a life s work at the art and craft of directing. Founder and long-time general director of the acclaimed American Conservatory Theatre, Bill Ball engages his audience in a wide-ranging discussion of the director's process from first reading through opening night. Speaking as a director's director, Ball offers a candid, personal account of his method of working including the choice of a play's essential elements, preproduction homework, casting, and rehearsal techniques. Throughout, his discovering and insights guide the director in building the world of the play and bringing it to life.
About the Author: William Ball (1931-1991) founded San Francisco s renowned American Conservatory Theatre (ACT) in 1965 and was its general director for many years. Beginning in the theatre as a designer, he turned to acting and appeared with regional companies and Shakespeare festivals across the country. He made his New York directorial debut with an Off Broadway production of Chekhov s Ivanov which won the Obie and Vernon Rice Drama Desk Awards for 1958.
His 1959 Off Broadway production of Under Milk Wood won both the Lola D Annunzio and the Outer Circle Critics Awards, and in 1962 his Six Characters in Search of an Author proved another multiple award winner and had an extended New York run.
Purchase on Amazon here.
---
On Directing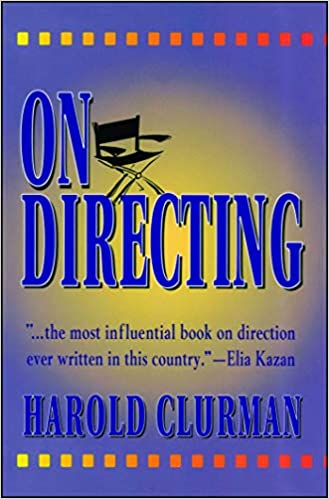 by Harold Clurman
In this classic guide to directing, we are taken logically from the choice of the play right through ever aspect of its production to performances and beyond. Harold Clurman, director of such memorable productions as A Member of the Wedding and Uncle Vanya, describes the pleasures and perils of working with such celebrated playwrights and actors as Marlon Brando, Arthur Miller, Julie Harris, and Lillian Hellman. He also presents his own directing notes for ten of his best-known productions.
About the Author: Clurman was an American theatre director and drama critic. He was most notable as one of the three founders of New York City's Group Theatre (1931-1941). He directed more than 40 plays in his career and, during the 1950s, was nominated for a Tony Award as director for several productions. In addition to his directing career, he was drama critic for The New Republic (1948-52) and The Nation (1953-1980), helping shape American theater by writing about it. Clurman wrote seven books about the theatre, including his memoir The Fervent Years: The Group Theatre and the Thirties (1961).
Purchase on Amazon here.
---
Mainly on Directing: Gypsy, West Side Story and Other Musicals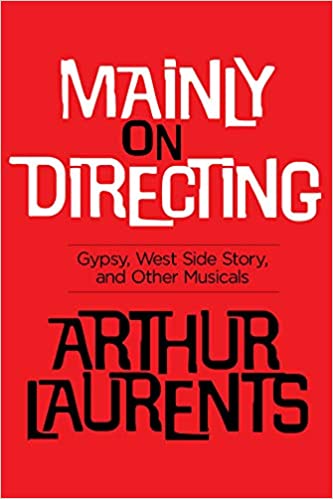 by Arthur Laurents
Laurents offers behind-the-scenes details about the musicals he directed, including I Can Get It for You Wholesale, its producer David Merrick (the "Abominable Showman"), and its (very young) stars, Barbra Streisand and Elliott Gould. He dishes on Stephen Sondheim's Anyone Can Whistle, which starred Angela Lansbury and Lee Remick, marking the debut for each in musical theater. And he recounts the challenges and surprises that came with the making of La Cage aux Folles, the first big Broadway musical that was gay and glad to be.
About the Author: Laurents, a playwright, screenwriter, and director, wrote two of Broadway's landmark shows, Gypsy and West Side Story, and created one of Hollywood's most well-known romances, The Way We Were. He is the author of Original Story By, his first autobiography, and The Rest of the Story.
Purchase on Amazon here.
---
Fundamentals of Directing
by Ric Knowles
Concise and practical, this guide for aspiring directors is a distillation of Ric Knowles's twenty-five years of experience as a director, teacher of directing, and dramaturge across Canada. Organized to reproduce the chronology of a play's rehearsal, the book moves through the various stages of the directorial process, from selecting a project all the way through to closing night.
About the Author: Ric Knowles works as a scholar, author, editor, director, and dramaturge. He is the author of several books, including The Theatre of Form and the Production of Meaning and Shakespeare and Canada; past editor of Canadian Theatre Review and Modern Drama; and current editor of Theatre Journal. Ric is also general editor of the book series Critical Perspectives on Canadian Theatre in English and New Essays on Canadian Theatre, published by Playwrights Canada Press. He lives in Guelph, Ontario.
Purchase on Amazon here.
---
Directing Shakespeare in America: Current Practices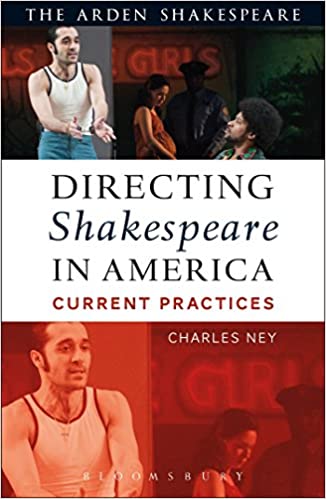 by Charles Ney
In this first substantive study of directing Shakespeare in the USA, Charles Ney compares and contrasts directors working at major companies across the country. Because of the complexities of directing Shakespeare for audiences today, a director's methods, values and biases are more readily perceptible in their work on Shakespeare than in more contemporary work. Directors disclose their interpretation of the text, their management of the various stages of production, how they go about supervising rehearsals and share tactics. This book will be useful to students wanting to develop skills, practitioners who want to learn from what other directors are doing, and scholars and students studying production practice and performance.
About the Author: Charles "Chuck" Ney is a professor of directing and acting in the Department of Theatre and Dance He has directed at New York City's Working Man's Clothes Theatre, Illinois Shakespeare Festival, Texas Shakespeare Festival, Idaho Repertory Theatre, the Kennedy Center and Manhattan Clearing House. He recently founded a new theatre company, Horizon Line Theatre, which produced a critically acclaimed production of 'hang' last fall. He is also program director of TSU's annual summer Shakespeare in England program, working with the Shakespeare Birthplace Trust, the Royal Shakespeare Company in Stratford and with London's Globe Theatre. He has directed at the Kennedy Center, Manhattan Theatre Club, Illinois Shakespeare Festival, Texas Shakespeare Festival, Idaho Repertory Theatre and Zach Scott Theatre Center.
Purchase on Amazon here.
---
Directing in Musical Theatre
by Joe Deer
This comprehensive guide, from the author of Acting in Musical Theatre, will equip aspiring directors with all of the skills that they will need in order to guide a production from beginning to end. From the very first conception and collaborations with crew and cast, through rehearsals and technical production all the way to the final performance, Joe Deer covers the full range.
Deer's accessible and compellingly practical approach uses proven, repeatable methods for addressing all aspects of a production. The focus at every stage is on working with others, using insights from experienced, successful directors to tackle common problems and devise solutions.
About the Author: Joe Deer is Distinguished Professor of Musical Theatre and Director of The Musical Theatre Initiative at Wright State University. He has directed off-Broadway, in top regional theatres across the US and at many of the finest educational institutions in the world. His first book, Acting in Musical Theatre: a comprehensive course (co-author, Rocco Dal Vera) is also available from Routledge.
Purchase on Amazon here.
---
Directing - A Handbook for Emerging Theatre Directors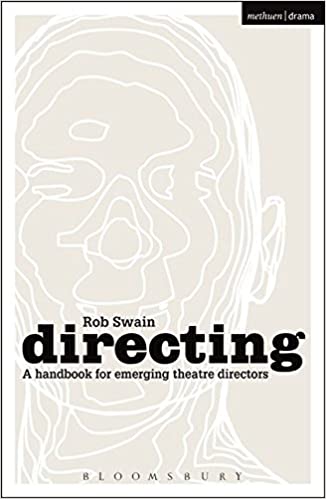 by Rob Swain
The theatre director is one of the most critical roles in a successful drama company, yet there are no formal qualifications required for entry into this profession. This practical guide for emerging theatre directors answers all the key questions from the very beginning of your career to key stages as you establish your credentials and get professionally recognized. It analyzes the director's role through relationships with the actors, author, designer, production manager and creative teams and provides vital advice for "on-the-job" situations where professional experience is invaluable. The book also provides an overview of the many approaches to acting methodology without focusing on any in particular to allow the director to develop their own unique methods of working with any actor's style.
About the Author: Rob Swain is a practising theatre director and the programme director of the MFA Theatre Directing at Birkbeck University. He is the Chair of the National Council for Drama Training and a panel chair for the accreditation of acting programmes in drama schools across the UK.
Purchase on Amazon here.
---
The Art and Practice of Directing for Theatre
by Paul B. Crook
The formation and communication of vision is one of the primary responsibilities of a director, before ever getting to the nuts and bolts of the process. The Art and Practice of Directing for Theatre helps the young director learn how to discover, harness, and meld the two. Providing both a practical and theoretical foundation for directors, this book explores how to craft an artistic vision for a production, and sparks inspiration in directors to put their learning into practice.
About the Author: Paul B. Crook is the Executive Director of the Etherredge Center for the Fine and Performing Arts, on the campus of the University of South Carolina Aiken, where he additionally serves on the theatre faculty. With over 20 years as a director, actor, and educator, Paul has worked in theatres across the country, from New Mexico to Ohio. He spent several years as the Associate Artistic Director of the Oklahoma Shakespearean Festival, in Durant, OK, and was the Artistic Director of the B & B Theatre, in Rustion, LA, a small, professional company he started with his wife, Mary Fran. As an arts educator, prior to his arrival at USCA, Paul served as the Directing and Acting Professor at Louisiana Tech University, Director of Theatre at Andrew College, and was on the faculty of Shelton State Community College. Paul and Mary Fran have four delightful children: George, CeCe, Bryant Ford, and Mary Ellis.
Purchase on Amazon here.
Related Articles