Broadway Books: 10 Books on Playwriting to Read While Staying Inside!
What are the Best Books About Playwriting? We'll Tell You!
Looking for something new to read while staying inside, but still need your Broadway fix? We've rounded up 10 of our favorite books on playwriting!
These books will provide insight on how to write scenes, characters, dialogue, and more. Some have exercises for aspiring playwrights to complete while reading, and some feature quotes and information from inspirational voices in the industry.
Not a playwright, but an actor? No worries! Check out our list of 10 books on acting here!
---
Sensory Writing for Stage and Screen
by Michael Wright
Through a series of systematic explorations across a wide range of scenarios, Sensory Writing for Stage and Screen offers script writers exercises for attending to their own sensory experiences as a means to exploring the sensory experiences-and worlds-of the characters they create.
About the Author: Michael Wright is Director of the Interdisciplinary Program in Creative Writing, and Applied Professor of Creative Writing, Theatre and Film, University of Tulsa.
Purchase on Amazon here.
---
The Art and Craft of Playwriting
by Jeffrey Hatcher
Jeffrey Hatcher knows the nuts and bolts of writing for the theater. Here, he shares his views on it all--from building tension and plotting a scene, right down to moving a character from one side of the stage to the other. From crafting an intriguing beginning to delivering a satisfying ending.
In Hatcher's one-on-one discussions with acclaimed American Playwrights Lee Blessing, Marsha Norman and Jose Rivera, you'll find a wealth of practical advice, tricks of the trade and insight that will help you in your own creative efforts.
About the Author: Jeffrey Hatcher is an American playwright and screenwriter. He wrote the stage play Compleat Female Stage Beauty, which he later adapted into a screenplay, shortened to just Stage Beauty (2004). He also co-wrote the stage adaptation of Tuesdays with Morrie with author Mitch Albom, and Three Viewings, a comedy consisting of three monologues - each of which takes place in a funeral home. He wrote the screenplay Casanova for director Lasse Hallström, as well as the screenplay for The Duchess (2008). He has also written for the Peter Falk TV series Columbo and E! Entertainment Television.
Purchase on Amazon here.
---
Writing Dialogue for Scripts
by Rib Davis
A good story can easily be ruined by bad dialogue. Now in its 4th edition, Rib Davis's bestselling Writing Dialogue for Scripts provides expert insight into how dialogue works, what to look out for in everyday speech and how to use dialogue effectively in scripts. Examining practical examples from film, TV, theatre and radio, this book will help aspiring and professional writers alike perfect their skills.
About the Author: Rib Davis has for the last thirty years made his living as a playwright, oral historian, author, director and community arts worker. He has had over 60 scripts performed on stage, screen and radio, has written two books and edited a number of others, has directed many community arts projects and is renowned for his work in oral history and oral history theatre.
Purchase on Amazon here.
---
What Playwrights Talk About When They Talk About Writing
by Jeffrey Sweet
In their own words, Arthur Kopit, Marsha Norman, Christopher Durang, David Hare, and many others offer insights into all aspects of the creative writing process as well as their personal views on the business, politics, and fraternity of professional theater. This essential work will give playwrights and playgoers alike a deeper and more profound appreciation of the art form they love.
About the Author: Though produced on stages around the world, Jeffrey Sweet is most closely associated with Chicago theater. He has premiered plays at the Victory Gardens Theatre since the late seventies and is a member of its Playwrights Ensemble. Among his plays are Flyovers (Joseph Jefferson Award, best script), The Action Against Sol Schumann and American Enterprise (both American Theatre Critics Association prize-winners), Porch, Bluff, Berlin '45 and With and Without. Mr. Sweet wrote Something Wonderful Right Away, an oral history of Chicago's Second City company (a book which in turn inspired the creation of two other Chicago theaters) and two texts on playwriting, The Dramatist's Toolkit and Solving Your Script. He co-wrote two musicals, I Sent a Letter to My Love (with Melissa Manchester, based on a novel by Bernice Rubens) and What About Luv? (with Howard Marren and Susan Birkenhead, based on a play by Murray Schisgal).
Purchase on Amazon here.
---
The Playwright's Guidebook
by Stuart Spencer
The Playwright's Guidebook is a clear, concise, and engaging handbook. Spencer addresses the important principles of structure, includes insightful writing exercises that build upon one another, explores the creative process, and troubleshoots recurrent problems that playwrights actually face.
About the Author: Spencer is the author of numerous plays performed in New York and around the country, including Resident Alien (Broadway Play Publishing). Other plays include In the Western Garden (Broadway Play Publishing), Blue Stars (Best American Short Plays of 1993-94), and Sudden Devotion (Broadway Play Publishing). A playwriting textbook, The Playwright's Guidebook, was published by Farrar, Straus and Giroux in 2002. Recent plays are Alabaster City, commissioned by South Coast Rep, and Judy Garland Died for Your Sins. Former literary manager of Ensemble Studio Theatre; fellow, the Edward Albee Foundation; member, Dramatist Guild.
Purchase on Amazon here.
---
The Art Of Dramatic Writing
by Lajos Egri
Lajos Egri examines a play from the inside out, starting with the heart of any drama: its characters. For it is people - their private natures and their inter-relationships - that move a story and give it life. He shows how it is essential for the author to have a basic premise - a thesis, demonstrated in terms of human behavior - and to develop his dramatic conflict on the basis of that behavior. Premise, character, conflict: this is Egri's ABC. His book is a direct, jargon-free approach to the problem of achieving truth in a literary creation.
About the Author: Lajos Egri (1888-1967) was born in Hungary and founded the Egri School of Writing in New York City in the 1930s. In addition to writing books, he spent his life writing and directing plays in both the United States and Europe, as well as writing screenplays for the film industry.
Purchase on Amazon here.
---
21st Century Playwriting, A Manual of Contemporary Techniques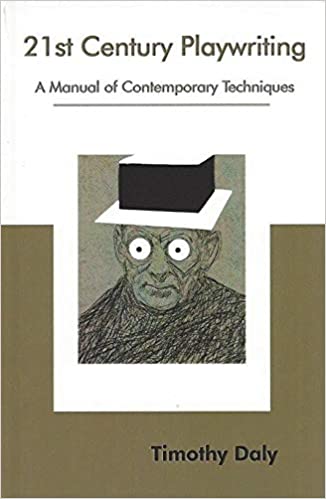 by Timothy Daly
"21st Century Playwriting" is perfect for both new playwrights and more experienced writers wishing to refresh and modernize their writing, as well as anyone interested in the rarely-discussed techniques that go into the making of contemporary theatre and its scripts. Written by a multi-award winning playwright with many national and international production credits, the book offers many useful writing tips, as well as an understanding of how radically theatre has changed in the 21st century.
About the Author: Timothy Daly's plays have been produced all over the world. Actors such as Academy-Award winners Cate Blanchett and Geoffrey Rush and Oscar-nominated actor Jack Weaver have all appeared in his plays. He has taught and mentored hundreds of playwrights in many different countries.
Purchase on Amazon here.
---
Writing the Award-Winning Play
by Shannon Michal Dow
For beginning playwrights and intermediate playwrights who wish to improve their work, this is a witty, easy to follow book filled with practical information designed to give your play an edge.Developed through personal experience as playwrights and play contest judges, and through their playwriting workshops, Writing the Award-Winning Play covers writing and developing your play; what to do with your play once it's written, utilizing readings, playwriting groups, and workshops; entering contests; getting produced; writing the synopsis and query letter; promoting your work; legal matters; and more.
About the Author: Shannon Michal Dow is a national award-winning playwright whose works have been produced and received readings around the country. Killing Dante (published by Samuel French) and her other plays and co-authored plays have earned a combined total of 19 awards and honors. She has been a feature writer and editor, and a film and theatre reviewer for various Connecticut publications. She has also worked professionally as a scenic artist and has volunteered as Literary Manager and play competition judge for the Playwrights Collective, Country Players of Brookfield, CT from and as a judge for Community Theatre Association of Michigan National New Play Competition.
Purchase on Amazon here.
---
Playwriting 101
by HowExpert and Marsh Cassady
To write for the theatre you need to know about theatre. Ideas are easy to come by. Examine your background, interest, and beliefs. Examine the world around you. Exercises can help you come up with ideas. Choose the audience you want to reach and write to that audience. To learn to write dialogue listen to and record everyday conversations. Dialogue should sound like ordinary conversations but has more direction.
About the Author: Marsh Cassady is the author of more than fifty books including novels, true crime, biography, collections of plays, short stories and haiku, and books on theatre and storytelling. His plays have been widely performed in the United States (including Off-Broadway) and in Mexico. A former actor/director and university professor, he has a Ph.D. in theatre, is a member of Actors Equity Association and the Dramatists Guild, and has worked with more than a hundred productions. In addition, Cassady has taught various creative writing courses at UCSD and elsewhere. A former small press publisher, he also has been editor of three magazines. Since the early 1980s he has conducted all-genre writing workshops in San Diego and in Playas de Rosarito, Baja California Norte, Mexico, where he has lived since 1997. While teaching at Montclair State in the 70s, he started a playwriting program that included classes, workshops, and individual projects. He has won regional and national awards in the U.S. in playwriting, fiction, nonfiction, and haiku.
Purchase on Amazon here.
---
You Can Write a Play!
by Milton E. Polsky
Do you have an idea for a play? A situation or experience from your home or work life? Fantasy? With helpful, clear examples, taken from his own experiences in teaching, directing and playwriting, Milton Polsky shows how to find and shape a dramatic idea and bring it to fruition. In addition to providing many practical exercises, suggestions and tips, he discusses and illustrates with examples from established playwrights "the importance of giving shape to your idea so that what is in your head and heart can be expressed to the fullest."
Purchase on Amazon here.
---
Shop BroadwayWorld

Shop this season's new musicals! Get dressed up for a night at the theatre, or just a night at home, with merch from some of Broadway's biggest hits including SOME LIKE IT HOT, KIMBERLY AKIMBO, and more!
---
Related Stories