Review: Stage Treasure Everett Quinton is Classically Ridiculous in Charles Ludlam's Diva Spoof GALAS
"Only my dogs will not betray me," confesses a world-renowned opera diva in Charles Ludlam's 1983 downtown triumph, GALAS.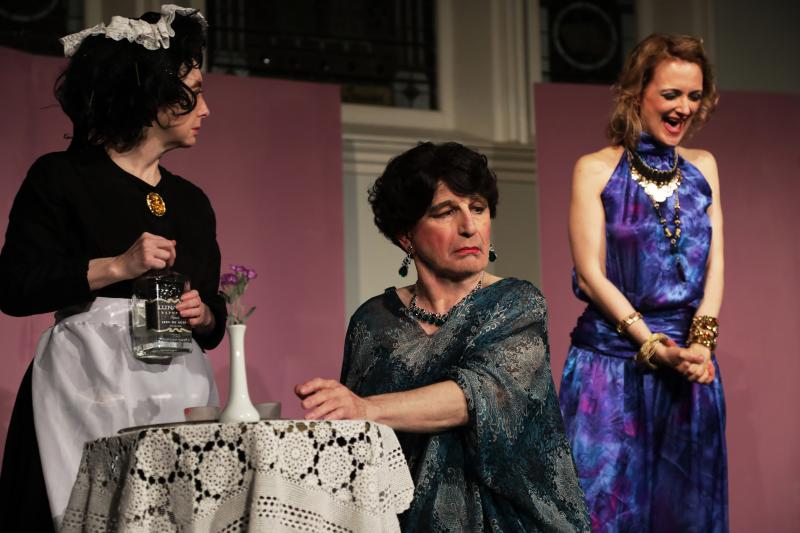 Maria Magdalena Galas, the sheerly-veiled stand-in for Maria Callas, was one of the last roles the groundbreaking playwright/actor/director essayed at the glorious underground showplace for excess at One Sheridan Square where he and his cohorts perfected the form of open-hearted virtuosic farce that defined The Ridiculous Theatrical Company.
After Ludlam was lost to AIDS in 1987 his life partner and frequent co-star Everett Quinton has been spending much of his career carrying on his legacy and the traditions of that fabled crew. His stint as director and star of the wonderfully funny new production of GALAS, treading the boards of Theatre at St. John's, is his latest tribute.
"A music lover? No. I am music," declares the proud, but unknown soprano who arrives in Verona shortly after the end of World War II. (The fact that her train is late is celebrated as a reminder that Mussolini has fallen.) Stories of her childhood in Greece, where her talent for singing kept her family from starving during the war, so entrances wealthy industrialist Giovanni Baptista Mercanteggini (Beth Dodye Bass) that he offers to manage and fund her career.
But it isn't long before the two are wed and, as her fame rises, she attracts the romantic attention of the handsome Greek tycoon Aristotle Plato Socrates Odysseus (St. John's pastor, Mark Erson). Another notable man in her life is Pope Sixtus VII (Shane Baker), with whom she has a heated debate over the appropriateness of presenting Wagner operas in any language other than German.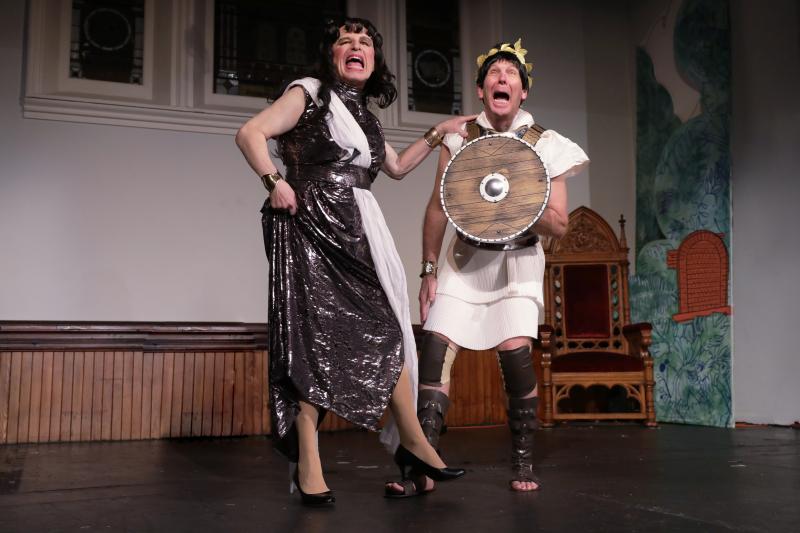 Callas aficionados will get the inside references in the plot, but even the uninformed should delight in Quinton's full-bodied transformation from a pleasant, conservatively-natured young woman to a fabulous diva whose on-stage glories are only matched by her off-stage insecurities.
A standout of the fine company is Jenne Vath, who plays Galas' loyal maid Bruna Lina Rasta (Quinton's original role) in a perpetual state of wild-eyed gothic madness.
This is a decidedly low-budgeted production, and though designers Jim Boutin (set) and Ramona Ponce (costumes) inspire some visual laughs, there's the occasional awkwardness and slow transitions that come from mounting a play in a space not originally intended for theatre.
But that's just a minor snag in an evening of charming silliness. Everett Quinton is one of American theatre's treasures and the chance to see him in a Charles Ludlam classic is an opportunity not to be missed.