Review: Robert Sean Leonard, Katie Finneran and Paul Sparks in Edward Albee's AT HOME AT THE ZOO
Introverts weren't exactly regarded as sexy, at least not as a norm, when Edward Albee's one-act classic "The Zoo Story" premiered in 1958, launching the career of a playwright whose name became synonymous with the psychoanalyzation of privileged white American dysfunctionality.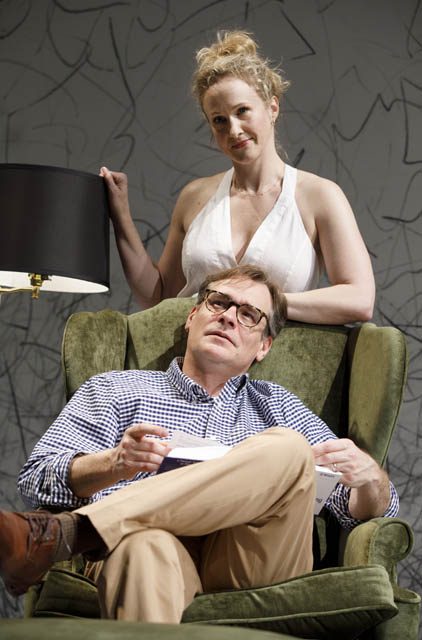 No, the 60s were on their way, which meant audiences for the two-character piece were more likely to focus on Jerry, the attention-demanding character with a philosophically rebellious streak, than his counterpart Peter, a seemingly conventional fellow seeking nothing more than comforting solace.
But the passing decades have brought in self-help, emo rock and technology designed to make human contact unnecessary, making introversion not only more socially acceptable, but kinda hip.
In 2004, Albee made "The Zoo Story" the second act of a full-length piece named PETER AND JERRY, creating a first half named "Homelife" which forced focus on the quiet, button-downed textbook publisher who had previously gone relatively unnoticed.
The same play, or double feature, if you prefer, is now presented by Signature Theatre under the new title AT HOME AT THE ZOO.
Each act depicts Peter, a textbook publisher, contently reading before being drawn into a conversation he'd rather not have but is too polite to ignore. The content of each dialogue is perhaps less important than the unspoken needs of his companions and Jerry's underplayed reactions.
In "Homelife," his wife Ann interrupts his solitude with those words that no sitcom dad or Albee husband wants to hear, "We should talk."
As described in conversation, but not depicted on stage, the pair seem to be living a perfectly satisfactory life. They're financially secure enough to have a swell Manhattan apartment which they share with their two daughters, two cats and two parakeets.
But Ann finds little comfort in normalcy, the way Peter does. When she suggests a bit more adventure in their sex lives, Peter explains that, after a bad experience in college involving anal sex, he decided to stick with the basics.
The talk also covers subjects like Ann's desire to have her breasts removed as a way of avoiding cancer and Peter's concern that his circumcision may be reversing.
When the husband decides to find a quieter locale to get his reading done, the scene switches to Central Park and "The Zoo Story" begins.
"I've been to the zoo," Jerry says to Peter; words the introspective fellow will soon regret hearing as much as "We should talk."
Though Peter tries to ignore Jerry's impromptu life-story monologue that follows, he is eventually drawn in when the stranger's riffs turn frightening and ultimately threatening, forcing the bookish bystander into a self-horrifying act of violence.
Though both plays are intimate by nature, director Lila Neugebauer takes full advantage of the large Diamond Theatre stage at the Signature Center. Set designer Andrew Lieberman places Peter in a comfy chair in front of a towering white wall decorated with what looks like an abstract jungle made from pencil scribbles. When the locale switches, Central Park is represented by a long, bending row of park benches.
As Jerry, Paul Sparks' animated performance also seems designed to fill the space, undercutting some of the play's tension by making the character more entertaining than menacing. Katie Finneran is right on the mark as Ann, balancing sensitivity and love for her husband with the itching desire for more. And Robert Sean Leonard's beautifully subtle Peter is all the more fascinating for the emotions he hides than the emotions he expresses.
For decades, "The Zoo Story" has been a popular choice among drama students, and the two plays do tend to come off more like acting exercises than the social commentary they hint at. Still, the opportunity to see the first major work by one of America's most iconic playwrights paired with one of his last (a few years later, ME, MYSELF AND I would be his swan song), makes for an intriguing experience.