Review: Lesli Margherita's a Riot in Matthew Lombardo's Grinch Spoof WHO'S HOLIDAY
Don't be fooled. That familiar-sounding melody played at the top of Matthew Lombardo's hilariously subversive WHO'S HOLIDAY is not "Welcome Christmas," the joyous chorale from the beloved television adaptation of Dr. Seuss' equally beloved "How The Grinch Stole Christmas."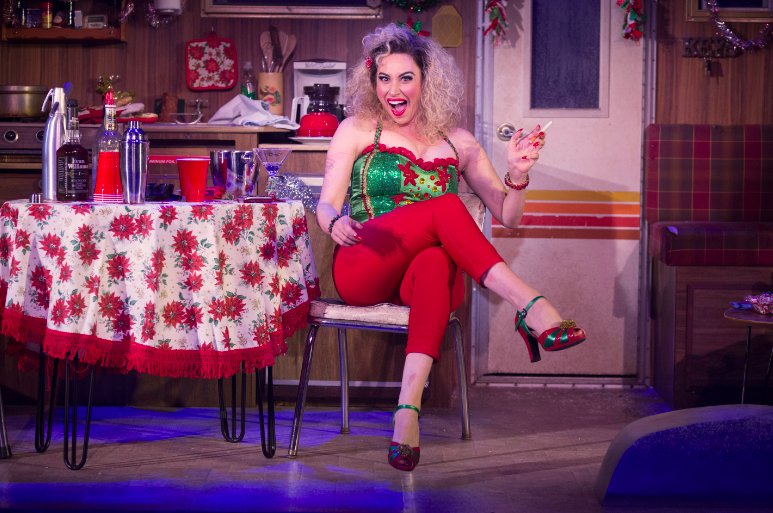 It is, as any theatre-goer well versed in copywrite law will recognize, a carefully crafted imitation retaining just enough of the original to nostalgically warm hearts, while changing enough to keep the author out of court.
It didn't quite work out that way the first time around. Last year the playwright's clever solo comedy that has a 45-year-old Cindy Lou Who recalling her lifetime of disappointments before hosting a Christmas gathering in her trailer home was announced for a run at New World Stages starring Jennifer Simard.
But what played instead, albeit at a different venue, was Lombardo v. Dr. Seuss Enterprises, a case involving the issue of copywritten material used as the subject of parody.
With the playwright emerging victorious, Lombardo's spoof, written in rhyming couplets, finally gets its world premiere; now at The Westside Theatre and starring Olivier Award winner and top-shelf Broadway clown Lesli Margherita.
Set designer David Gallo provides a gloriously tacky Bullet trailer interior, spruced up for the holidays, as is our hostess, courtesy of costume designer Jess Goldstein.
When you all saw me last, I was two, maybe three.
Twas the night I met Santa, or so he told me.
Though the years haven't been kind to Cindy Lou, who now resides on the snowy hills of Mount Crumpit, the booze-guzzling, cigarette sucking bleached blonde stays lovably upbeat.
In case you were wondering, yes, grownup Cindy Lou did wind up having a sexual relationship with The Grinch (When he first took it out, I almost ran 'way / Cause that thing 'tween his legs grew three sizes that day!), and even married him after becoming pregnant, but their ill-advised romance did not end happily.
I need to cheer myself up. I'll just take out my stash.
Have any of you smoked a pipe filled with Who Hash?
Under Carl Andress' direction, Margherita is a comical riot, shining with moxie-laden tastelessness and irreverence. She engages front row audience members, sings with gutsy verve and even raps a bit.
After an hour of lunacy, a sweet, sentiment ending is added, sending audience members off with a warm smile and probably exhausted from laughter.