BWW Review: John Kander Musicalizes Another Dark and Dangerous Subject In KID VICTORY
Though the brilliant musicals that composer John Kander created with his late lyricist partner Fred Ebb frequently tackled dark and violent issues (CABARET, CHICAGO, KISS OF THE SPIDER WOMAN and THE SCOTTSBORO BOYS among them), they did so with a shiny, often cynical veneer of show-biz. Catchy melodies and joyful lyrics would frequently blanket horrific subtext.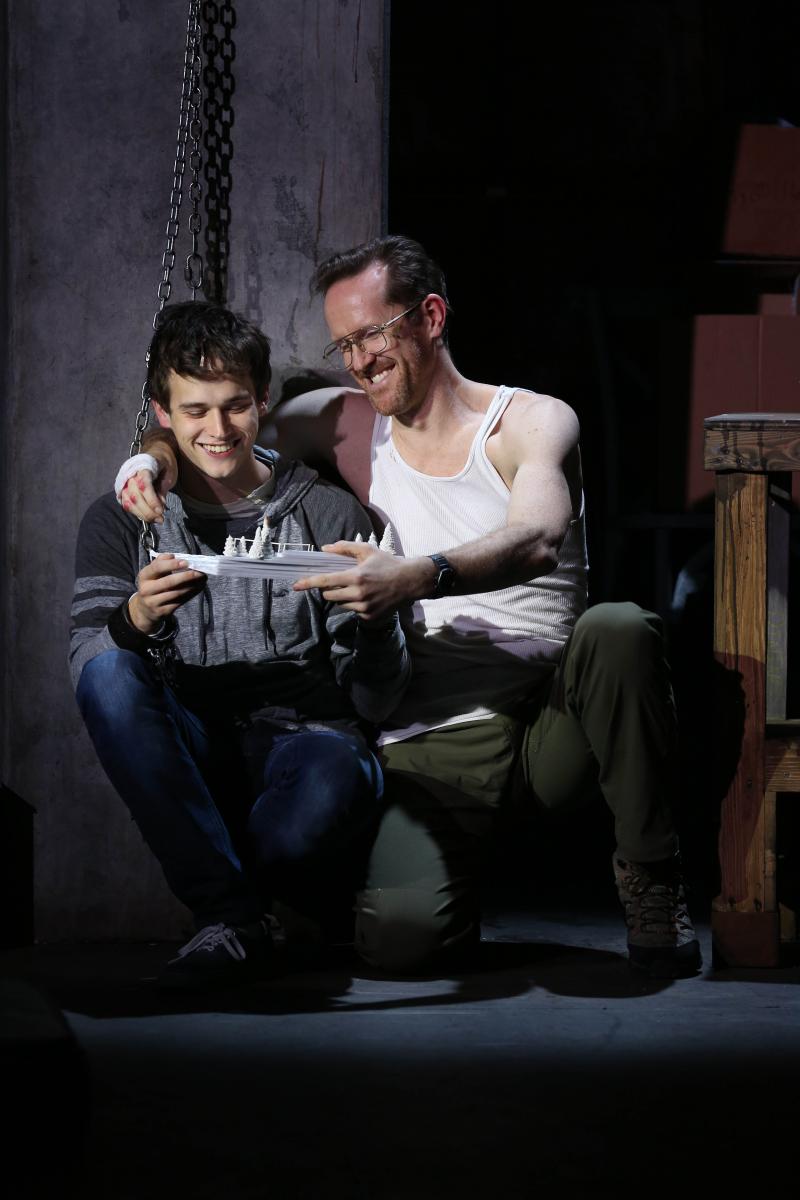 And while his new Off-Broadway musical drama, based on an original story he devised with bookwriter/lyricist Greg Pierce, contains what fans would recognize as one very Kander and Ebb musical moment (It involves tap dancing in sneakers.), Kid Victory is by far the most intimate musical bearing his name to open in New York. As orchestrated by Michael Starobin, much of his music offers a chamber quality that enhances the skin-crawling tone of director Liesl Tommy's sensitive and extremely well-acted production.
The first image the audience sees on stage, just fuzzy enough that you can be unsure you're seeing it correctly, is that of a young, seemingly unconscious boy handcuffed to the wall of a dark basement. The authors only gradually reveal the nature of what happened during the next 100 minutes (no intermission).
The boy is 17-year-old Luke (nicely underplayed Brandon Flynn), a quiet fellow who lives in Kansas with his devout and domineering Baptist mom (Karen Ziemba strutting appropriately forced perkiness) and his compassionate, but conflict-avoiding father (warm and gentle Daniel Jenkins).
On the musical's outset, Luke has just returned from... something... and his mom is anxious to have him quickly go back to school and get on with life as usual. She's even arranged for an amateur therapist from her church to offer counseling. The boy however, wants to take it at his own slower pace; an option supported by dad.
Scenes jump back and forth through time and what is eventually revealed is that Luke, under the member name Kid Victory, struck up an on-line friendship with a former history teacher, Michael, through months of competing anonymously in an Internet boat racing game.
Song-and-dance man Jeffry Denman is an unexpected choice to play the predatory adult, but he does an excellent job seducing with friendly paternal charm that provides Luke with the strong father figure he appears to lack at home. Luke is a non-singing role and Michael sings in recitative, giving their moments a more natural tone from the rest of the musical.
Scenes in the present involve Luke's hesitant re-assimilation into home life while going through the normal anxieties that go with being a teenager. His pre-abduction girlfriend Suze (Laura Darrell) tries to get through his emotional distance while his age-appropriate Internet date, Andrew (Blake Zolfo), implores him to not be afraid of risks.
Luke's most comfortable relationship is with the free-spirited Emily (bolt of energy Dee Roscioli) who owns the gardening supply shop where he takes a part-time job.
Pierce shows himself to be a capable storyteller in his book and lyrics, but the musical suffers from being more about people's reactions to Luke rather than revealing more of Luke himself. Still, it's a daring subject choice for musicalization and there's enough good work in Kid Victory to fascinate, if not completely satisfy.
Related Articles
After 20-odd years singing, dancing and acting in dinner theatres, summer stocks and the ever-popular audience participation murder mysteries (try improvising with audiences after they?ve (read more about this author...)